A global network of leading higher education institutions, the Reach Alliance aims to conduct collaborative, transdisciplinary research in an effort to accelerate the achievement of the United Nations' (UN) Sustainable Development Goals (SDGs).
Housed at the University of Toronto's Munk School of Global Affairs & Public Policy, in partnership with the Mastercard Center for Inclusive Growth, the Reach Alliance is a multidisciplinary research initiative dedicated to equipping and empowering the next generation of global leaders to create knowledge and inspire action for the full achievement of the SDGs.
All research projects are led by students under relevant faculty mentorship, with the ultimate goal of figuring out how to reach communities who are hardest to reach.
UCT Vice-Chancellor Professor Mamokgethi Phakeng says: "The Reach Alliance is a brilliant concept that aligns closely with the mission of the university to ensure that our research meets the needs of even the most marginalised communities in Africa, that it has real impact, and that we produce the leaders of tomorrow who are committed to social justice."
UCT is one of four leading universities joining the alliance in 2022. The other new partners include: Ashesi University (Ghana), Singapore Management University (Singapore) and the University of Melbourne (Australia). This scale up sees the Alliance grow from four to eight major global universities, with original partners including the University of Toronto (Canada), Tecnológico de Monterrey (Mexico), University College London (UK), and the University of Oxford (UK).
The Reach initiative at UCT will be headed up by Dr Solange Rosa, Director of the Bertha Centre for Social Innovation and Entrepreneurship within the Graduate School of Business (GSB).
The Bertha Centre's aim is to support individuals, organisations and students in identifying, implementing, piloting and scaling innovative solutions in the areas of health, education, climate justice and youth development, which closely aligns with the Reach Alliance's goal of reaching the hardest to reach.
"The purpose is really to get students involved with thinking about global and local socioeconomic challenges," says Rosa. "So, to focus on local challenges but then think about how they might influence policy at national or global level."
She adds that it's an excellent opportunity for students to work together in groups and to liaise with colleagues from other countries who are involved in the programme. It will also enable them to receive mentorship from various academics, whether local or abroad.
Recruitment of students is likely to start later this year and will mostly be focusing on postgraduates pursuing courses such as the GSB's MPhil in Inclusive Innovation and the master's in Public Health presented by the Faculty of Health Science, as well as a number of Bertha Centre scholars.

The work of the Reach Alliance has already had significant impact. To date, the Alliance has published 30 case studies spanning 20 countries. Actionable research insights have informed practitioners and policymakers – accelerating achievement of the United Nations Sustainable Development Goals and establishing the next generation of global leaders. Reach findings have been published in leading outlets, such as The Lancet, Stanford Social Innovation Review and WHO Bulletin.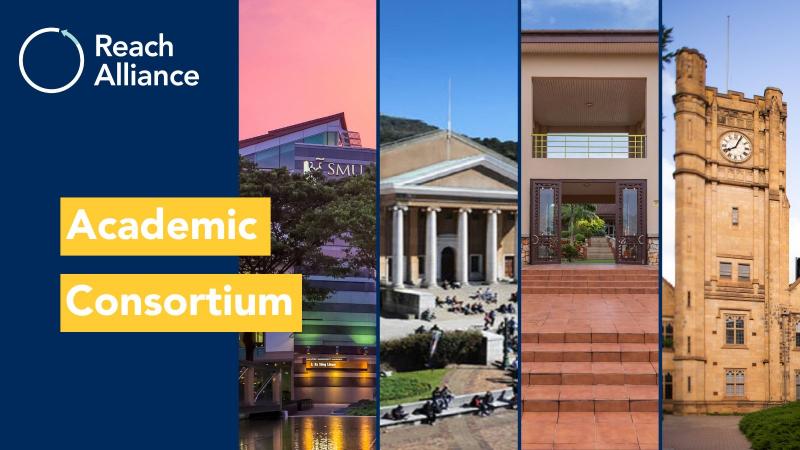 When the University of Toronto first invited UCT to join, the Reach Alliance concept immediately appealed, says Professor Sue Harrison, Deputy Vice Chancellor: Research and Internationalisation, due to its close alignment with UCT's strategic objectives.
"Our Vision 2030 aims to 'unleash knowledge in, for and from Africa' through research," she explains. "UCT is also deeply committed to the UN Sustainable Development Goals and the African Union's Agenda 2063. These objectives would be impossible to achieve if we do not work out how to be inclusive of those at the margins of society, and who are most in need of the changes the SDGs aim to bring about."
Harrison adds that the kind of mentorship offered through the Reach projects, together with the skills development it promotes, will no doubt create an enthusiasm for this kind of work and assist in shaping future leaders who are committed to social justice, whether in academic careers or elsewhere in society.
"We are also excited to incorporate the work we are doing with the Reach Alliance with other initiatives we are building into our important relationship with the University of Toronto, which will enrich that partnership even further. It is a wonderful reminder that the best partnerships are built on a strong foundation of shared values," she concludes.
Marin MacLeod, Executive Director at the Reach Alliance, agrees: "The work of the Reach Alliance can only be done by strengthening international partnerships to achieve global reach."
---
---