The University of Cape Town's (UCT) new Marine Biogeochemistry Laboratory (UCT-MBL) is set to escalate high-impact Earth science research that maximises South Africa's geographical advantage. The lab uses a unique method to study nitrogen cycles, critical to understanding how the oceans, land and the atmosphere work. This is also essential to climate change studies.
Biogeochemistry is an interdisciplinary field that studies how biological, geological, chemical and physical processes interact to shape natural environments over time and space. But it needs high-precision data and measurements of a huge range of inorganic and organic chemical components, capacity South Africa has not always had – at least not in the marine sciences.
The lab's unique method involves lowly bacteria as a route to characterising nitrogen cycles. This relies on the lab's crown jewel: the new denitrifier-isotope ratio mass spectrometer (IRMS). It's housed among a suite of high-tech, cutting-edge equipment in a vibration-proof, climate-controlled room in the Department of Oceanography.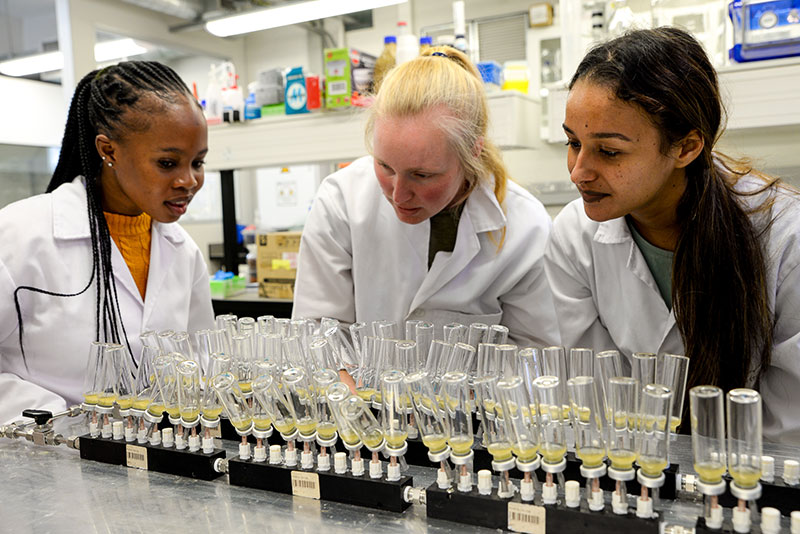 "It's the global standard for high-resolution nitrogen-cycle studies, and the UCT-MBL is the only African lab that has the denitrifier-IRMS. It's good news for the continent," said principal investigator (PI) Dr Sarah Fawcett. Dr Fawcett's co-PI is Dr Katye Altieri.
The lab is incorporated into the Biogeochemistry Research Infrastructure Platform (BIOGRIP) group structure established at UCT in 2020. BIOGRIP was conceived by a team of researchers in the Faculty of Science, along with collaborators at Stellenbosch University, North-West University and the University of the Free State. It is funded by the Department of Science & Innovation after the department identified biogeochemistry an emerging interdisciplinary field of strategic importance.
More innovation
The lab will underpin large- and small-scale research questions in Earth science. It is founded on the philosophy that increasingly innovative techniques are needed to address local and global research questions. This underscores UCT's Vision 2030 with its pillars of excellence, transformation and sustainability.
"Once a nitrogen species has been transformed, it is impossible to deduce its origin."
The PIs point out that although nitrogen concentration measurements are quite simple, they can't fully answer many nitrogen-cycle questions because small changes in the levels are difficult to discern above background concentrations.
"Once a nitrogen species has been transformed, it is impossible to deduce its origin," said Fawcett. We overcome these limitations by measuring isotope ratios, which record both the nitrogen source and the various processes acting on it with a high degree of sensitivity."
Gaseous bacteria
The method is intriguing. They grow bacteria that process their samples by converting nitrate to nitrous oxide gas (N₂O). The gas is then measured on the IRMS.
Dr Altieri explained, "The first step relies on taking nitrate from your sample, which is in a liquid, and feeding it to bacteria in little vials and relying on the bacteria to convert the nitrate into N₂O gas. We extract the N₂O gas, purify it, separate it from other gases, and measure the isotope ratios of the nitrogen and oxygen."
This allows them to measure the isotopes in all kinds of samples, even tiny amounts of organic nitrogen preserved in microscopic fossils found in the seabed. And from this they can reconstruct nutrient use in the Southern Ocean in the past and deduce what was happening in the oceans millennia ago.
Much of the work undertaken in the UCT-MBL is focused on oceanic and atmospheric nitrogen cycling, but the denitrifier-IRMS method can be used more broadly. It can measure nitrate isotopes in seawater, groundwater, stream and river water, wastewater, rain, ice, and aerosols, as well as in soil, forests, agricultural systems, and sediment pore waters.
Sky to sea and all in between
Altieri is the lead investigator on two projects that require stable isotope analysis of atmospheric aerosols. She is using the method for a current study on Highveld pollution sources to discover whether coal burning or a process like biomass burning (people burning vegetation to clear land, or fires caused by lightning) is the root cause.
Fawcett is the lead investigator on three projects concerned with past and present climate and ocean fertility. Here, too, nitrogen isotope measurements are critical. In 2019 she was one of three senior South African scientists who participated in the Scott Polar Research Institute's Weddell Sea Expedition. Her group collected the first-ever Weddell Sea samples to be measured for nitrogen isotopes, an ongoing project at UCT.
"The data coming out are very exciting – and it's a game-changer to be able to do it ourselves."
The results will yield unprecedented insights into one of the planet's last pristine ecosystems.
The PIs are also co-investigators on a large, multi-institution project on ocean–atmosphere interactions and ecosystem function off the west coast of South Africa.
"The data coming out are very exciting – and it's a game-changer to be able to do it ourselves," said Fawcett.
African researcher nursery
The facility will also create future wealth for the university and continent. It will train the next generation of South African Earth scientists and boost African expertise, collaboration and teaching. The lab has a big training agenda, said Fawcett. This realises Vision 2030's massive transformative purpose for the university: to unleash human potential for a fair and just society.
The facilities are also available to other institutions (at a cost). The team is hoping this will attract other African collaborators. They have samples in the freezer from Hartebeespoort Dam in Gauteng. The team there want to examine pollution sources and why that's leading to the proliferation of the water hyacinth.
And Namibian researchers have been in touch about the possibility of the lab measuring nitrogen isotopes in fish otoliths (part of the fish's inner ear, otoliths grow throughout a fish's life by accumulating material on the outer surface around a core).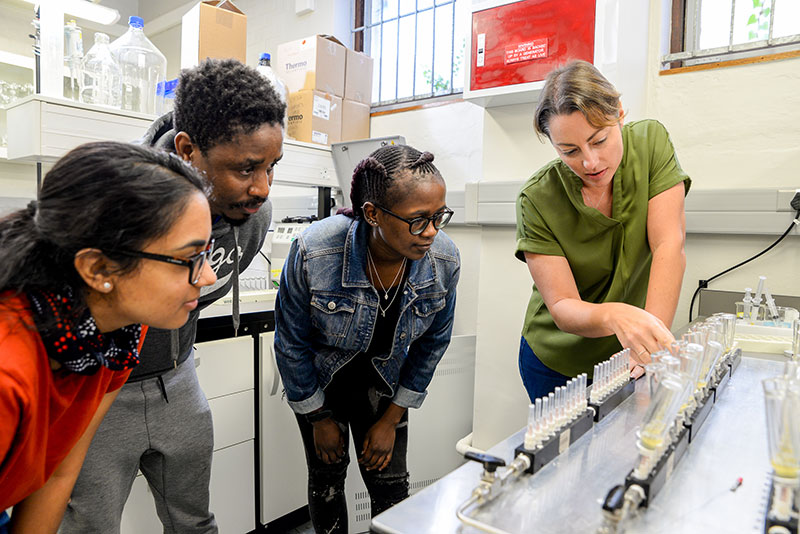 "Clearly there's a need within the environmental science community – not only the oceanographic community," said Fawcett. "The applications are diverse; from what's happened in the past oceans to what's happening today with pollution on the Highveld – and everything in between."
There's a financial aspect too. Although the new multi-million-Rand facility has been generously funded and supported by internal and external entities*, it represents huge savings. No more sending samples off to the United States for analysis at US$55 [approximately R847] a pop.
"When you have 2 000 samples, the cost becomes prohibitive," said Fawcett. And that hampers creativity, innovation and the 'What if?' questions they want to encourage among young researchers.
"Curiosity-driven research is often where new discoveries are made; in a student's ability to take risks. If you can't do interesting hypothesis testing it means that you're basically repeating what's been done before, or at best, progressing only incrementally."
Out of the box
Altieri and Fawcett were first introduced to the denitrifier-IRMS method while they were postdoctoral research fellows at Princeton, where it was developed. The IRMS had been in its box since arriving here in 2020, during lockdown.
But they weren't allowed even a peep. That was to protect the guarantee. Part of the system had been built at Princeton, but they also needed the help of a Princeton technician and locally recruited Dr Brett Kuyper, a research fellow and chief scientific officer, to get it up and running. Dr Raymond Roman, affiliated principal scientific officer; and Hazel Little-Leighton, lab manager, make up the rest of the team.
"Our goal is to make high-quality measurements that mean something here, in Africa."
A central motivation for developing analytical capacity in-country is the potential for creative methods development, particularly South African-specific applications. These could relate to the Cape floral kingdom, Cradle of Humankind, African climate, water availability and quality, fisheries, and so on.
"This will allow South African researchers trained in a South African laboratory to push the frontiers of local and global knowledge."
The installation of the denitrifier-IRMS method at UCT will position South African scientists as equal or leading partners in international collaborations.
"Our goal is not just to mimic North American labs," said Fawcett. "Our goal is to make high-quality measurements that mean something here, in Africa, and that are regarded as superior globally. It's about shifting the centre of gravity away from the Global North.
"But this lab goes beyond us; it's an investment the university, faculty and department have made. The instrumentation should be viable for at least the next 20 years. It is an investment in future research."
*Funders include the National Research Foundation, the Royal Society and African Academy of Sciences, the University Equipment Committee, UCT's vice-chancellor, and the Oceanography department.
---
This work is licensed under a Creative Commons Attribution-NoDerivatives 4.0 International License.
Please view the republishing articles page for more information.
---