Fynbos and Afrotemperate Forest biomes live side by side in the Western Cape, sharing an underlying geology and climatic patterns. Each survives in very different soil, produced by the vegetation. However, the fynbos biome relies on a unique adaptation to keep trees off its turf.
Scientists call the phenomenon "alternative stable states", which underpins a new international study by the Santa Fe Institute (SFI) in the United States with the University of Cape Town (UCT). The results appeared in a new paper, "Biome boundary maintained by intense belowground resource competition in world's thinnest-rooted plant community", published online on 14 February 2022 in Proceedings of the National Academy of Science.
The lead author is SFI Omidyar Fellow Dr Mingzhen Lu. The corresponding author is Princeton University's Professor Lars Hedin (Ecology and Evolutionary Biology Department), with UCT's Emeritus Professor William Bond (Department of Biological Sciences) and several other UCT authors.
Root systems and biodiversity
The paper describes how fynbos plants are able to maintain the poor soil conditions that they are adapted to thrive in – and how the abutting forest biome ends up being so different, contributing to biodiversity, despite the same starting geology and environmental conditions.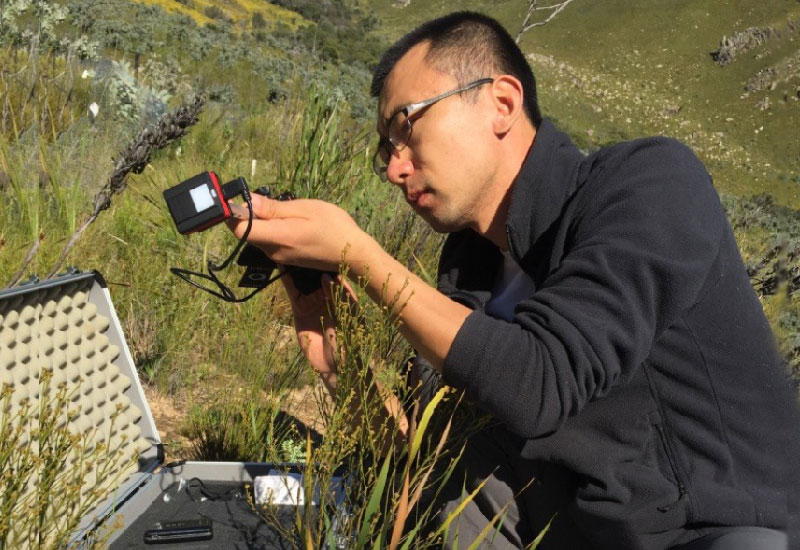 Underpinning the contrasts are root systems, the foundation of biodiversity, said Dr Lu. Stringy roots allow the highly diverse, shrubby fynbos species to outcompete thicker-rooted plants, like trees, by accessing scarce belowground nutrients.
"For the past 400 million years, since plants colonised land, roots have been the true engine of terrestrial nutrient cycling."
Lu was initially trained in China where he developed a special interest in roots and root competition. He conducted this study while working on his PhD with Professor Hedin.
"For the past 400 million years, since plants colonised land, roots have been the true engine of terrestrial nutrient cycling," Lu explained. "It is profound to see microscale plant traits, like root thickness, linked to macroscale emergent ecosystem patterns."
This ability may be key to survival in an era of climate change.
Research roots and networks
Hedin and Princeton colleague Simon Levin had previously collaborated with Emeritus Professor Bond on a project supported by the Andrew W Mellon Foundation. Bond and colleagues also worked on forest versus fynbos soils as part of a UCT biome project. Hedin got involved and later arranged for Lu to work with the UCT team.
Contrasting ecosystem properties between forest and fynbos were quantified at Orangekloof on the Cape Peninsula while the processes behind the contrasts were explored in a four-year manipulated experiment in the Jonkershoek valley near Stellenbosch.
Forest tree seedlings were planted in post-burn fynbos soils with and without nitrogen or phosphorus fertiliser and with or without a screen preventing fynbos roots from competing with the roots of the forest saplings.
---
This work is licensed under a Creative Commons Attribution-NoDerivatives 4.0 International License.
Please view the republishing articles page for more information.
---