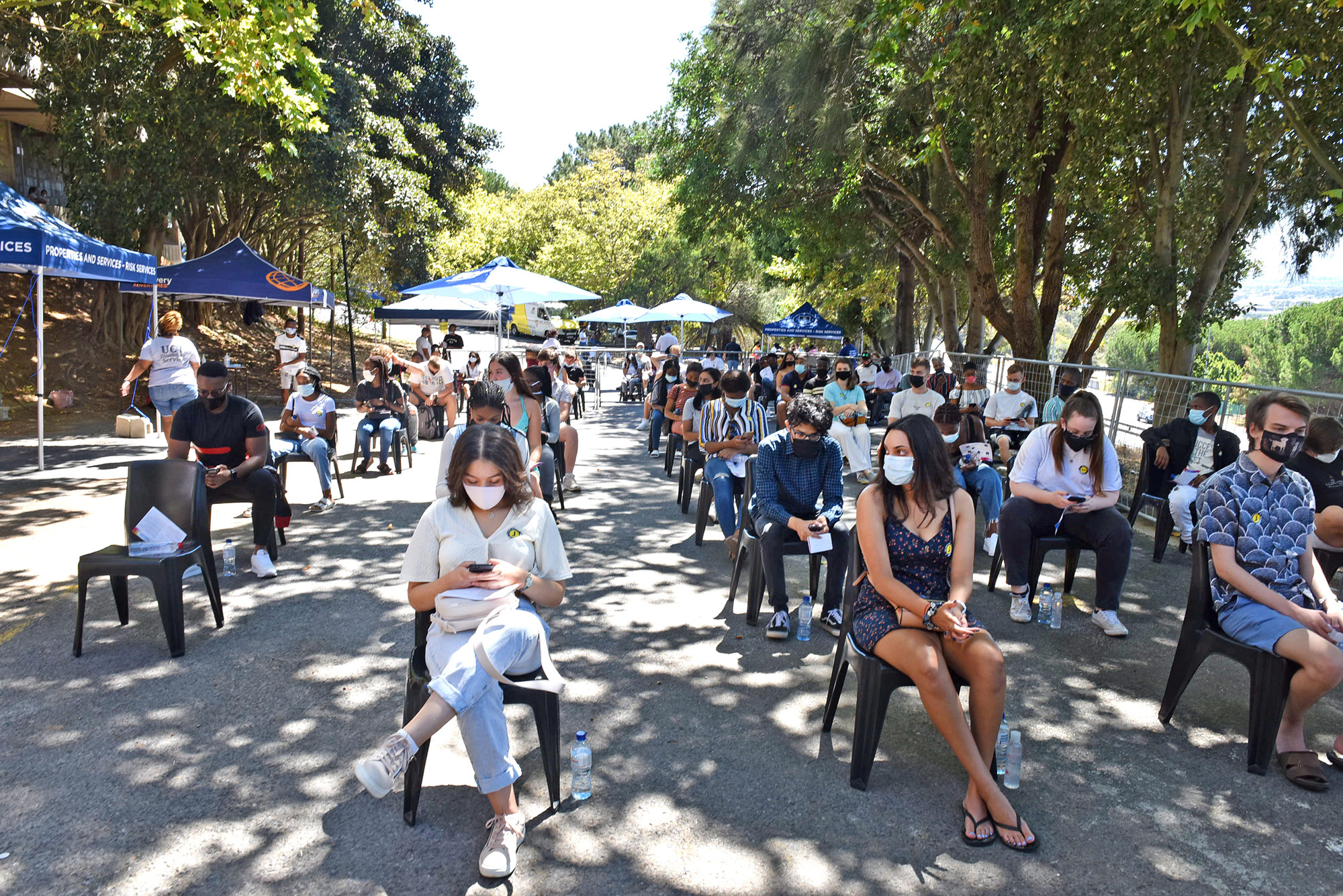 ---
UCT is taking the threat of infection in our university community extremely seriously. While vaccines have been rolled out, there is a lot that each of us can do on a daily basis to stay healthy.
We've all learned the basics for reducing the chance of spreading infection:
wear a mask that covers your nose and mouth in public
keep a distance of 1.5 m from other people
regularly wash or sanitise your hands and surfaces.
These three basic actions are easy to follow and they save lives. The COVID-19 pandemic is still a serious reality and we have to do all we can to keep ourselves and others safe.
If you are on campus, practise the three basic actions and adhere to these additional preventative measures:
Complete the UCT Daily Health Screening Questionnaire each time you enter campus.
Avoid large gatherings.
Avoid enclosed spaces.
Sanitise surfaces regularly.
When travelling, keep one or more windows slightly ajar to allow for good ventilation in the vehicle.
If you are travelling with anyone else or are using public transport, wear your mask and make sure it covers your nose and mouth at all times.
Use hand sanitiser before and after using a public toilet.
Do not use public drinking fountains or share drinks or bottles with anyone else.
Do not share cigarettes, vapes or 'rollies'.
Do not share any eating utensils.
"Our priority is to help each other to keep safe and healthy, as far as possible, so that we all can perform to the best of our abilities." – Dr Reno Morar, UCT's chief operating officer
---
What to do if you have been exposed / tested positive for COVID-19
The symptoms of COVID-19 are very similar to flu symptoms, so all persons with flu-like symptoms should be considered a potential case of COVID-19 and should not enter UCT. If you develop symptoms on campus, you must immediately report it to your student coordinator.
If you have symptoms of COVID-19 or suspect you have been exposed, you should monitor your health and, if your condition worsens, you should contact your healthcare provider or the UCT COVID hotline on 021 650 1271.
---
UCT's commitment
The university will continue to do everything it can to protect our students and staff. UCT is following the government's COVID-19 occupational health and safety regulations, and hand sanitisers, hand-washing facilities and supplies, and cloth masks will be provided to students and staff members.
Important interventions include physical distancing and arranging workspaces to allow a minimum of 1.5 metres between people; appropriate scheduling of the cleaning and sanitising of surfaces in workspaces and vehicles; and limiting capacity in rooms, shared facilities and vehicles to allow for social distancing.
Other measures include providing additional personal protective equipment, such as gloves, N95 masks and visors, as required by the National Department of Health, for university staff and students who are providing care and support in the public health sector.
Read more about UCT's response to COVID-19.
---
Support for students' COVID-19 vaccination queries
The Students Vaccine Project provides support for COVID-19 vaccination queries.
A facility is available to support all students who have queries related to the COVID-19 vaccination. Trained health professionals are on standby to assist. Contact details for COVID-19 vaccine queries: vaccinate.students@uct.ac.za or call 021 650 4279.
---
This work is licensed under a Creative Commons Attribution-NoDerivatives 4.0 International License.
Please view the republishing articles page for more information.
---