Based in the Faculty of Health Sciences, the Division of Global Surgery aims to improve the quality of surgical care in Africa through research, capacity building, implementation and advocacy. They envision a world in which all people have access to quality, comprehensive, surgical care. In 2021, the Division focused on Advocacy and Implementation in an attempt to focus on systems change and community engagement.
Worldwide, five billion people lack access to safe, affordable surgical and anaesthesia care when needed. 143 million additional surgical procedures are needed each year to save lives and prevent disability; and 33 million individuals face catastrophic health expenditure due to payment for surgery and anaesthesia each year.
The Division of Global Surgery's Advocacy mission is to bring primary surgical care into the healthcare discussion, and to make it a priority. It aims to build collaborations through which community members, community healthcare workers, community leaders, healthcare workers and academics can work together to creatively address these issues.

It aims to create a space wherein agents of change can work outside of traditional silos to catalyse growth and improvement in surgical access, safety and equity.
Community engagement
In October 2021, the Division ran its first Advocacy Community Engagement workshop in Gugulethu on breast and cervical cancer. The course was attended by 47 community health leaders, facilitated by Professor Lydia Cairncross (Head of General Surgery at the University of Cape Town and Groote Schuur Hospital) and Dr Tracey Adams (Gynae-oncologist at Groote Schuur Hospital). These interactive sessions were extremely well received, and the team has an advocacy programme that will run throughout 2022, and has already been invited by neighbouring communities to host similar workshops in 2022.
Implementation
Global Surgery in Action is a project aimed at building surgical care capacity in rural district hospitals. Its partner hospitals in the Eastern Cape have dedicated teams of clinicians that have managed to make huge improvements in the quality of care they provide to their isolated and under-resourced communities in the fields of obstetrics, paediatrics and HIV care, but they have struggled to improve their surgical care. This is because the processes are too complex and the learning gaps too large to bridge alone.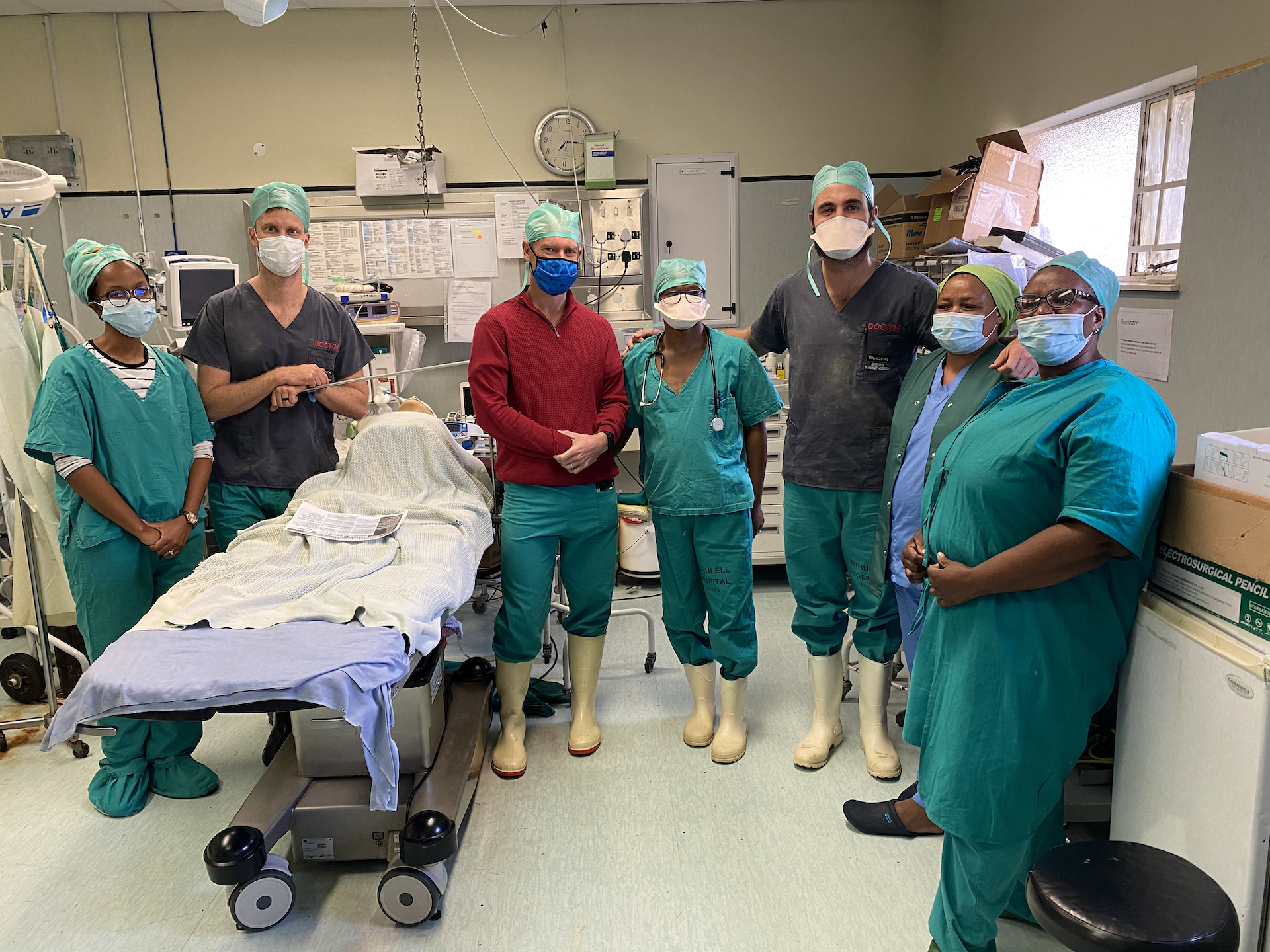 The Division of Global Surgery's Implementation team began a process of coordinating content experts, providing on-site simulation training, and sourcing funds for essential equipment to enable the team to begin performing skin grafts for burns patients. These patients often languished for months in the hospitals because they could not get the operations they needed. By connecting Madwaleni Hospital to paediatric anaesthesia experts, a burn surgeon expert, and through sourcing of donated equipment, the local team have now been able to begin performing skin graft operations on their patients. According to the hospital, they are now able to do a procedure that they previously could not do.

This is not only changing patients' lives, but also providing a platform for training and learning for the doctors and nurses based at this hospital.

It is hoped that this continues to improve the working and learning environment at Madwaleni where staff retention is critical to the growth and development of the services they provide.
---
This work is licensed under a Creative Commons Attribution-NoDerivatives 4.0 International License.
Please view the republishing articles page for more information.
---