On 3 January 1983 Jonathan Fritz excitedly hopped into a taxi and made his way from Steenberg to the University of Cape Town (UCT) for day one as a campus painter and handyman.
He wasn't campus Mr Fix It for very long. After a year or so Fritz was offered a permanent position in the garden maintenance department and was tasked with attending to UCT's gardens. He embraced his new role – out in nature – which included mowing the lawns, pruning dozens of trees and watching many plants and flowers bloom. His job was one of the best in the world – peaceful and stress-free with nature for company.
But nothing lasts forever, does it? And after almost 40 years, Fritz will pack up the shed, hang up his gardening gloves and overalls and bid UCT a fond farewell. In a blink of an eye retirement has come knocking, and he has mixed feelings about this imminent new beginning.
It won't be the same
Fritz, or "Uncle Jonathan" as he's fondly referred to by colleagues from UCT's Communication and Marketing Department (CMD) where he spent a portion of his day attending to the historic gardens on the Welgelegen estate, said it's hard to imagine life without his beloved flora.
Welgelegen and the Irma Stern Museum, just a stone's throw away from each other on middle campus, has long been his domain, his wonderland and where he felt most at home. But soon that will change.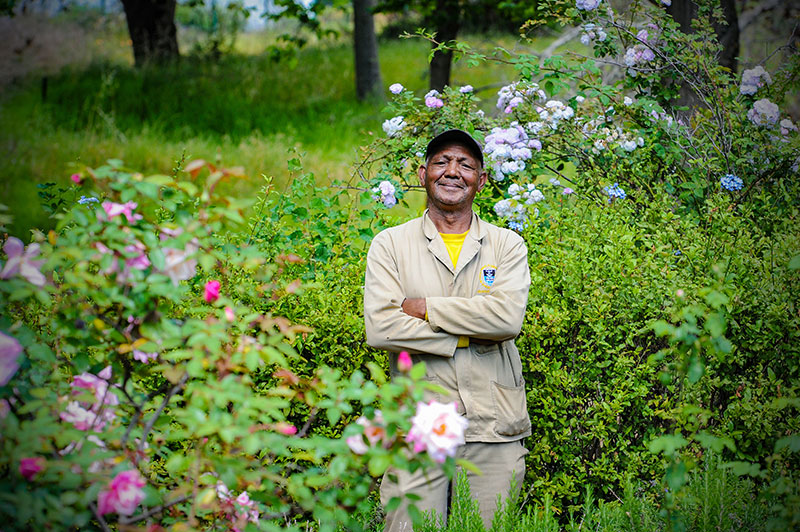 "In January I won't be coming back here and that's quite hard to believe. After so many years, nothing will ever be the same again," Fritz said.
Gardening lessons from his father
The garden has always been a special place for Fritz. While UCT has nurtured his love and passion for his vocation, he said much of what he knows about the garden today comes from his father. Esau Fritz was an avid gardener and taught him the ins and outs of the trade. What to do, what not to do, and when to do it all formed part of his on-the-job training long before he was even old enough to work. Fritz senior was set on grooming a master gardener, and he did.
"I grew up in the garden. That's where I spent most of my time as a young boy, helping my father plant vegetables. We had such a beautiful garden. You name it, we had it," he said.
So, he was excited to join the garden maintenance department and put his green fingers to good use. He worked in gardens across UCT's campuses including the old Protem complex – now the Graça Machel Hall – raking up leaves, pruning and putting those garden clippers to good use.
He also had heaps of help from his colleagues. Fritz knew he was in good hands with his supervisor, Harry Fisher. He valued Fisher's guidance, support and teachings, and was in awe of his innate ability to transform any garden into something magical.
Saying so long
Over the years, Fritz has seen many come and go. More recently, at the end of 2020, two of his long-time friends and colleagues, Fouzia Thesen and Charmaine Kannemeyer, also retired. Both Thesen and Kannemeyer were members of Properties and Services cleaning service and were based at Welgelegen.
"I miss them a lot. The cloakroom [at Welgelegen] has not been the same without them. We shared many memories here and for the past year it's been quiet," he said.
One would think that the absence of Thesen and Kannemeyer prepared Fritz for this day. But sadly, he said, it hasn't. He'll miss his early morning taxi trips to work, strolls along Chapel Road to the Irma Stern Museum or Welgelegen (depending on his schedule), and those tea and lunch breaks with friends who have become like family.
But life goes on. Now there's more time to potter around the house, spend time with his family and have some much-needed rest. As for the gardens, the lavender and rose bushes will continue to blossom; the autumn leaves will still fall; and the lush, manicured lawns will sparkle on a hot summer day.
And Fritz? Well, he'll be admiring it from afar, always smiling proudly at the part he played in all of it.
"For me it wasn't work; it was love," he said.
---
---
This work is licensed under a Creative Commons Attribution-NoDerivatives 4.0 International License.
Please view the republishing articles page for more information.
---