Covering a large body of water with solar panels is a new innovation in energy production that recently arrived in the Mother City, and the University of Cape Town (UCT)'s Department of Electrical Engineering will be monitoring the data of this groundbreaking pilot.
The Kraaifontein Wastewater Treatment Works is now home to the metro's first floating solar plant. Partners in the project are the City of Cape Town, the Water Research Commission, Floating Solar (Pty) Ltd and UCT. Peter Varndell, of equipment provider and project developer Floating Solar, said this is the first floating solar plant that has been developed on Cape Town's infrastructure.
"This allows the City the opportunity to better understand the technology and its potential application across other sites as part of its drive towards renewable energy," said Varndell.
The significant benefits of this system are that it reduces evaporation from water bodies, while sparing limited land expanses for other use.
"We have been involved in floating solar for a few years now; and in trying to catalyse the market, [we] realised the importance of having factual information around the evaporation-savings potential and the improved performance of floating solar over land-based solar," Varndell added. "This is key in defining the value and investment case for this unique solution. We will run this experiment for 12 months, while continuing with other projects across Southern Africa."
Richard Larmour, of the Advanced Machines and Energy Systems (AMES) group and the Department of Electrical Engineering, said UCT was approached by Floating Solar to do an impartial assessment of the technology's performance at the Kraaifontein pilot plant.
"My role will be to continually assess the project performance over a period of a year, to ensure that we include a full seasonal weather cycle. During this period, we will be reporting at contracted intervals," said Larmour.
Fits together like Lego
Installing the system took less than a month. A basic floating system consists of photovoltaic (PV) panels mounted on a floating solar island, two tanks and a three-phase inverter.
"Installation of the floating PV system took less than a month. Hydrelio® technology consists of modular 'Lego-type' floaters, and installation is very straightforward and does not require any heavy tools – allowing for smooth and quick deployment," explained Varndell.
Hydrelio® is the name of the patented floating solar system that allows standard PV panels to be installed on large bodies of water.
"The PV modules are mounted on an anchored structure that floats on a body of water, rather than on the ground or on the rooftop of a building. The advantages lie in water savings, and in avoiding the use of arable land," Larmour added.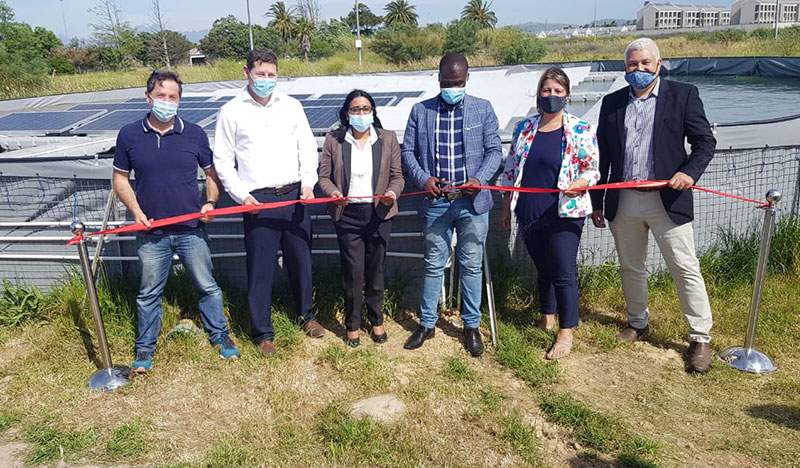 He said that over the monitoring period, they will also be investigating other potential benefits such as increased operational efficiency of the solar PV modules.
"We know, somewhat intuitively, that the temperature of the solar modules in close proximity to the water surface should be cooler than if they were mounted on the ground; but it is difficult to model just how much cooler. This experiment will provide important empirical evidence of the actual temperature difference, which could be used to calibrate simulation models. In the same way, we will be able to accurately quantify the impact of the system on water evaporation as a function of real local weather conditions," said Larmour.
Varndell added: "The data will allow us to quantify evaporation reduction with floating solar; and improvements in panel efficiency with floating solar due to [the] cooling effects of water, and [the] effects of panel angles."
A step towards more green energy in Cape Town
Potential exists to duplicate such a system across Cape Town's water resources infrastructure.
"The Kraaifontein floating solar plant produces electricity at pilot scale only, and is designed for research purposes. Once the performance of this technology has been accurately ascertained, the City will be in a position to include it in strategic planning at scale on larger bodies of water," said Larmour.
In a statement, the City's Mayoral Committee Member for Energy and Climate Change, Councillor Phindile Maxiti, said the pilot project is a tangible example of how to build a sustainable future, and how the green economy can be harnessed for sustainable and inclusive economic recovery.
"The City has been fighting to move away from the sole reliance on Eskom, and to diversify the energy mix for cleaner and more affordable and secure power for all. In addition, given that vacant land in the city is very expensive and rooftop solar PV systems are relatively small, Cape Town aims to explore floating solar PV systems for larger-scale solar PV installations, as part of its pioneering work to diversify the energy mix, to lead by example and to take climate action leadership. Importantly, great things can only be done with great partners," said Maxiti.
"Generating clean power and reducing [the] evaporation rates of water bodies could be a great double-win for sustainability," he added.
---
This work is licensed under a Creative Commons Attribution-NoDerivatives 4.0 International License.
Please view the republishing articles page for more information.
---