On 29 September 2015, the Next Generation Professoriate (NGP) was officially launched at the University of Cape Town (UCT). It was conceived as a mid-career academic intervention, designed to support staff in their career paths and especially to attain promotion to associate or full professorship. It was a project housed in and funded by the Office of the Vice-Chancellor. Looking back over six years, Robert Morrell reflects on achievements and challenges and surveys current activities.
A starting point to assess the programme would be the number of members who have been promoted. Thirty-two staff members have been promoted, five to full professor, 27 to associate professor. Most of these have achieved ad hominem promotion but some have successfully applied for professorships in an open selection process of advertised positions. Considering that the cohort started with 35 and increased to the current complement of 45, this is a good proportion of members.
In July 2016, 16 members of the NGP were members of Senate. By July 2020, the number had increased to 21. As the contributions to this newsletter show, members of the NGP have risen to positions of leadership and responsibility at UCT. Amongst the current NGP members in positions of Head of Department (HoD) are Freedom Gumedze (Statistical Sciences), Bodhi Kar (Historical Studies), Manya Mooya (Construction Economics and Management), Lebo Ramma (Health and Rehabilitation Sciences) and Kurt Campbell (Michaelis School of Fine Art). Frank Matose is acting head of the Department of Sociology and Deano Stynder is interim head of the Department of Archaeology. For 2022, Phumla Sinxadi (Clinical Pharmacology), Maureen Tanner (Information Systems), Lydia Cairncross (Surgery) and Anwar Jardine (Chemistry) have been selected to headship.
These figures suggest that the NGP has become a leadership cohort, a group of staff members who over the period of their membership of the NGP have developed the talents to lead and to take responsibility and have, at the same time, been given the confidence of their colleagues.
The NGP has been located in the Office of the Deputy Vice-Chancellor for Transformation. Emeritus Professor Martin Hall has been acting DVC and has gotten to know a lot about the programme.
"Universities have a strong and enduring tradition of academic leadership, which has long been at odds with trends in corporate governance. But today, it is increasingly appreciated that the complexity and pace of the decisions that have to be made in any organisation require a different approach, that is deeply grounded in an understanding of complexity and that is open to new ideas, creativity and the search for new knowledge. The NGP project serves as a living laboratory for these principles, bringing together people from a wide range of disciplines and fields of practice. As those in the NGP community move into senior leadership positions in our university they will take the work of transformation forward in ways that build on the traditions of the academy while addressing the full complexity of the emerging future."
Building a heart
Another less tangible achievement of the NGP lies in the development of gees. It was always the ambition of the cohort to become something more than the sum of the parts. Launched at a tense time with #RhodesMustFall in full swing on campus, feelings of alienation and suspicion were common. Trust and collegiality were rare resources. In this environment, when the explicit goal was to contribute to a new inclusive institutional culture, I took the view that maximum openness was the best policy.
"I focused on what binds people together, what academics have in common. I highlighted anxiety and ambitions, hopes and disillusionment, joys and sadness. I focused on our common humanity."
Shari Daya has named my approach as leadership with care. I have always thought of academia as one of the caring professions, a form of teaching where the wellbeing of the learner (not just their skills and knowledge) should be the focus of effort and the test of success. Kurt Campbell feels that the leader of the NGP has the responsibility for "uniting scholars and making them feel able to overcome barriers through conversation". And, he says, "Leadership has to be discharged with passion".
When I attend writing retreats, as we did at Mont Fleur in October, I feel that I have achieved my greatest purpose. The NGP has brought people together, it has created new networks, it has produced a place of friendship, trust, laughter and conversation. It accommodates a wide range of views which reflects the diversity of its membership.
The NGP has developed through the writing retreats, one per quarter. These have been the flagship activities but they have not been the only activities. Quarterly teas and lunches, various meetings, seminars and workshops have provided opportunities for NGP members to meet in a context where, ordinarily, their paths wouldn't cross. NGP members come from all the different UCT campuses and its seven faculties and in the ordinary run of affairs, staff operate in quite small, self-contained silos.
New knowledges, Southern theory and service
Amongst the projects that the NGP has housed is the Southern Theory Reading Group. UCT has long promoted inter- and trans-disciplinary scholarship and it was my responsibility when I was coordinator of PERC (the Programme for the Enhancement of Research Capacity) in the Research Office to encourage interdisciplinary research. It was this task that led to an interest in Southern theory and to the invitation of Raewyn Connell (University of Sydney) to visit UCT in 2011. At a Vice-Chancellor's Lecture, Raewyn spoke about her 2007 book, Southern Theory.
The interest in Southern theory has grown globally and in South Africa and is part of debates about decolonization. In the NGP, I hosted a reading group on Southern theory which included Vanessa Watson, professor of urban planning at UCT and a major global figure in theorising planning in the South. Vanessa was a loyal participant in the reading group. We commemorated her sad passing with a lunch at the Alphen Hotel where scholars from many different disciplines attested to the success of Southern theory in transcending disciplinary boundaries.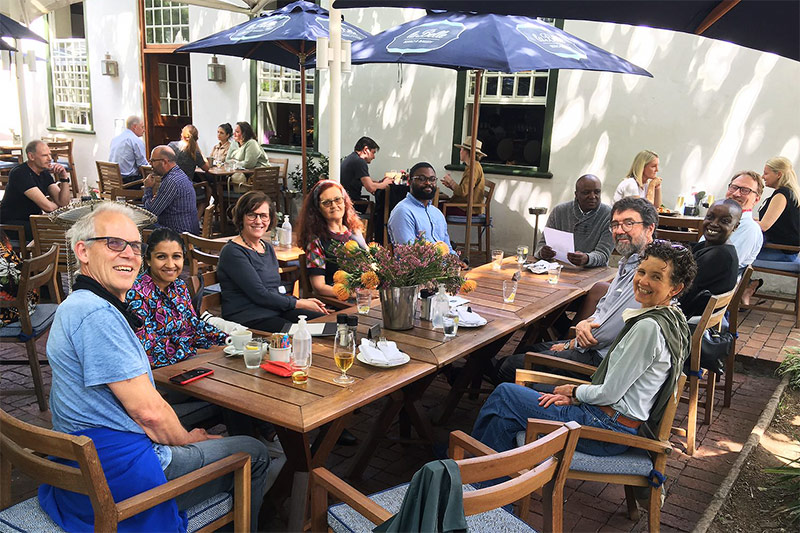 In this newsletter we also hear about the achievements and endeavours of NGP members. Ameeta Jaga describes her work that pushes the boundaries in her discipline of organisational psychology by drawing on Southern theory and applying this approach to exploring new methodologies and to her research work on breastfeeding in the workplace.
Waheeda Amien (Public Law) is an invited member of South African Law Reform Commission's Advisory Committee to review aspects of Matrimonial Property Law. She brings to her work an expert knowledge of Muslim family law and gender developed over more than two decades.
Amir Patel received a Young Researcher Award from UCT's College of Fellows and his work on cheetahs once again featured on the cover of a major journal. He plans to use his understanding of the cheetah's tail in the field of robotics to contribute to neurological and orthopaedic rehabilitation and is exploring how his scientific findings can be used to address global health issues involving connections between humans, animals and the environment.
Retirement reflections
I retire at the end of 2021 and have been reflecting on my work in the NGP. I recently read Abraham Verghese's 2010 novel, Cutting for Stone, a novel about twins born on a mission station in Addis Ababa. Verghese is a doctor himself so the novel focuses on the body and disease and especially surgery. It features a doctor, Dr Abhi Ghosh, who also does some lecturing. Ghosh is a father to the twins. His belief about teaching is captured with 3Ls, "Loving, Learning, Legacy". I find this inspiring.
Verghese's own views on teaching are set out in a 2018 article What this computer needs is a physician: Humanism and artificial intelligence in the Journal of the American Medical Association (JAMA). The paper explores five practices that enhance the practice of a doctor: preparing with intention, listening intently and completely, agreeing on what matters most, connecting with the patient's story, and exploring emotional cues. In an interview, Verghese notes that "Ultimately, the patient–physician interaction is one human being coming to another in distress. All the data in the world can't substitute for one's desire to be comforted by another human being".
Isn't it a wonderful thing to leave a legacy of loving and learning?
---
This work is licensed under a Creative Commons Attribution-NoDerivatives 4.0 International License.
Please view the republishing articles page for more information.
---