When Nqabisa Faku's beloved mother succumbed to COVID-19 complications in November 2020, the death took a massive toll on the University of Cape Town (UCT) master's student's mental health.
Balancing her academic load and the extras that accompanied this all-round academic achiever's schedule, like tutoring undergraduate students and co-guest-editing a leading pan-African magazine, was no mean feat.
Added to this was her responsibility towards her family. As her parents' first-born daughter, the long-standing African tradition was clear. Faku needed to step into her new role as caregiver, and boy did she have big shoes to fill. Ensuring that basic, often time-consuming chores around the house were completed timeously, and caring for her father and younger sister like her mother once used to, was added to her to-do list.
Taking strain
The psychology master's student took strain. As 2021 dawned, her fellow classmates were bright eyed, bushy tailed and ready to start the new academic year, but she was fatigued and couldn't keep up with her many conflicting priorities. As a result, she missed two seminars critical to her academic programme.
"This breakdown was the culmination of weeks of pressures of being the backbone of my family."
"The first seminar I attended was in week three during which Professor Floretta Boonzaier checked in with everyone. When it was my turn to share, I just broke down," she said. "This breakdown was the culmination of weeks of pressures of being the backbone of my family, feeling alone and broken inside and yearning for the support, companionship, warmth and love of my beloved mother."
As the country observes Mental Health Awareness Month, UCT News spoke with Faku to discuss her grief, its effects on her mental health and how to cope with the death of a loved one. These tools are particularly relevant in the new socially distanced world, which has become the norm in light of the COVID-19 pandemic.
Processing loss
Upon the death of a loved one, Faku said grief commonly presents itself in seven different stages:
shock and denial
pain and guilt
anger and bargaining
depression
the upward turn
reconstruction
acceptance and hope.
"Some say there is no right or wrong way of processing grief. But I disagree. For me, the right way is to give yourself time to reflect on your loved one's memory and legacy. Therefore, it's absolutely vital to take compassionate leave and in the case of students, to request an extension on assignment and test deadlines," she said.
After her mother's passing, Faku said she felt guilty for not spending as much time with her as possible during her final days. Faku was knee-deep in collecting data for her master's thesis, which took up most of her time.
Letting go of feelings of guilt, pain, anger and loneliness was crucial and helped Faku accept and process her loss. Gaining a spiritual understanding of death and a new perspective on the circle of life, and focusing on meaningful things, gave her a new lease on life.
"We shouldn't beat ourselves up about when and how someone passes on and what we could've done better. We have no control over that," she said. "Looking back now, I know that my mother would've wanted me to focus on my studies during that time. She valued education and was always very supportive of my studies."
A blessing in disguise
When the COVID-19 pandemic hit our shores and the university shut its doors, Faku, like thousands of other students, were forced to embrace emergency remote teaching and learning. And while this new mode of learning was tough and students struggled to adjust, Faku said that after her mother's death, studying from home was like a blessing in disguise.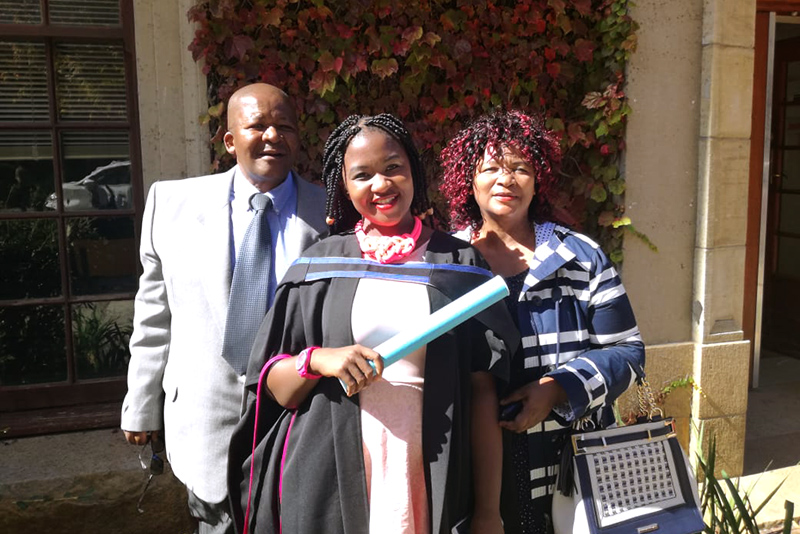 The time at home allowed her to spend quality time with her father and sister. They spent hours reminiscing and sharing memories of her mom's unique qualities, and lovingly expressed what they loved and missed most about her. She described this as a cathartic process that allowed her to reflect on the past and accept and adapt to her new normal.
"As a family, we were there to comfort, support and even argue with each other. Our love carried us through those early days of grieving and beyond to where we are today. If I was at varsity, I'd (have) missed out on all [of] this. I am grateful that I was home and that I could share this time with them," she said.
Turning grief into gratitude
The path towards healing after a loved one's passing is unique and differs for everyone. But when the load becomes too heavy, Faku said, mental health professionals are there to help. Therapy is also especially helpful for those who avoid processing their grief and instead engage in destructive behaviour, such as drug and alcohol abuse and physical self-harm, she added.
"Once you begin reflecting on the beautiful memories … and the encouragement your loved one provided you with … you'll begin to turn grief into gratitude."
But turning grief into gratitude should always be the ultimate goal, and the process starts with appreciation: being grateful for the memories, the good and the bad times, and the principles, values and lessons the departed loved one has imparted on those who are left behind.
"Once you begin reflecting on the beautiful memories and the inspiration, strength and encouragement your loved one provided you with, especially during difficult times, you'll begin to turn grief into gratitude," Faku said.
"The process is painful, but eventually the sun will shine again."
---
This work is licensed under a Creative Commons Attribution-NoDerivatives 4.0 International License.
Please view the republishing articles page for more information.
---