At UCT we are committed to supporting our students from their first year to graduation. While your time at university can be the best years of your life, you do sometimes need a little help along the way. To truly make you a part of our community, we've made a wide range of services available to you.
The Department of Student Affairs (DSA) oversees all student services and activities, including student orientation, sport and recreation, student accommodation, student undergraduate financial aid and the Student Wellness Service. The DSA also works with a multitude of partner and support departments to cater for the needs of all students.
The department focuses on:
helping students to succeed academically
assisting students to become engaged citizens
supporting students to reach their full potential.

Masingene Building, Middle Campus
021 650 2128
---
Your first year
The First-Year Experience (FYE) is a collective, campus-wide initiative to help first-year students transition successfully into university life. This involves multiple staff members from across the university who work to help you navigate this new space, manage your academic journey and develop a strong sense of belonging at UCT.
The FYE prioritises an integrated approach to student development, linking initiatives that respond to your academic, social and material needs.

Hoerikwaggo Building, Upper Campus
021 650 4072
www.ched.uct.ac.za/first-year-experience-project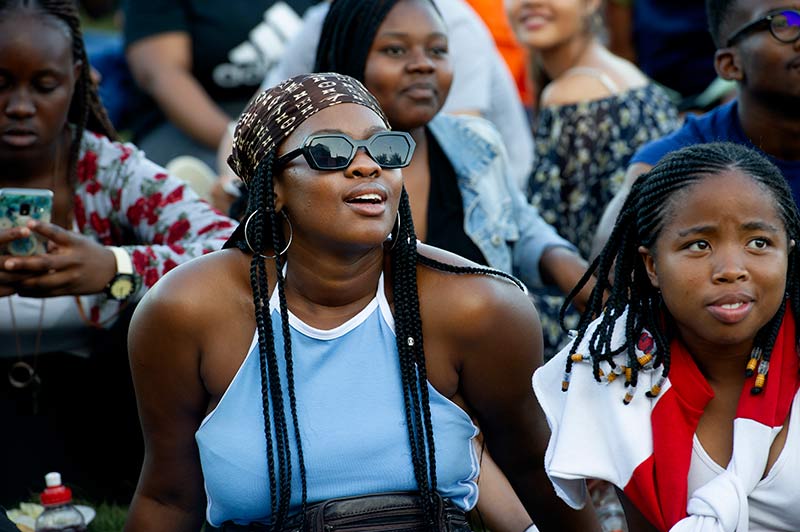 ---
Need advice?
The Student Orientation and Advocacy Service (SOAS) is there to help you settle into university life. The SOAS deals with all student needs, including helping you find your way around campus; providing access to brochures, handbooks and pamphlets; and offering advice and referrals to services offered by various departments and facilities.

Room 201, Level 2, Computer Science Building (Cissie Gool Plaza), Upper Campus
021 650 5082
"I wish I reached out for help and information when I needed it. I've always been independent and that was a barrier to getting the help I needed at the time." – Sinazo
---
UCT_CARES
While UCT has an array of services to help you navigate life at the institution, you don't always know who to contact when you're in need, particularly in moments of distress.
The UCT Central Advising and Referral System (UCT_CARES) is there to provide you with a central point of contact for the information and services you need.
Send your queries to uctcares@uct.ac.za and a CARES agent will either respond with the relevant, general information or they will refer you to the relevant department.
---
Ensuring inclusivity
The Office for Inclusivity & Change (OIC) offers a range of support services to ensure that the university is accessible and inclusive to all:
removing physical, policy, information and attitudinal barriers that prevent disabled members of UCT from fulfilling their potential
supporting survivors of rape, sexual assault, sexual harassment and all forms of discrimination and marginalisation
providing case management advice and support to respondents, mediation services, training and awareness raising
working with course convenors to develop and implement curricula that improve the personal and professional development of students
ensuring equal access to administrative, academic and support services for all students and staff
facilitating important student interactions to contribute towards building inclusion at UCT.

The Cottage, Lovers' Walk, Lower Campus
021 650 2767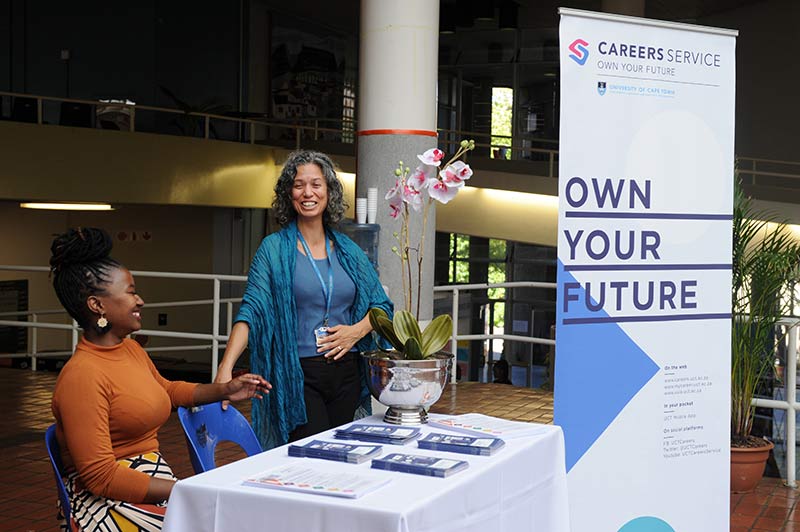 ---
Careers Service
UCT's Careers Service helps prepare you for the world of work – it's never too early to start planning! They are there to support your personal and professional development, including career-management skills and career education, offering information, advice and guidance.
They will help you write a CV and cover letter for job and internship opportunities or offer advice about working locally or overseas. They can even help you access part-time work and internships.

Level 1, Hoerikwaggo Building, Upper Campus
021 650 2497
"Don't be afraid of utilising UCT's Careers Service. They can literally shape your future." – Nwabisa
---
Lending a financial hand
UCT believes that no student should be excluded from pursuing a degree due to a lack of financial support. Therefore, the university has reserved funds for financial aid packages to support eligible students, and works with several external stakeholders who provide similar assistance through bursary programmes.

Level 3, Kramer Law Building, Middle Campus
021 650 3545
www.dsa.uct.ac.za/student-funding-administration/financial-assistance/financial-aid
---
Welcoming international students
UCT is a truly diverse university and welcomes students from all over the world. The International Academic Programmes Office (IAPO) facilitates and promotes all facets of internationalisation and ensures that UCT is the preferred study destination for international students.
IAPO acts as the central coordinator and facilitator of all initiatives and activities related to international students, offering guidance on accommodation, study permit applications and more.
Read more about IAPO's orientation programmes for international students.

021 650 2822/3740
---
Resolving disputes
The Office of the Ombud provides a safe space for students and staff to air university-related concerns and offers a platform to discuss formal and informal interventions. The office also provides a space where students can find out more about university policies and procedures and receive necessary referrals.
The ombud is independent of UCT's authority structures and reports directly to the Chair of Council. It has access to the university's senior leadership to share concerns about issues on campus.
Visits to and discussions with the ombud are strictly confidential, and the office will not disclose or keep any records that could identify individuals.

Lovers' Walk Extension, Lower Campus
021 650 3665
---
Living on campus
At UCT, we provide a range of student housing options for undergraduate and postgraduate students, both on and off campus. Here's what's on offer:
First tier – for undergraduate students under the age of 21. These residences provide three meals a day in dining halls and offer self-operating laundries and a communal television space.
Second tier – for senior undergraduates and postgraduates. These residences provide three meals a day in dining halls. Most second-tier accommodation comes in the form of two- to four-bedroom flats and all rooms are single.
Third tier – strictly for senior postgraduates. Residence wardens oversee academic and social well-being. Most units are within walking distance of upper campus or close to Jammie Shuttle stops, and retailers and public transport routes are nearby.
The Department of Student Affairs will be able to answer all your questions about residences and other student housing options.

Masingene Building, Middle Campus
021 650 2977
www.dsa.uct.ac.za/how-residences-are-organised
---
This work is licensed under a Creative Commons Attribution-NoDerivatives 4.0 International License.
Please view the republishing articles page for more information.
---