Why do people watch movies and documentaries about murder? What is it that intrigues them about the genre? Is there an evolutionary element to it? Voyeurism? Or is it about survival?
During his two-day Summer School lecture, "Murderers: We can't take our eyes off them", Gilad Stern drew on expert research and provided his own views to begin answering these questions. Stern is a management consultant and lecturer in the School of Management Studies at the University of Cape Town's (UCT) Faculty of Commerce.
"Are we as human beings a violent species? Do we have a predilection for murder?" asked Stern.
He traced this violence back 430 000 years to when scientists discovered what is believed to be the first murder victim in history. In a cave in Spain, the cracked skull of a young adult was discovered with two holes in it, evidence that a murder had taken place. Furthermore, the skull was discovered with 30 other skeletons, all of which had been thrown down a hole, leading researchers to conclude that this was a "ritual killing of some sort".
"The continued fascination with 19th-century serial killer Jack the Ripper further supports the idea that humans cannot take their eyes off murderers."
Stern provided other earlier insights into humans' fascination with and potential predilection for violence: Cain and Abel from the Bible, Fyodor Dostoevsky's Crime and Punishment and the successful career of author Agatha Christie.
He noted that the continued fascination with 19th-century serial killer Jack the Ripper further supports the idea that humans cannot take their eyes off murderers. The Ripper was an unidentified serial killer who targeted victims in London's Whitechapel district between 1888 and 1891. The brutality and frequency of the Ripper murders were covered extensively by newspaper media and, as Stern noted, it was the "quintessential beginning of the public's fascination with murder through the media".
Murder through media
This fascination has long been evident in South Africa, no different from that of the rest of the world. Stern traced our earlier fascination with infamous murderers to the likes of Daisy de Melker, Ronald Cohen, and the so-called Upington 26.
De Melker, a trained nurse, had poisoned her two husbands in a bid to claim their life insurance and later poisoned her son, the motive for which has never been uncovered. Cohen, a millionaire whose relatives are immortalised in the form of street names across Cape Town's Atlantic Seaboard, was found guilty of battering his wife to death with a statue. In Cohen's case, he concocted an elaborate story about an intruder, blacking out and coming to, only to find his wife killed by the mysterious perpetrator.
In both cases there was enormous public interest, satiated by the media's constant coverage. Stern speculated why these two cases were of particular interest to people, here and abroad. In De Melker's case, she was white and a woman, both of which made her case particularly rare. She also became the second woman to die by hanging in South Africa.
And while Cohen's trial took place almost 50 years after De Melker's, having a white person on trial for murder remained a rarity, but his case was made that much more intriguing because of his wealth, Stern noted.
In the case of the Upington 26, an initial group of 26 black South Africans stood trial for the murder of a black police constable. While race was certainly central to this case, as it took place in 1985 Apartheid South Africa, there were other factors that drew the public's attention, both in South Africa and abroad. Most of the accused were convicted on the basis of the doctrine of common purpose.
"Did this really constitute a murder?" asked Stern.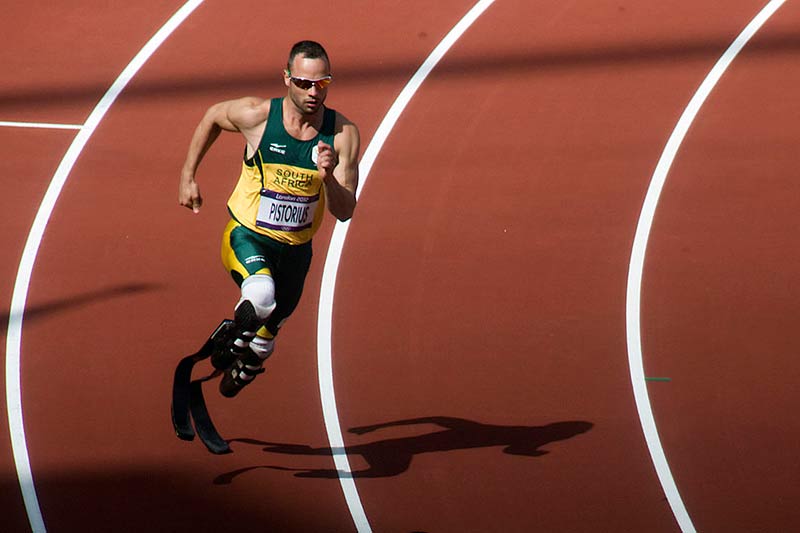 Wealth, race and celebrity collided in the more recent murder of model and paralegal Reeva Steenkamp. On Valentine's Day in 2013, Steenkamp's boyfriend and Paralympic champion Oscar Pistorius murdered her. He claimed he thought the 29-year-old was an intruder, leading him to fire four shots through the bathroom door, with Steenkamp on the other side.
News of the murder captured the world's attention, and seven years after the crime was committed, it is the focus of a new documentary, The Life and Trials of Oscar Pistorius.
One of the things Stern noted about the Pistorius case was how legalese became part of everyday conversations and mainstream media. Citing a Zapiro cartoon and the buzz term of the trial – dolus eventualis – Stern said, tongue-in-cheek, we had "all became experts in legal theory".
We, the people
So why are there so many movies, series, podcasts and books about murder? Why is there this "incredible appetite for murder stories" and why, as Stern questioned, do "normal people want to see such gruesome things"?
Stating as he had throughout the two-day lecture, Stern made clear that this was not a criminology discussion. Instead, he shared his own views and drew on the work of experts such as psychiatrist and associate clinical professor of psychiatry and behavioral sciences at the Icahn School of Medicine at Mount Sinai Dr Sharon Packer and associate professor of psychology at Penn State Harrisburg Dr Marissa Harrison.
In addition to the intrigue of race, sex, wealth and celebrity, Stern provided a few ideas about what drives humans' fascination with murder.
One such reason is that taking an interest in matters, particularly those that scare us, is germane to our species. A second reason is that because we believe in a high prevalence of crime, we take an interest in it.
"We can't take our eyes off murderers because we are trying to protect ourselves."
This leads to the third reason, which Stern, drawing on research, believes is most probable for women: We can't take our eyes off murderers because we are trying to protect ourselves. By consuming media about murders, women might feel that they can pick up tips on how to defend themselves against attackers and increase their chances of survival. Add to that the fact that femicide is so prevalent, Stern views this as an "intellectual understanding that it is the world they live in".
Four other reasons include: a sense of relief that it happened to someone else, an adrenaline rush, the excitement about feeling like you're solving a mystery and, in some cases, feeling compassion for the perpetrator.
A final reason is that "we love storytelling [and] murder stories are just stories".
Closing his lecture, Stern referred to an interview with Charles Manson 20 years after what came to be known as the Tate–LaBianca murders. Among his questions was why, so long after his conviction, the media felt it necessary to conduct an interview with Manson; why give him that platform?
Answering his own question, Stern noted that "we the people make this possible", pointing to our fascination with and consumption of stories about murder and murderers.
"If you deny them a platform, will they exist?" he asked.
---
This work is licensed under a Creative Commons Attribution-NoDerivatives 4.0 International License.
Please view the republishing articles page for more information.
---