From an initial pool of 3 500 exceptional teachers in the Western Cape, University of Cape Town (UCT) master's student Duduzile Lunga has been named one of 10 finalists for the KFM 2020 Teacher of the Year award.
The annual award is in recognition of the enormous contribution made by teachers in the province. Listeners of the province's biggest radio station nominate the teacher who has had the biggest impact on their lives.
Lunga, who is pursuing her master's in education at UCT (specialising in education policy, leadership and change), received many nominations for the contribution she makes as a mathematics teacher at Pinelands High School.
She is now in the running for the KFM Teacher of the Year award. The winner will receive a cash prize of R15 000 and their school will receive R10 000. Voting closes at midnight on Monday, 30 November, and the winner will be announced during the KFM Mornings show.
The secret sauce
One of the people who nominated Lunga for the award was her learner Janaan Allen. During an interview on KFM, Allen explained why Lunga was her favourite teacher and a "teacher any school and student would wish they had".
Allen said that Lunga had changed her perspective on mathematics and was like a "second mom". Without her, Allen said she would not have been able to get through each school day.
Asked by Simpson what her "secret sauce" was for making mathematics enjoyable, Lunga said that it all came down to the relationship built between teacher and learner.
"If you are able to connect to the kids on just a basic human level, and understand that there is so much anxiety attached to mathematics, I think that is the first step of getting through to [them]," she said.
Lunga has also ensured that learners keep abreast of the curriculum during lockdown through weekly Zoom lessons and receive the face-to-face interaction they would otherwise have missed.
In addition to these lessons, Lunga also set up a mathematics YouTube channel during lockdown.
"This was mainly for students who do not have access to teachers or tutors outside of their school," she said.
"My goal is to have the entire South African high school mathematics curriculum captured in my teaching videos so that for years to come students can have free access to this material."
Amazing education
In addition to her teaching, studies and after-hours work of making quality mathematics education accessible beyond her classroom, Lunga is also an aspiring philanthropist.
She established The Barbara Lunga Foundation in honour of her late mother, who passed away in 2018. The foundation is targeted at helping orphaned and displaced children with school fees, stationery and uniforms.
"As a previous scholarship recipient myself, I know the value of being able to study without worrying about what you will eat, what you will wear or where you will live," said Lunga.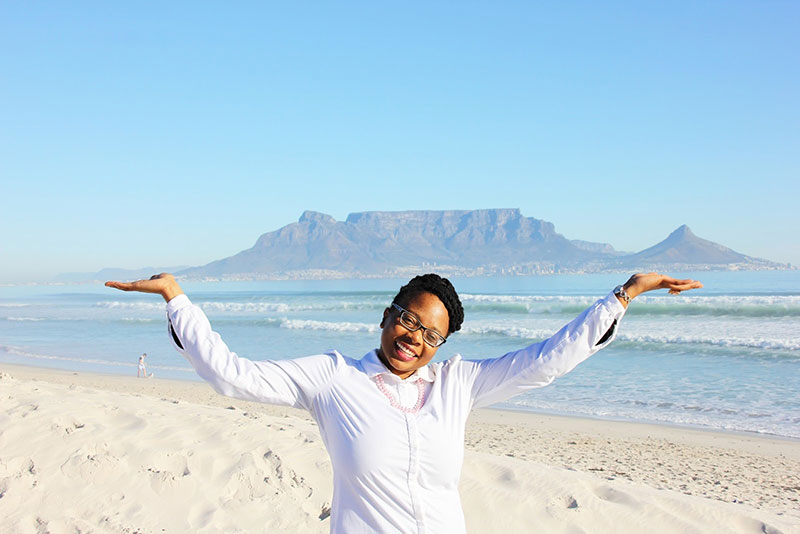 Lunga is hoping that through her story she can encourage others, especially UCT students, to remain steadfast in "the face of adversity, to continue their studies and to actualise their dreams".
She said that she would not be where she is today without the "amazing education" she received and continues to receive at UCT.
She completed her Postgraduate Certificate in Education at UCT with a grade point average of 82.27%, and she was awarded the Director's Prize and graduated with an honours with distinction.
Lunga is also grateful for the pivotal role her lecturers have played throughout her academic career, and their influence on her life.
"It is through their encouragement and exemplary teaching practice that I also aspire to make a positive impact on my students."
---
This work is licensed under a Creative Commons Attribution-NoDerivatives 4.0 International License.
Please view the republishing articles page for more information.
---