In September Tadej Pogačar won a dramatic Stage 20 time trial, a feat that also gave him overall honours for the 2020 Tour de France cycle race. Barely 22 (it was his birthday the following day), the Slovenian became the event's second youngest champion; Frenchman Henri Cornet was 19 when he took the title in 1904.
Not only was Pogačar's win unexpected – he only became an elite cyclist last year – but his victory is also part of an extraordinary ascent up the world team rankings by UAE Team Emirates, whose medical team is led by Associate Professor Jeroen Swart and includes several other doctors from the University of Cape Town's (UCT) Division of Exercise Science and Sports Medicine, based at the Sports Science Institute of South Africa (SSISA).
For Associate Professor Swart, the programme director for sports and exercise medicine at the Division of Exercise Science and Sports Medicine, the appointment as medical director of UAE Team Emirates in January 2019 was the realisation of a dream that began when he was 11 years old.
"But here I am, 31 years later, a sports physician and exercise scientist involved with a team that won the Tour de France."
"[A friend and I] watched Greg LeMond win his first Tour de France in 1986 and then raced our bicycles around Northcliff [in Johannesburg] pretending to compete in the race. LeMond was my hero. I followed his recovery after he was accidentally shot while hunting and his improbable return to the race in 1989 and victory the following year," said Swart.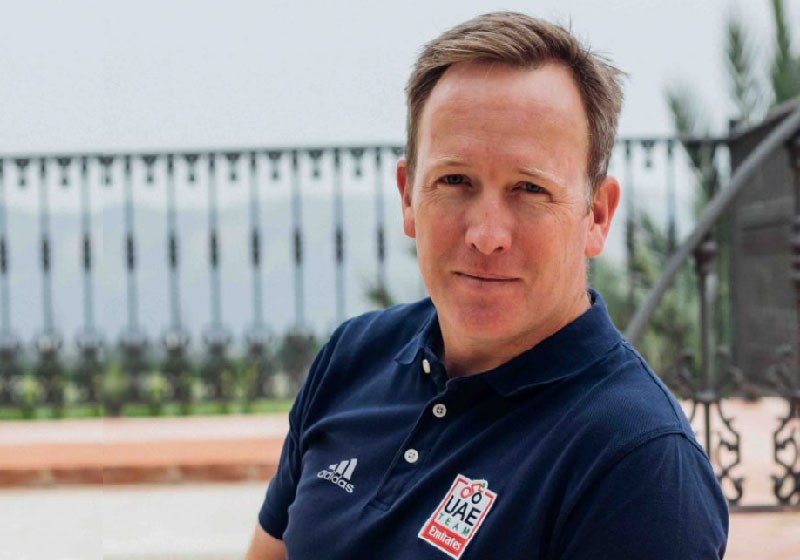 It was around this time that young Swart watched the movie American Flyers in which Kevin Costner plays a sports physician and former competitive cyclist who helps his younger brother win a major American cycling race.
"I never realised at the time how influential the images and stories of LeMond and the movie were, but here I am, 31 years later, a sports physician and exercise scientist involved with a team that won the Tour de France by overcoming a deficit of approximately 40 seconds. In hindsight, it's quite an actualisation."
UAE Team Emirates appointment
A professional cyclist and national cross-country mountain bike champion himself until he accepted, at the age of 23, that he was "never going to be a world champion or anywhere close to it" and applied himself to academia instead. Swart has an undergraduate medical degree, a master's in sports medicine and a PhD in exercise science. He divides his time between research, clinical sports medicine and performance cycling.
His UAE Team Emirates appointment was preceded by work with German cyclist Jan Ullrich, four-time Tour de France champion Chris Froome and many of South Africa's top cyclists, including the late Burry Stander. The offer from UAE Team Emirates came via the team's performance director, Iñigo San Millán.
"He is a professor at the University of Colorado whose career has been similar to mine. We interacted on social media and found that we shared similar philosophies on many things," explained Swart. "When he was approached by UAE Team Emirates, which was, at the time, underperforming, to overhaul several aspects of the team, he asked me to come on as head of the medical team."
Swart was given carte blanche to create a new medical team. He did so, including several of his Cape Sports Medicine colleagues based at SSISA: Raaghib Fredericks, Adrian Rotunno, Jason Suter and Jarrad van Zuydam. Although not from SSISA, another South African, coach John Wakefield, was co-opted to San Millán's performance team. 2019 began as something of a complete refurbishing.
"Together, we implemented numerous new evidence-based protocols and novel strategies in everything from the training [to the] biomechanics, load monitoring, nutrition and health of the athletes," he said.
"The results were quickly obvious; we went from a world team ranking of 17th to fourth by the end of last year and moved into second place this year after the Tour de France. Given the level of competition at the top, the move from fourth to second is arguably a much greater jump than from 17th to fourth."
Responsibilities
UAE Team Emirates has a cohort of 104 support staff who take care of the team's 30 cyclists in addition to all the administrative and management requirements of the organisation. Swart is responsible for overseeing the health and well-being of the athletes. This involves coordinating the medical team – which, in addition to the South Africans, includes physicians and a nutritionist in Germany, Italy and Spain – to provide daily support to the cyclists.
He also oversees the medical protocols that govern the care and assessment of the athletes and which are necessary to compete in races around the world. In addition, he undertakes physiological monitoring of fatigue and training status and directs the biomechanics, strength, conditioning and nutritional programmes for the team.
Earlier this year, he was tasked with drawing up COVID-19 policies and protocols for the UAE Team Emirates athletes and staff.
"That was an unexpected and rather time-consuming job. However, I'm pleased to say that, other than [UAE Team Emirates Colombian cyclist] Fernando Gaviria, who tested positive in March and then again this month (he was asymptomatic both times), all other riders and staff have managed to avoid contracting the virus," he said.
"The key, I think, is in the planning, preparation and implementation, and where those are based on scientifically evidenced programmes, success is achieved."
Although there were challenges in the early stages of Swart's appointment, most of which centred on the very different approach introduced by the new team, the rewards of working with UAE Team Emirates are multiple. He has, he said, learned a great deal about managing a diverse, international group of people and about providing leadership that encourages people to acknowledge the expertise and experience of others and optimise it for the benefit of the team.
Increased exposure to international events, knowledge and facilities has not only provided new opportunities for Swart and his South African colleagues, and shown the way towards further partnerships, but has also demonstrated how advanced evidence-based sports medicine and exercise is in South Africa, particularly at SSISA.
"This is illustrated by UAE Team Emirates' performance this year. The key, I think, is in the planning, preparation and implementation, and where those are based on scientifically evidenced programmes, success is achieved."
---
This work is licensed under a Creative Commons Attribution-NoDerivatives 4.0 International License.
Please view the republishing articles page for more information.
---