With lung and respiratory health front of mind as the province's COVID-19 cases rise, comes good news from a University of Cape Town (UCT) team of biomedical engineering alumni. They have designed a rig to ramp up safe production of the bottle spacers that administer metred dosages of medicine to asthmatics and those with shortness of breath.
The Afrispacer was developed by Impulse Biomedical, a company founded and headed by biomedical engineering alumni Giancarlo Beukes and Gokul Nair. The Afrispacer, designed by Impulse Biomedical's research and development engineer, Yasheen Brijlal, is a manufacturing rig used to convert plastic cooldrink bottles into respiratory spacers to treat respiratory diseases.
Young asthmatics, severe asthmatics and patients who are short of breath are unable to inspire their inhaled medication optimally. The new device allows them to do so more effectively by dispersing the medication in the cooldrink bottle before inhaling, making it simpler and effective. The Afrispacer mills or cuts an asthma pump mouthpiece profile hole into the bottom of cooldrink bottles (donated by Peninsula Beverage), which allows for a snug inhaler fit.
The Impulse Biomedical team includes Beukes, Nair, Brijlal, Roopam Dey, Lara Timm and Josh Palfreman. Impulse Biomedical was aided by Gunther Henshilwood, whose team assisted with cutting the holes to meet the large initial order requirements in preparation for the potential spikes in the number of COVID-19 infections.
They have been working with Professor Michael Levin of the Red Cross War Memorial Children's Hospital, together with the Maitland Cottage Children's Orthopaedic Hospital and UCT's Medical Devices Laboratory.
It was Levin, head of Allergy and Asthma at Red Cross, who initially pitched the problem to Impulse Biomedical. Simply put, Levin needed affordable healthcare technologies to solve the challenges his young patients face.
Clinically effective
Levin has published a paper (lead by Professor Heather Zar) that demonstrates that bottle spacers are as clinically effective as conventional spacers.
Beukes said Levin has been blown away by interest from medical staff across the metropole, keen to use the bottle spacers in every clinic, community health centre, day hospital and tertiary hospital in the region.
The province's new asthma protocol now uses metred dosage inhalers in combination with spacers instead of nebulisers for all asthmatics and "wheezers", unless the asthma attack is life-threatening.
"This is to avoid the spread of respiratory pathogens, including COVID-19, as a result of using aerosol-generating procedures such as nebulisation," said Levin. "The use of a metred dosage inhaler in combination with a spacer is an alternative treatment option to nebulisers."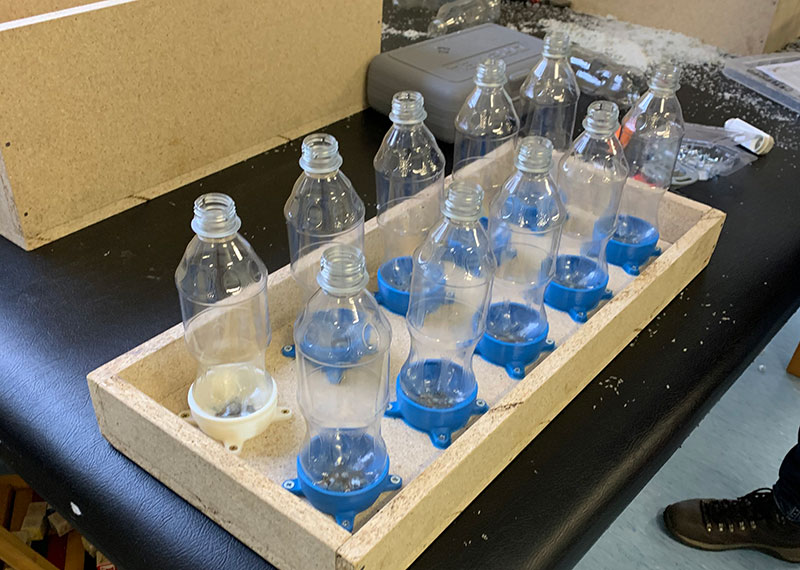 Safe and affordable
Bottle spacers have been around for many years, providing cost-effective alternatives for those unable to afford conventional spacers. What makes the Afrispacer project meaningful from a clinical perspective is that the team has designed a safe, affordable way to make these bottle spacers, initially in small batches but with plans to significantly ramp up production, said Beukes.
"We hope to make the design available through open source."
An advantage is that by increasing the number of Afrispacer rigs, manufacturing can be decentralised. The rigs can make small batches of the spacers, but to increase initial production the team will outsource a portion of manufacturing to Henshilwood and his "incredible team".
Nair added, "We hope to make the design available through open source, allowing institutions around the world to manufacture their own spacers."
Help, please
In the interim, the spacer bottles will be distributed to the province's various hospitals and clinics in preparation for the projected spike in COVID-19 patients in the winter months.
The Impulse Biomedical team were supported by other UCT colleagues in the field: Dr Reuben Govender, Associate Professor Sudesh Sivarasu and John Coetzee, who assisted with resources. The team were assisted, in terms of manufacturing, by Charles Harris and Tyrone de Wet. Beukes said they are also indebted to individuals and companies who donated Dremel rotary tools and milling bits to the cause.
Good news is that Polyoak, a large South African blow moulding company, will be manufacturing more than 10 000 of the spacers, all contributing to the cause, said Beukes.
The spacer device is one of several innovations the Impulse Biomedical team have introduced to the medical field. The best known is the ZiBiPen, a new generation of reusable adrenaline auto injectors that can be customised to the patient's body fat percentage and muscle mass to ensure optimum adrenalin absorption.
---
This work is licensed under a Creative Commons Attribution-NoDerivatives 4.0 International License.
Please view the republishing articles page for more information.
---