Selective dorsal rhizotomy (SDR) is a procedure used in the treatment of spasticity in children with cerebral palsy (CP). But, despite the now-common use of SDR as treatment, it is not known what the long-term outcomes are.
The first use of SDR can be traced back to the late 1800s when English neurophysiologist Sir Charles Scott Sherrington published on mid-brain surgery and spasticity reduction in cats. Since then, the procedure has been performed in humans and was refined by a variety of specialists in Europe to overcome problems with incontinence and sensation issues.
During the 1980s, University of Cape Town (UCT) academics Dr Warwick Peacock and his team, Dr Leila Arens and Professor Roland Eastman, further refined SDR. In 1985, 29 children underwent SDR surgery with Peacock, 14 of whom were ambulators and participated in a study driven by Professor Kit Vaughan from UCT's Division of Biomedical Engineering.
A year after the procedure, the UCT academics followed up with their first gait analysis. This was repeated three and 10 years later under the leadership of Vaughan.
The 20-year follow-up was then conducted by UCT's Dr Nelleke Langerak as part of her PhD and supervised by Vaughan and neurosurgeons Professor Graham Fieggen and Professor Jonathan Peter. A decade later, Langerak took the lead in the 30-year follow-up study where she, in addition to the gait study, also used a more holistic approach.
Langerak recently presented the gait analyses findings at the Neuroscience Institute's inaugural research symposium held on 11 and 12 March. It followed the much-anticipated opening of the world-class Neuroscience Centre at Groote Schuur Hospital on 10 March. UCT News caught up with Langerak before her presentation to find out more about her academic journey, research interests and, of course, the findings from the gait analyses so many years after the SDR.
Interdisciplinarian
Langerak, who is originally from the Netherlands, started her undergraduate studies in biomedical health sciences, which led to a master's degree in human movement sciences. During her studies, she made good on her lifelong dream to study in South Africa, taking up a research project at UCT with Vaughan, a leader in gait and biomechanics.
For six months Langerak worked under his supervision. Together, they monitored the changes in the walking patterns of children (one to 12 years old), to determine at what age their gait matures and their walking pattern becomes like that of an adult. Following this, Langerak returned to the Netherlands.
While she was there, her friend sprained her ankle. Although Langerak knew what was wrong, she could not help her friend.
"I felt so silly … you can do all this research, but you don't know how to fix it," she explained.
This motivated her to complement her research with something more involved and so she enrolled for another undergraduate degree, this time in physical therapy. She began working with spinal cord patients and took up a post in a rehabilitation centre.
Soon after completing her degree, Langerak and her partner – who she met during her first stint in Cape Town – returned to the Mother City, where they've remained for the past 15 years.
She contacted Vaughan to see if there was anything she could begin working on. Fortunately, he was looking for a student with a background in applied health sciences and an interest in gait analyses, who could be involved in the SDR gait analysis 20-year follow-up study. On his advice, Langerak enrolled for her master's but after six months, based on the success of the project, they decided to upgrade to a PhD.
Her background, combining human movements sciences, physiotherapy and biomedical engineering, gives her the opportunity for interdisciplinary work. The benefit of this, said Langerak, is that she can now talk to and understand both the clinician and the biomedical engineer.
Spastic gait patterns
Following her PhD, she headed to Stellenbosch University (SU) where she spent almost three years as a postdoctoral researcher and was involved in the opening of a gait analysis laboratory, often used for children with cerebral palsy.
There she encountered many young patients who lacked any "real" diagnosis; they had just been told they were "spastic". It was then that she and her colleagues discovered that many of these children tested positive for HIV; HIV had caused the spastic gait pattern.
Because there is very little about HIV and spastic gait patterns in the Western cannons, Langerak applied for and was awarded a grant for a research project on HIV encephalopathy from the International AIDS Society (IAS). For the next few years, she worked on this project and, during that time, found her way back to UCT.
As the project grew, Langerak pulled together expertise from her two South African alma maters, bringing on board UCT's neurosurgery, paediatrics, psychology and radiology departments, and the Paediatric Infectious Diseases Unit and orthopaedic surgery from SU.
Fellowship, diagnosis
Following the IAS project, Langerak became a Neuroscience Fellow in the Division of Neurosurgery at UCT. In the same week she found out about the fellowship, she was diagnosed with breast cancer.
Over the next two years, she had a mastectomy, chemotherapy, radiation and reconstructive surgery. In addition to that, she also suffered a pulmonary embolism, cardiac failure, lymphoedema and pneumonia.
Any fears she may have had about the status of her fellowship were quickly averted: "[Professor Fieggen] has always been very supportive," she said.
While she didn't get as much done as she had initially planned, she still managed to lecture neuroscience students, carry on with her projects and supervise three PhD candidates. Two of them will graduate in 2020 and Dr Nienke Veerbeek, who graduated with UCT's first PhD in neuroscience PhD in December 2019.
"I'm very proud of that," said Langerak. "At least that was possible [and] it was possible because of such a good team around me."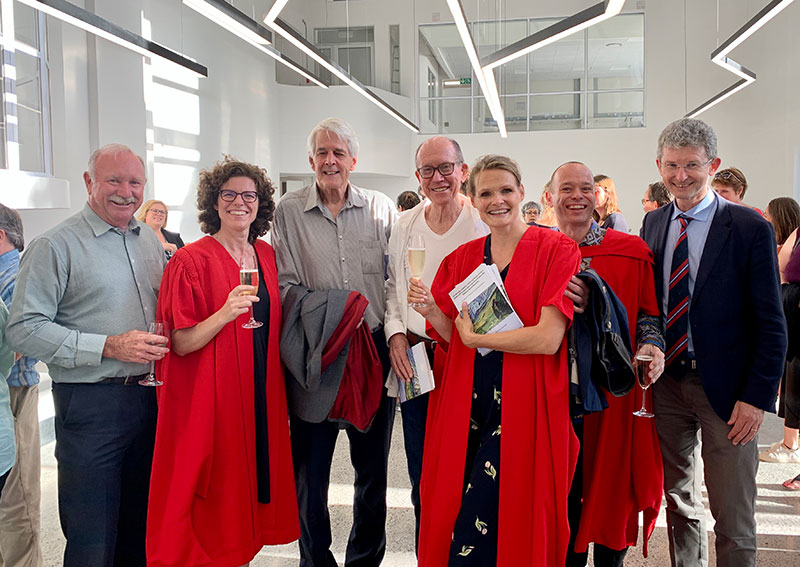 The findings
In addition to everything else she has done since returning to South Africa, Langerak also worked on the 20- and 30-year follow-ups with the 14 patients Peacock, Arens and Eastman initially treated with SDR in 1985. This kind of record is unrivalled, said Langerak. But the best part of it is the findings: In terms of the SDR, all the participants are doing well.
What is important to note is that SDR is not the right option for everyone. One of the prerequisites is strength because if spasticity is removed, the patient could collapse. For the first year post-surgery, the patient will have to learn to walk again. Therefore, Langerak advised, it is ideal that the surgery is done with children.
An exciting part of her involvement in the follow-up gait analyses was having the opportunity to present the findings to Peacock; to confirm that he and his team had made the right decision in the 1980s. In September 2019, she visited the emeritus professor of neurosurgery in Los Angeles where he teaches at the University of California, Los Angeles.
Stay active
While it has been proven that SDR is, following the correct selection process, a successful procedure for children with CP and spastic diplegia, there is another finding Langerak believes is important to note. That is, staying active.
Throughout her testing, an active lifestyle for the patient has proven instrumental for recovery and enjoying the full benefits of the surgery. So, while it is necessary to have the surgery as a child, to prevent problems later, the patient must commit to taking care of their body.
Langerak explained a classification system which categorises individuals according to their ability to walk without limitations (class one), walk with limitations (class two) and those needing assistance with crutches or walking sticks (class three). This system is not, in this instance, written in stone.
"They say if you are one, two or three, it's not going to change. With the rhizotomy, it can change … some people still jump from one to the other," she said.
Langerak had seen this in one of the study's 14 patients. Between her 20- and 30-year follow-ups, the patient had shown significant improvement and had jumped a class. The difference was her boyfriend parking on the far end of the parking lot instead of in the bay designated for people with disabilities; she had become more active.
Thinking back to the parents who had to decide on SDR for their children in 1985, and even thinking of the parents who must make the decision today, Langerak said she could only imagine how difficult this must be.
Fortunately, for those parents having to make that difficult decision today, there is now 30 years' worth of research to show that if the selection is done correctly and if the rehabilitation work is completed and the patient remains active, the prognosis is positive.
---
This work is licensed under a Creative Commons Attribution-NoDerivatives 4.0 International License.
Please view the republishing articles page for more information.
---