Epilepsy – a disorder that causes abnormal electrical brain activity leading to recurring seizures – can affect anyone. Although daily medication can treat the condition, doctors are increasingly recommending surgery as a cure for patients who don't respond to medical treatment. A multidisciplinary team of specialists from the University of Cape Town (UCT) is making sure that more and more patients with drug-resistant epilepsy are cured.
There are few areas of medical practice where a multidisciplinary approach is as important as in functional neurosurgery. This requires specialists in neurology, radiology, psychology, psychiatry and others to work with neurosurgeons on life-changing surgery to treat brain disorders like Parkinson's disease and spasticity.
UCT has already made a mark in this field with the leading work of alumnus Professor Warwick Peacock, who in the 1980s developed the surgical technique – now used worldwide – of selective dorsal rhizotomy for treating children with cerebral palsy.
Now, the UCT Neuroscience Institute is doing something similarly world-leading with epilepsy.
Epilepsy is a disorder that can affect anyone. It causes abnormal electrical brain activity that leads to recurring seizures varying from blank staring to long periods of vigorous twitching.
Although daily medication can successfully treat the condition, doctors are increasingly recommending surgery as a cure for patients that don't respond to medical treatment.
Step 1: Diagnosis
Mikhulu* had her first seizure when she was nine months old. She was referred to the UCT-affiliated Red Cross War Memorial Children's Hospital where she was assessed by the head of paediatric neurology, UCT Professor Jo Wilmshurst, and her team. They diagnosed Mikhulu with epilepsy, identified the type of epilepsy affecting her and started her on medical treatment.
Mikhulu is now five years old and has prolonged seizures many times a day. Unfortunately, her epilepsy is resistant to medication: three kinds of antiseizure medication haven't been able to control the seizures.
As part of Mikhulu's assessment at the hospital's neurophysiology department, she is monitored with a specialised tool that records her seizures and helps doctors identify the part of the brain where they most likely originate.
Wilmshurst and her team identify the cause of Mikhulu's epilepsy and recommend her for surgery after a thorough assessment by neurologists, neurosurgeons, ancillary therapists and radiologists.
Step 2: Evaluation
Before Mikhulu undergoes surgery, she is assessed by her neurologists and neurosurgeon Dr Nico Enslin who will operate on her to isolate the part of her brain causing the seizures. She also undergoes a full neuropsychological assessment by UCT Associate Professor Susan Malcolm-Smith.
Step 3: Treatment
Once the team has confirmed which part of Mikhulu's brain is causing her seizures, Enslin decides which surgical technique to use.
"We decide whether we can do a surgical resection to remove the part of the brain causing her seizures – the preferred choice – or whether we can use a disconnection technique in which we disconnect it from the rest of the brain.
If neither of these techniques is appropriate, they will consider inserting a battery-operated nerve stimulator.
In Mikhulu's case, it is the left temporal lobe that's causing her seizures and the team decides to remove it. After an operation that lasts six hours and involves multiple neurological tests, Enslin successfully removes Mikhulu's temporal lobe.
Step 4: Research
The piece of brain tissue that Enslin removes is about the size of a matchbox. This would normally go for routine examination, but Mikhulu and her parents have given their consent for the tissue to be used for research too.
So, Dr Joe Raimondo and his team receive the brain tissue in the operating theatre and keep it 'alive' using artificial cerebrospinal fluid, a clear liquid found in the brain and spinal cord that helps to protect the brain.
"We rush it back to the lab and very finely section the tissue," explains Raimondo, who leads the basic neuroscience laboratory at UCT. "Then we use sophisticated electrodes and microscopes to record the activity of individual brain cells.
"We also stain the cells to study their exquisite morphology. This gives us valuable insight into the unique features of human brain cells and the possible underpinnings of epilepsy."
Step 5: Recovery
Mikhulu will now undergo rehabilitation after which her doctors will gradually wean her off her epilepsy medication – this begins six months after her surgery.
Due to the nature of Mikhulu's epilepsy and because she was a well-selected candidate for surgery, she has a very good chance of being seizure-free and off all antiseizure medication from a year after surgery. Doctors will do repeated neuropsychological assessments of Mihulu to support her future educational needs.
* While Mikhulu (meaning 'great hope' in isiXhosa) is not a real patient, the case described is typical of many undergoing neurosurgery for epilepsy.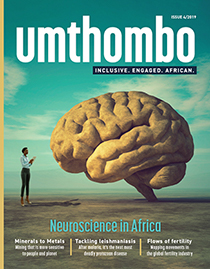 This story was published in the fourth issue of
Umthombo
, a magazine featuring research stories from across the University of Cape Town.
Umthombo
is the isiXhosa word for a natural spring of water or fountain. The most notable features of a fountain are its natural occurrence and limitlessness.
Umthombo
as a name positions the University of Cape Town, and this publication in particular, as a non-depletable well of knowledge.
Read the complete fourth issue
online
or
subscribe
and receive new issues in your inbox every few months.
---
This work is licensed under a Creative Commons Attribution-NoDerivatives 4.0 International License.
Please view the republishing articles page for more information.
---