Internationally recognised cellist, composer and researcher, Dr Thokozani Mhlambi, has shed light on a rich history of great African composers which he hopes will spark a revival in music that has been hidden for years.
The KwaZulu-Natal-born Mhlambi is the National Research Foundation (NRF) Postdoctoral Fellow in Innovation at the Archive & Public Culture Research Initiative at the University of Cape Town (UCT).
For his current work – 'The Early African Intellectuals as Composers of Music' project, which will culminate in a concert this week – Mhlambi has been digging deep into the archives and looking at musical scores and sound samples of some of the great compositions South Africa has produced.
"The whole concept behind the project is to revive interest in the archive of the early works of composers, such as unknown female composer Nokutela Dube, as well as the composer of our national anthem, Enoch Sontonga, and many others whose visibility was erased by our history," he says.
Mhlambi has been digging deep into the archives and looking at musical scores and sound samples of some of the great compositions South Africa has produced.
Mhlambi is also blending exciting new work into this textured musical past. The project promotes new compositions based on old works in the form of hip-hop arrangements and gqom remixes.
The history of the early African intellectuals is intertwined with global connections.
"You have John and Nokutela Dube who studied in New York and drew inspiration from the likes of African-American Booker T. Washington. While in the United States, the Dubes interacted with John Chilembwe, the great Malawian leader, as well as Princess Magogo, whose music sold well outside of Africa," says Mhlambi.
The project also sheds light on the compositions of the first African in South Africa to receive a degree in music, Reuben Caluza, who wrote ragtime syncopated numbers in the 1920s.
The music resonates across countries and continents.
"As we seek to reintegrate the South African story – which was hidden in secrecy and conspiracy for so long – into a bigger world story, we will draw from this internationalism," Mhlambi continues. "It is this internationalism that will allow us to overcome the issues of xenophobia we are currently facing."
It's hoped the project will carry the music far, so that more people are able to appreciate, understand and enjoy the work of the early composers.
"In Europe, they had the early music movement in the 1960s, which sought to revive interest in the old composers, like Bach and Corelli. This is a chance for us to do the same, using the African continent as our source, which is our location in the world."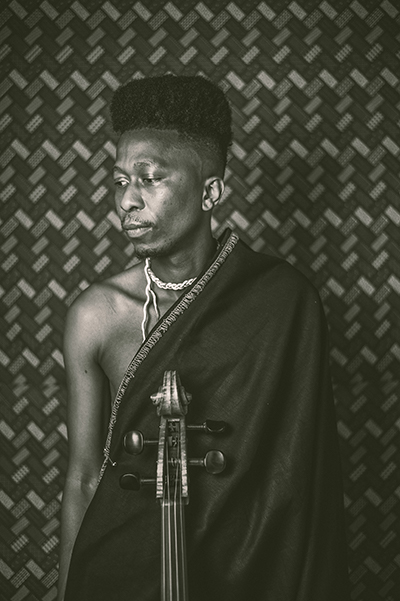 Evoking childhood memories
The project has also given Mhlambi the opportunity to reflect on his own journey. Music rippled through his life when he was a young boy growing up in Madadeni, a township in Newcastle, KwaZulu-Natal Province, South Africa. There, family would gather to sing hymns from the Wesleyan hymn book before going to bed.
He says his experience as a child was one of "shifting realities" between the township where he lived and the town where he went to school.
"I grew up very aware of the disunity of these realities, and also what they claimed to offer me," he says. "Where the town claimed to offer me certainty and disciplined music education at school, the township offered me something else, a bit more improvised, through the Methodist church manyano singing that I heard in church and in the kwaito that filled the streets.
The manyano is a well-established organ of the Methodist Church of Southern Africa and their gatherings are often characterised by prayer and singing led by women.
"I took in all these sounds and memories they evoked and had to make sense of them, and that is how I created my own sound."
As a classical cellist, Mhlambi later drew inspiration from the great Zulu ugubhu player, Princess Magogo, after finding recordings of her work. The ugubhu is a large, unbraced bow made out of a gourd.
Mhlambi has published on numerous music-related topics. His paper on kwaito, "Kwaitofabulous", remains one of the most cited papers on popular music in South Africa. He has also researched house music. Another of his papers introduced the story of the first loudspeaker broadcasts aimed at black audiences in South Africa in the 1940s.
Through his research and performances, Mhlambi wants to convey a message of African internationalism, which draws inspiration from the integrated nature of humanity.
"It is this message that prompts me to search for different sounds – from places as far afield as Asia, the Middle East and South America – from which to weave a magic of my own. I think this freedom is important and has not always been easily available to us."
Mhlambi the performer
As a researcher, Mhlambi has delved deeper; as a performer, he has adopted a very open and generous attitude towards his audiences.
"When I pick up my cello, I am able to connect through my instrument and my voice. I feel like I am giving that to you, for you to take and do whatever you wish with.
"When I pick up my cello, I am able to connect through my instrument and my voice. I feel like I am giving that to you, for you to take and do whatever you wish with."
"The stories I present in my music relate to different times in our African history, whether that of African prophet Ntsikana or Zulu composer Princess Magogo. What I want people to take from that is a way of building their own future somehow.
"I am not there to give answers. Music is that untouchable thing for me that thrives also in impreciseness to convey the complexity of meaning."
African Intellectuals Composer Music concert
The Early African Intellectuals as Composers project will culminate in a concert combining digital and live performances at the South African College of Music in Cape Town on Friday, 27 September 2019. It will be performed by Dr Thokozani Mhlambi and will feature singers from the University of KwaZulu-Natal's Opera School, Nomonde Duma and Bulelwa Msane, together with a UCT College of Music jazz-pianist, Lonwabo Mafani, as well as special guests. The concert will form part of South Africa's Heritage Month celebrations and is supported by the National Arts Council and the National Institute for the Humanities and Social Sciences.
---
This work is licensed under a Creative Commons Attribution-NoDerivatives 4.0 International License.
Please view the republishing articles page for more information.
---