If the 2019 University of Cape Town (UCT) TechFest is anything to go by, the future not only looks bright, but also filled with fun and possibility.
Presented by UCT's Information and Communication Technology Services (ICTS), the festival took place on 7 and 8 August in the Sarah Baartman Hall on upper campus.
ICTS communications coordinator Niki McQueen said the annual TechFest is an opportunity to showcase the IT vendors who provide products and services to UCT.
It is also an ideal way to get students excited about technology and give them an opportunity to explore career opportunities they may not have considered or been aware of previously.
Creating a 'vibe'
With its eye-catching banner and enticing strains of upbeat music, TechFest certainly did a good job of piquing the interest of a wide array of students.
Once inside, a sense of excitement and innovation was almost palpable as visitors roamed from one vendor stand to another with freshly-made free popcorn in hand.
While all the stalls enjoyed their fair share of attention, Oculus Rift drew a lingering crowd. The virtual reality (VR) system offered students the opportunity to immerse themselves completely in alternative worlds – from cowboys-and-crooks gunfights to facing their deepest, darkest fears.
Once participants had donned a pair of the oversized Oculus Rift goggles, it only took a few moments for them to adjust to their new virtual environment – depending on which game they had opted for – crouching, jumping and turning in circles to take in as much as possible.
Simultaneously, a flat-screen television provided onlookers with a two-dimensional glimpse into the scene playing out around the participant, providing a good dose of entertainment.
"We've had a huge crowd just screaming and laughing," commented McQueen.
Another big drawcard for TechFest was the 3D printer provided by UCT's School of IT. Over the two days, it was put to use printing out a variety of objects, showcasing the potential this technology holds for a vast array of fields.
"In the future, we'd like to make a few stands available for students and their projects. It could be very good experience for them."
Student involvement
Apart from visiting TechFest, UCT students were also involved in overseeing stalls and encouraging their friends and colleagues to attend.
Charmain Nyawo, a 5th-year medical student who works part time as an ICTS lab assistant, was on hand to explain the workings of the Oculus Rift and 3D printer to visitors. As a future medical practitioner, she sees a lot of potential for the improvement of healthcare through technology.
She said 3D printing is already being employed in variety of medical fields – from the development of prosthetic limbs to the printing of tissues and organs.
"The same with VR," said Nyawo.
"There are games focusing on human anatomy, so you can see the skin and muscles and go inside the organs."
She added that there are even VR games that allow participants to perform surgeries, which holds huge potential for implementation in medical campus classrooms.
"The future is very bright!" she enthused.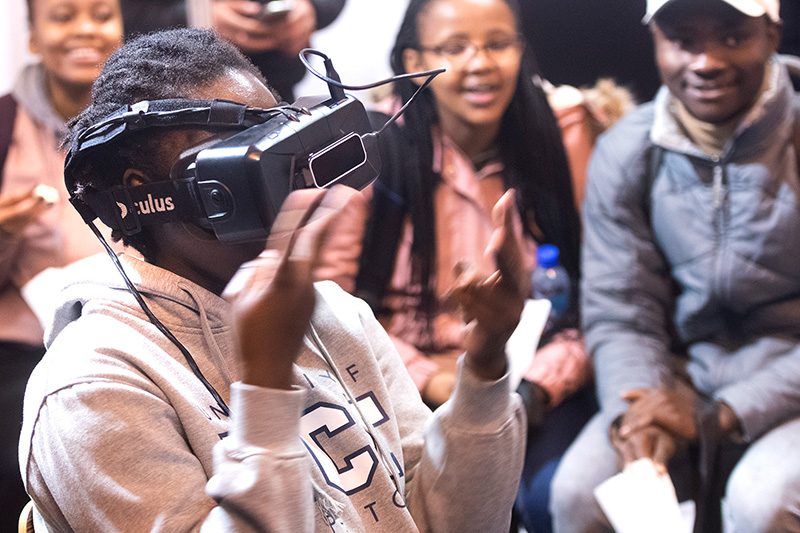 Informative talks
To supplement the vendor stalls, TechFest also hosted a jam-packed programme of information sessions in The Knowledge Zone.
These 45-minute talks covered a range of topics – from how to use Skype more effectively for your business to empowering users with iPads – and were delivered to the audience via wireless headphones.
Jamiela Dawood and Ghamza Jacobs, from UCT's Computer Security Incident Response Team (CSIRT), provided some fascinating insights into cybersecurity on campus.
Jacobs pointed out that universities and other higher education institutions are "target rich environments" for hackers, as they hold a wealth of sensitive information.
"The most likely way for hackers to get into a university network is through the people who make use of the networks," he said.
"And the most common way they do this is through phishing emails."
Part of the work CSIRT does is to raise awareness about phishing threats that might be doing the rounds on campus. They typically send out emails to warn students and staff members, and the information can also be accessed on the CSIRT website.
Even though CSIRT is committed to ensuring that UCT's networks remain as secure as possible, Jacobs said that the last thing they want to do is stifle innovation. He invited any students interested in experimenting with cyber technologies on campus to contact CSIRT to ensure that security remains a priority.
Cybersecurity is the shared responsibility of everyone on campus, he said.
"Collaboration is the father of innovation. So, it's important to make it easier for students to interact and collaborate in classrooms."
The interactive classroom
Surete Strydom and Shaheed Cajee from Ricoh, an electronics and document management solutions company, also made use of the TechFest platform to showcase the various possibilities interactive whiteboards may hold for innovation and collaboration in classrooms.
"Collaboration is the father of innovation," said Strydom.
"So, it's important to make it easier for students to interact and collaborate in classrooms."
Apart from the fact that interactive whiteboards can help lecturers make their classes more interesting by displaying images, text and video on touchscreen display panels at high resolutions, they also offer remote students the opportunity to tune in via Skype integration and be part of important class activities.
The whiteboards can be flipped to form interactive digital tables, which could improve collaboration on group projects.
Student involvement with TechFest
While the 2019 UCT TechFest was a roaring success, McQueen expressed her hope that ICTS will see more student involvement at similar events in the future.
"I would love to have any students who are working on something technologically interesting to come and showcase their work," she said.
"In the future, we'd like to make a few stands available for students and their projects. It could be very good experience for them."
Interested students can get in touch with McQueen via email.
---
This work is licensed under a Creative Commons Attribution-NoDerivatives 4.0 International License.
Please view the republishing articles page for more information.
---