Fresh from his trip to Naples, Italy in support of Team South Africa at the International University Sports Federation's (FISU) 30th Summer Universiade, University of Cape Town (UCT) PhD student Gordon Dodge talks to UCT News about his time there and his involvement in student sport.
Dodge is an assessor member of the University Sports South Africa's (USSA) national executive committee and joined Team SA in Naples as part of their management delegation. The Universiade is a biennial international university multi-sport event.
CB: Welcome back! What was the 30th Summer Universiade like?
GD: It was an amazing experience with which I am extremely grateful to have been involved. In total, there were over 8 500 athletes who took part, accompanied by close to 2 500 officials, medical staff and leadership delegations, from 111 countries. The event was an awesome opportunity to meet student athletes and leaders from all over the world and to see how they manage to balance their academic responsibilities while performing at one of the highest levels.
CB: What were the highlights? Any lows?
GD: A high for me had to be the opening ceremony as it involved all the countries parading out into the centre of the San Paolo Stadium, in Naples, with lights, cameras and fireworks all around. The ceremony went on for about three hours, and had numerous artistic displays as well as speeches from the Italian president and the president of FISU. The night ended with world-renowned opera singer Andrea Bocelli, who gave an amazing performance.
The only lows were when our various teams didn't perform as well as they hoped they would. However, what was great to see was how they managed to pick themselves up, realise there was nothing they could do about this loss and just focus on getting better for the next match.
"I wanted to do my part to ensure other students could have the opportunity to gain from sport the way I have."
CB: How exactly did Team SA do?
GD: Team SA did everything it was supposed to do, and more. Before heading to the games, a target of eight medals had been sent for the squad. However, this was passed in the first couple of days and the team finished up with six gold medals, eight silver medals and four bronze medals – [a total of] 18 medals. This total was a team high as well, beating their previous best tally of 14 medals won at the 2013 Summer Universiade in Kazan, Russia.
There are places where we can improve on and athletes that need to be identified and supported, but overall I think Team SA did exceptionally well in their performances. This bodes well as we look ahead to the 31st Summer Universiade which will be held in Chengdu City, China, in 2021.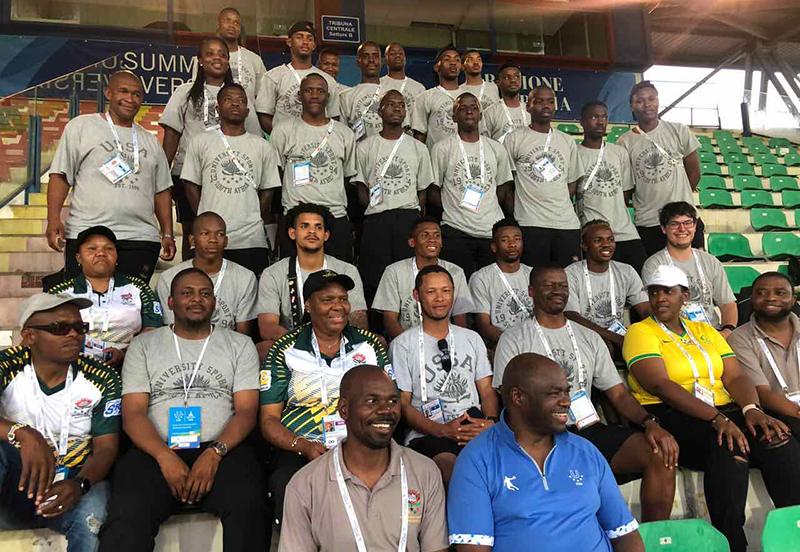 CB: That's good to hear and we look forward to 2021. Can you tell me a bit more about your role in USSA, including how this came about?
GD: My current role within USSA is as an assessor member of the national executive committee, which effectively acts as the board of USSA, and I was elected to this position in 2017. On this committee, I specifically focus on the key performance areas of delivery structure and human capital for USSA. Additionally, I work with the USSA statutory supervision committee on the rules, regulations, policies and constitution of USSA, and with the high-performance committee to create efficient and effective processes for selecting sports and teams to represent South Africa at various continental and international university sporting competitions.
For the FISU 30th Summer Universiade, I was appointed as part of the general delegation management (GDM) and was responsible for the administration and logistics of the Team South Africa delegation who were situated at a satellite venue in Salerno [about 50 km from Naples]. The team consisted of 55 athletes, team managers and medical professionals, and I was also responsible for liaising with the local organising committee for any Team South Africa-related issues.
CB: And outside of this role, how long have you been involved in USSA?
GD: My first interactions with USSA were in 2011 when I started studying at UCT and joined the Rowing Club. I competed at the annual USSA Rowing national sprints and boat race competitions, and I realised that I wanted to be part of the university sport movement.
Following a variety of positions I was fortunate to hold within UCT, in 2015 I was elected chairperson of USSA Rowing, a position I held until 2017. This really gave me the insight and experience I needed moving forward within USSA.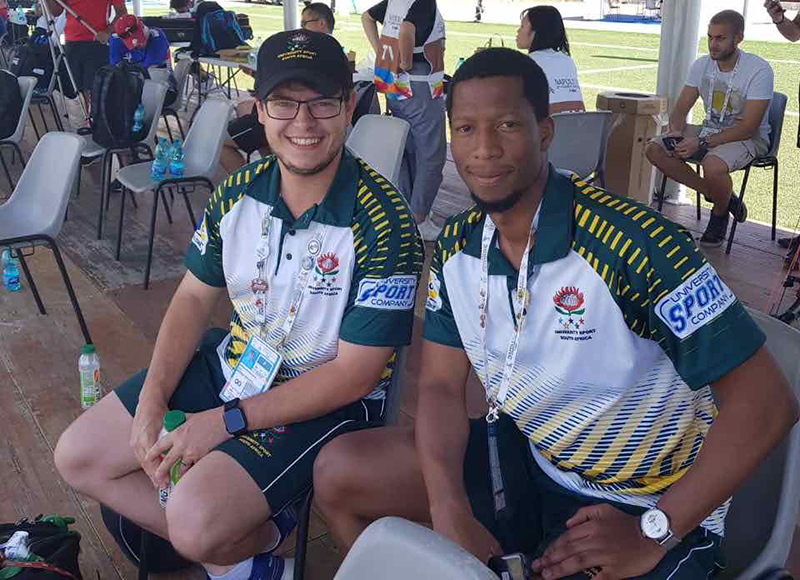 CB: What drew you to USSA?
GD: When I started studying at UCT I got involved in sport as an athlete, official and administrator. During this time, I was blessed to work with and learn from Lydia Hall, a long-standing senior sports administrator, who epitomised the philosophy of "student sport – for the students, by the students", and this really stuck with me. I wanted to do my part to ensure other students could have the opportunity to gain from sport the way I have.
I wasn't really aware of USSA as the organisation until 2014 when I was elected chairperson of the UCT Rowing Club. However, my involvement grew exponentially after I was elected chairperson of the UCT Student Sports Union between 2014 and 2016 and I began representing UCT at USSA national meetings.
"I always remind myself that I get involved in all of these things because I genuinely enjoy it."
CB: Had you participated in FISU events before?
GD: In 2015, I was appointed team manager for the Team South Africa rowing team who participated at the FISU 28th Summer Universiade in Gwangju, South Korea. It was a great experience and here I travelled with Leo Davis, fellow UCT Rowing athlete, who came fifth in the men's pairs at this event.
CB: What are you studying at UCT?
GD: I am studying towards my PhD in chemical engineering focusing in bioprocess engineering in the Centre for Bioprocess Engineering Research (CeBER). My project focuses on the remediation of heavy metal contaminated waste-water using microalgae and the production of biofuels from the resulting algal biomass. My main supervisor is Professor Sue Harrison, the new Deputy Vice-Chancellor for Research and Internationalisation.
The title of my project is "Phycoremediation of heavy metal contaminated water streams for the production of fit-for-purpose water and value-added bioenergy".
CB: Wow! How do you juggle your role at USSA and your studies?
GD: It isn't always easy, and sometimes I do drop the ball a little bit, but I always remind myself that I get involved in all these things because I genuinely enjoy it and it adds a lot of value to my life. So I focus on that and keep trying my best. Over the years I've really tried to hone my time management skills which are essential to maintain balance. Forward planning is also essential to make sure that I focus on the right thing at the right time.
---
This work is licensed under a Creative Commons Attribution-NoDerivatives 4.0 International License.
Please view the republishing articles page for more information.
---