Kenya's budget for education is only one-fifth of South Africa's and yet the country consistently out-performs South Africa on important education outcomes. Professor Brian Levy, academic director at the Nelson Mandela School of Public Governance at the University of Cape Town (UCT), explains why this is the case and what it tells us about how to make progress in a 'messy democracy'.
A tale of two provinces
"Politics is messy," says Levy, "often, so is bureaucracy."
Levy, who worked for the World Bank for 23 years and is now academic director at the Mandela School and professor of international development at Johns Hopkins University, is explaining why a narrowly technocratic approach to development is often not very useful.
"There is a prevailing narrative that basically goes: figure out the right thing to do and then assume a perfect government in which politicians will understand and implement the policy perfectly," he says. "But the world is not like that. This idea of 'best practice' often does not engage with the complexity of the political and bureaucratic context in which policies are implemented."
In a recent book, The Politics and Governance of Basic Education: a tale of two South African provinces, for which he was lead editor and co-author, Levy explores the differences between provincial and national educational systems as a lens through which to consider the strengths and weaknesses of different kinds of 'messy democracies' and their ability to achieve development goals. Levy categorises these different political systems according to a typology he developed in an earlier book, Working with the Grain, which characterises political contexts according to whether they are personal or impersonal, hierarchical or fragmented.
According to him, the education systems in the Western Cape and Eastern Cape provinces of South Africa are emblematic of this typology. "The Western Cape is a classic example of an impersonal, hierarchical environment. The Eastern Cape on the other hand is personalised and fragmented.
"Jomo Kenyatta, Kenya's first president after independence, championed the idea of 'harambee' or self-help, as a means to achieve development goals."
"As you might assume, having a stronger bureaucracy does translate into stronger results. The Western Cape emerges as a strong performer relative to other South African provinces. However, econometric analysis confirms that – notwithstanding strong bureaucracy and abundant resources – its outcomes were below those achieved in Kenya."
South Africa vs Kenya
"If we zoom out to the continental level and contrast the Kenyan and South Africa education systems, we discover that – politically and bureaucratically – Kenya is far more like the Eastern Cape than the Western Cape in that it is highly personal and very fragmented," explains Levy.
Kenya, as a country with a significantly smaller gross domestic product (GDP) than South Africa, also spends far less on education. According to Levy, Kenya has only one-fifth of the fiscal resources of the Western Cape.
"The remarkable feature, however, is that even after you control for a wide variety of variables, the Kenyan system still far out-performs the Western Cape and South Africa as a whole."
As an example, the 2007 results of standardised tests for sixth graders conducted by the Southern and East African Consortium for Monitoring Educational Quality showed Kenya's average score to be 557 points while South Africa lagged behind with an average of 495 points. Kenyan children's basic literacy and numeracy skills were also stronger than South Africa's.
What accounts for this disparity?
According to Levy, the answer lies in civic engagement. "Jomo Kenyatta, Kenya's first president after independence, championed the idea of 'harambee' or self-help, as a means to achieve development goals. From the outset, education was lauded as one of the most important of these goals."
"Head teachers are held accountable; paraded around the community if they did well, or literally banned from school and kicked out if they did badly."
To illustrate how deeply this ethos runs in Kenyan society, Levy mentions an observation from Kenyan educational specialist Dr Benjamin Piper. In Piper's words, "In rural Kenya, there is an expectation for kids to learn and be able to have basic skills … Exam results are far more readily available than in other countries in the region. The 'mean scores' for the Kenya Certificate of Primary Education (KCPE) and its equivalent at secondary school are posted in every school and over time so that trends can be seen. Head teachers are held accountable; paraded around the community if they did well, or literally banned from school and kicked out if they did badly."
"In other words, instead of the relationship between government, society and education being one of 'education for all' it would be better described as 'all for education'", explains Levy.
Making gains in a messy democracy
How can this be applied to other contexts beyond education and what implications does it have when working towards development goals within politically messy contexts?
Levy has two central suggestions, which he describes as an islands-of-effectiveness approach combined with working towards the evocation of agency.
"My work, and those of participants in the Mandela School master's programme, have explored the potential of islands of effectiveness as narrowly-focused initiatives that combine high-quality institutional arrangements at the micro-level, plus supportive, narrowly-targeted policy reforms," says Levy. "The strength of an 'islands' approach is that the whole system does not have to be working perfectly to still get results."
The evocation of agency is a way of opening up the challenge of development beyond a narrow circle of policymakers, technocrats and public officials. The aim, according to Levy, is to engage multiple stakeholders at all levels of a system in a way that cultivates a sense that their actions can lead to change and better results, as can be seen in the educational ethos that colours the Kenyan attitude toward education.
"This is something worth working towards," says Levy. "We must harness it if we are to create more inclusive economic growth, not just in education and not just in South Africa, but across the globe."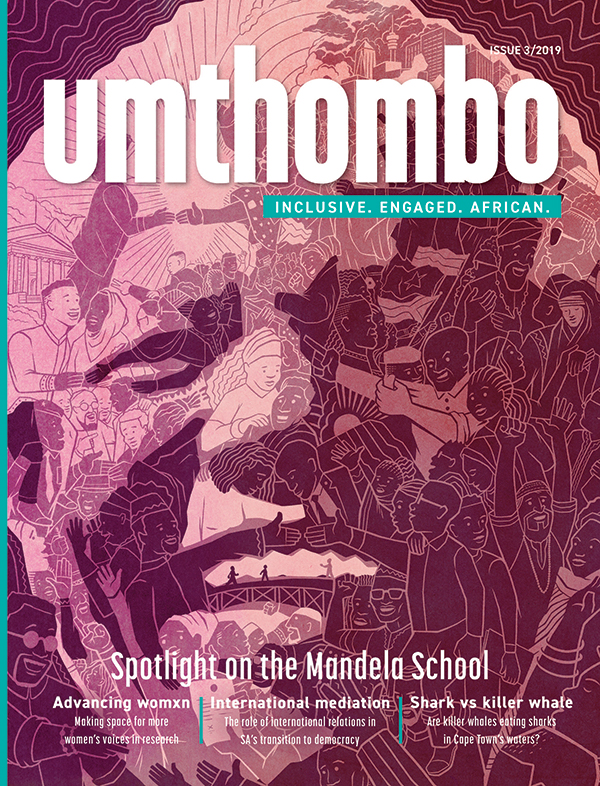 This story was published in the third issue of
Umthombo
, a magazine featuring research stories from across the University of Cape Town.
Umthombo
is the isiXhosa word for a natural spring of water or fountain. The most notable features of a fountain are its natural occurrence and limitlessness.
Umthombo
as a name positions the University of Cape Town, and this publication in particular, as a non-depletable well of knowledge.
Read the complete third issue
online
or
subscribe
and receive new issues in your inbox every few months.
---
This work is licensed under a Creative Commons Attribution-NoDerivatives 4.0 International License.
Please view the republishing articles page for more information.
---