This year, nine University of Cape Town (UCT) researchers, in a total of 14 categories, have made it to the final round of the NSTF-South32 Awards, which the National Science and Technology Forum (NSTF) considers the 'Science Oscars'. The NSTF-South32 Awards are held annually to celebrate South Africans who make outstanding contributions in science, engineering and technology.
The winners will be announced at a gala dinner on Thursday 27 June.
This year – the 21st anniversary of the awards – will include a special theme award for 'Materials for inclusive economic development'. This recognises 2019 as the United Nations' International Year of the Periodic Table. The award will go to the researcher who has made an outstanding contribution to research in materials science and the development of materials to support relevant aspects of economic development in South Africa.
Another new award will reward a communicator who has made a substantial impact to the public's awareness of science, engineering and technology.
The UCT finalists and their respective categories are as follows: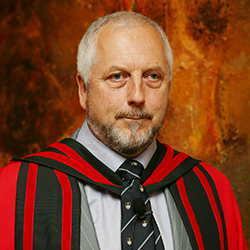 Professor John Bolton
Contribution over a lifetime
Recognised both locally and internationally for his contributions to marine science, Bolton's work helping farmers to grow seaweeds for feed and for use in bioremediation, thus enabling water recirculation, has resulted in great cost reductions for the industry in sub-Saharan Africa.
As professor emeritus and a senior research scholar with the Department of Biological Sciences, he has led projects on the biology, resource use and aquaculture of seaweeds in South Africa. The number of seaweed species known in South Africa has increased from about 550 to more than 850 since he began his work, and well over half of this growth was due to research on projects he led.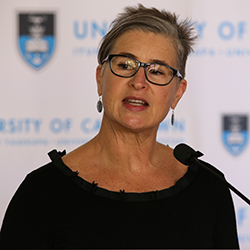 Professor Alison Lewis
Contribution over a lifetime, Engineering Research Capacity Development Awards, Special Annual Theme Award
Lewis is dean of the Faculty of Engineering & the Built Environment, a registered professional engineer and director of the Crystallization and Precipitation Unit, which she founded in 2000.
The unit's research and development has been of critical importance to South Africa and has led to cleaner products made by cleaner processes. Its work has been applied to the recovery of water, metals and metal salts from hypersaline brines, mining wastewaters and other industrial effluents.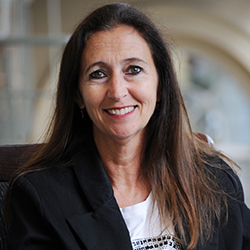 Professor Valerie Mizrahi
Contribution over a lifetime
Director of the Institute of Infectious Disease and Molecular Medicine and the Molecular Mycobacteriology Research unit, as well as co-director of the Department of Science and Technology/National Research Foundation (DST/NRF) Centre of Excellence for Biomedical TB Research, Mizrahi has been working on the biology of Mycobacterium tuberculosis – the bacterium that causes tuberculosis (TB) – since 1992.
She has used an integrated genetic, biochemical and physiological approach to understand aspects of the metabolism and physiology of M. tuberculosis that are relevant to TB drug resistance, persistence and drug discovery. This research has had profound implications for the development of new tools for controlling TB.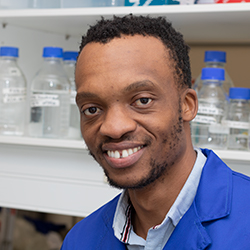 Dr Hlumani Ndlovu
TW Kambule-NSTF Awards: Emerging Researchers
A lecturer in the Division of Chemical and Systems Biology, Ndlovu is developing a vaccine to eradicate schistosomiasis, also known as snail fever. Infections by parasitic worms, such as schistosomiasis, remain a major cause of morbidity and mortality, especially in the developing world.
He and his team are investigating the immunobiology of snail fever using animal models to mimic infection in humans. This research could lead to the identification of candidate proteins or immune factors as targets for host-directed therapies to improve the weakening liver fibrosis.
Professor Ntobeko Ayanda Bubele Ntusi
TW Kambule-NSTF Awards: Researchers
Chair and head of the Department of Medicine, principal investigator of both the Cape Universities Body Imaging Centre and the Hatter Institute for Cardiovascular Research in Africa, and editor-in-chief of the South African Heart Journal, Ntusi's research focuses on cardiovascular disorders that occur commonly in South Africa.
A paucity of research data from Africa has motivated Ntusi to improve the understanding of cardiovascular diseases of pestilence, which are far more common in Africa than elsewhere.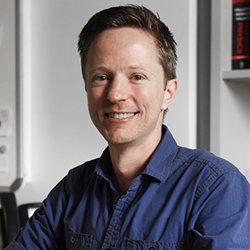 Dr Dyllon Garth Randall
NSTF-Lewis Foundation Green Economy Award, Communication Award
A senior lecturer in the Department of Civil Engineering, Randall has investigated how to collect urine easily using no water and with limited changes to toilet infrastructure. This resulted in the first fertiliser-producing urinal that was able to collect urine while using no flushing water.
Randall is leading broader urine-related research that focuses on upcycling. His research has already produced a solid fertiliser and bio-bricks, and his future work aims to produce additional fertilisers, water and energy from urine. These initiatives have created awareness and paradigm shifts in the sanitation sector.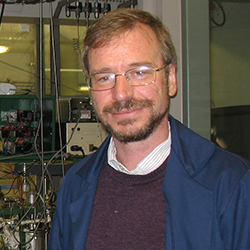 Professor Eric Wilhelmus Josephus van Steen
Engineering Research Capacity
Van Steen has trained both chemical engineers and chemists in the field of catalysis and catalytic reaction engineering at a postgraduate level. This field requires a sound understanding of the underlying physics and chemistry and of chemical engineering principles.
He holds the DST/NRF South African Research Chair in Reaction Engineering.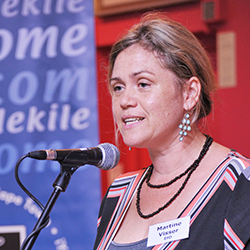 Professor Martine Visser
NSTF-Lewis Foundation Green Economy Award, NSTF-Water Research Commission Award
Visser is a professor with the School of Economics, director of the Environmental Policy Research Unit (EPRU) and a research chair of the African Climate Development Initiative.
Her work with the EPRU team, in collaboration with the Water Demand Management department within the City of Cape Town, helped introduce nudges in behaviour to motivate water savings in the drought-stricken city. A second phase of the project focuses on building capacity within the City to undertake similar initiatives in future.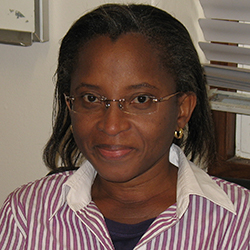 Associate Professor Abimbola Olukemi Windapo
Engineering Research Capacity, Special Annual Theme Award
An academic in the Department of Construction Economics and Management, Windapo's research has established that poorly run construction companies represent one of the most significant challenges for the development and project performance of the construction industry, including building collapse.
She contributed to the national agenda in construction business and project management research by conducting research that helps to identify the complex consequences of poorly managed resources and its effect on projects and organisations.
---
This work is licensed under a Creative Commons Attribution-NoDerivatives 4.0 International License.
Please view the republishing articles page for more information.
---