Graduates of the Faculty of Engineering & the Built Environment (EBE) can be proud of themselves – they leave with a degree from Africa's top institution, the University of Cape Town (UCT), said Vice-Chancellor Professor Mamokgethi Phakeng at the graduation ceremony held in the Sarah Baartman Hall on Saturday afternoon, 13 April.
But, she cautioned, this was not enough for them to stand out.
"This is a UCT degree, [it's] top class. But when you walk out of here, there will be a lot more people with the [same] degree that you have … The question is, what's going to make you stand out?
"It's what you do with it. So, do something worthwhile with it."
Phakeng was addressing graduands, friends, family and the faculty at what was the fifth ceremony of the autumn graduation, and the first cohort of EBE students.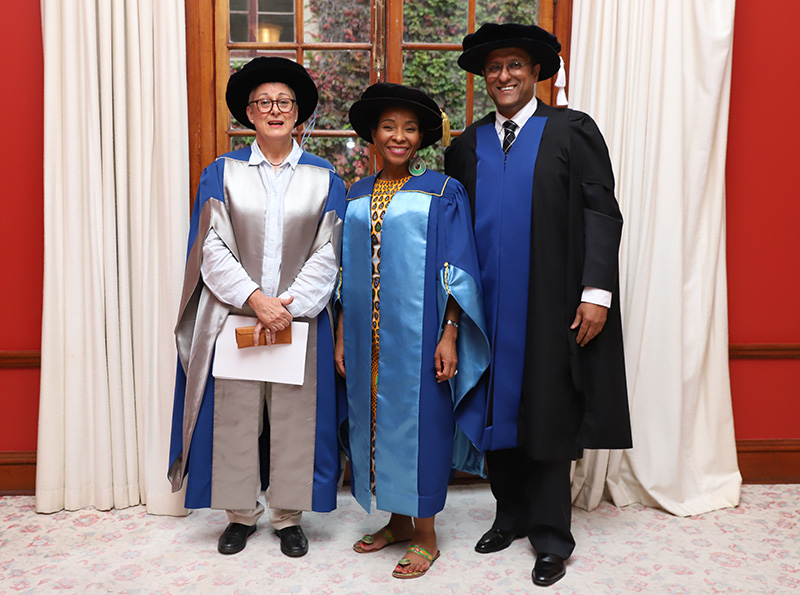 "We are very proud of you," she said.
She congratulated the parents and guardians for helping their children reach graduation.
"They are a UCT graduate … And their success is your success."
She thanked the families – many of whom were "broke with loans" because of the fees they had paid – and the all-important support networks.
As per UCT tradition, Phakeng asked the graduates to stand up and wave their blue scrolls in the direction of their loved ones, as a gesture of appreciation for their support.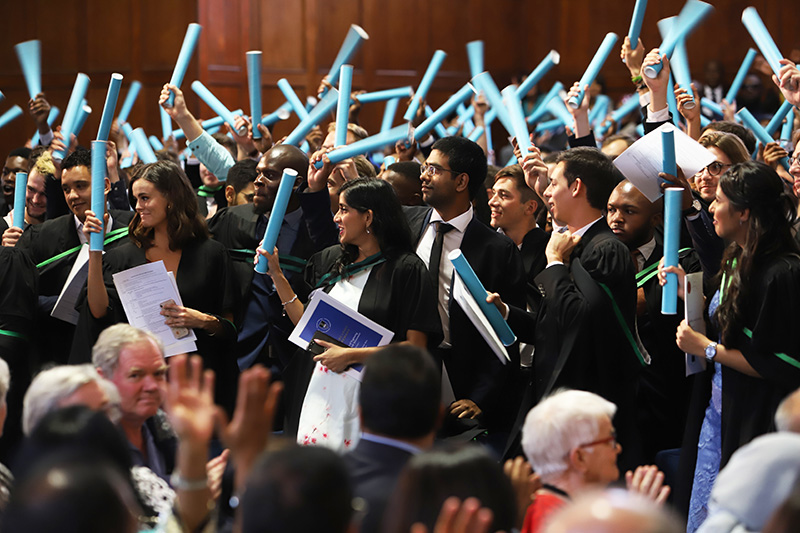 She then asked the EBE graduates to turn to their faculty and "show them some love" for their lectures, coursework, marking of assignments and guidance along the way.
After their first waving of scrolls to the faculty, Phakeng joked that some of the graduates had only waved their scrolls once and said they shouldn't still be holding grudges because one of their professors gave them an average mark on an assignment. Graduates responded with laughter, waving their scrolls wildly at an amused faculty.
"If you have a degree from this university, you own it."
Sights and sounds
Continuing to keep everyone in stitches, Phakeng thanked the students for helping her catch up with the season's latest looks.
"Me, I'm catching up because there's no time to go shopping," she said. "At the end of the graduation season, I know what's in. I just go into the mall, I go for it."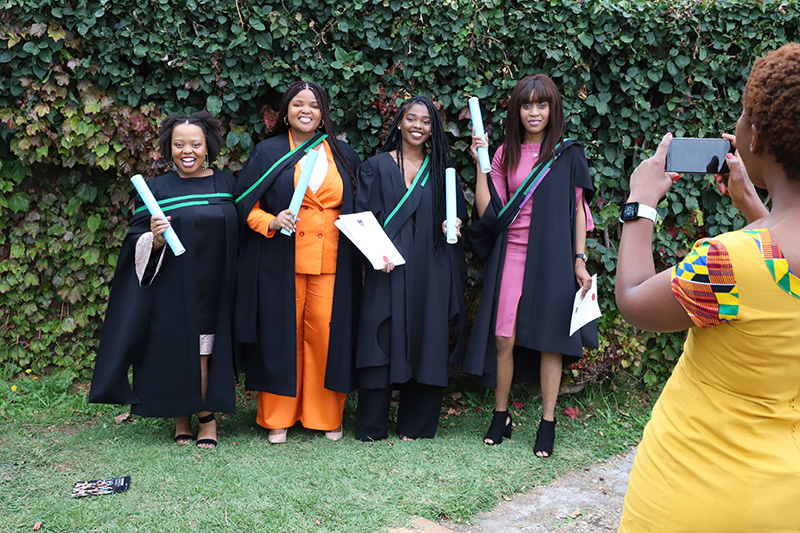 She added that graduation was also a time where she'd look to see who had not practised walking in their high heels before taking to the stage.
"But today, 100%, nobody fell. Everyone practised," she said, applauding the graduates who responded with cheers and clapping.
Finally, Phakeng spoke of the sounds of graduation, how she listened to what people were saying and how they congratulated their loved ones.
"The ululations tell us where people come from," she said, explaining that ululations differ depending on the places of origin – such as KwaZulu-Natal's izithakazelo where clan names are used as part of the praise.
"If they go on too long, you must know it's Limpopo," she joked, starting the audience's laughter anew.
Honours and thanks
While laughter and cheering continued through much of Saturday's ceremony, gratitude was the thread that tied it all together.
Professor David Roger Jones Owen, of the College of Engineering at Swansea University in the United Kingdom, was awarded a Doctor of Engineering (honoris causa) for his contribution to UCT, and to the development of the field of computation mechanics.
Phakeng thanked him for maintaining a close connection with UCT for more than 35 years and raising the international profile of the university's Centre for Research in Computational and Applied Mechanics.
"We always want to be associated with people of your calibre because you make us a great university," she said.
"Just by having you as one of our graduands it gives us some gloss, so thank you for brushing us up a little bit."
She then turned her attention to the PhD graduates who all received roaring applause for their achievements.
While laughter and cheering continued through much of Saturday afternoon's ceremony, gratitude was the thread that tied it all together.
"We love red gowns … We love it even more that there are three women out of five," said Phakeng, raising her fist in acknowledgement.
Finally, she made special mention of the professional, administrative support and service (PASS) staff who worked tirelessly to ensure graduation ran smoothly. She asked everyone in the hall to stand and applaud them.
These staff members housed and fed students, maintained the university campus and ensured that the graduation season proceeded as scheduled, she explained. The EBE graduation was the second ceremony of the day, with the PASS staff having had roughly two hours after the first ceremony to prepare the hall for the occasion.
Phakeng wrapped up the ceremony with her final words to the graduates who joined some 170 000 alumni of the university.
"From today, you own the university. You can never wish us away; we are in your CV for life.
"If you have a degree from this university, you own it. So, own the university; make it great because it's yours."
---
This work is licensed under a Creative Commons Attribution-NoDerivatives 4.0 International License.
Please view the republishing articles page for more information.
---