Nico Badenhuizen, part of the online communications technical team in the University of Cape Town's (UCT) Communication and Marketing Department (CMD), talks to UCT News about how and why the campus community – along with alumni and members of the general public – should use the website.
UCT News is a hub for all things UCT-related: human interest stories, profile pieces, live streams covering the university's big events, videos about life on campus, communications from the executive, photo essays, lectures and speeches, publications and even a digital bookshelf.
It is divided into two main sections, to distinguish official campus communications from news stories. You can find the two sections using the tabs News and Campus Communications. These tabs can be found on the home page and throughout the site.
In addition to the latest news stories and communications, you'll also find special features like December graduation, videos and the bookshelf on the home page.
News
Have you heard about bio-bricks made from urine? Or Vice-Chancellor Professor Mamokgethi Phakeng's time at the World Economic Forum's annual meeting? Do you want the latest on UCT's research and innovation? Then, News has what you need.
Simply click on the News tab located at the top of the page. Whether it's about the people, places, innovations or events happening at UCT, we've got a story for you.
The articles will never be as long as your thesis, the time it takes for you to prepare a presentation or to clean up the department kitchen.
And it's not only about the content. The site is built with the user experience top of mind. You'll see it in the clean design, time indicators and the related news that runs alongside every article.
You can also leave "hopping around" in the past because where relevant and valuable, we give you the whole shebang: a multimedia experience in one story, with embedded video, audio and photo sliders.
Special features
We capture the highlights of university life in our special features, an example of which follows below: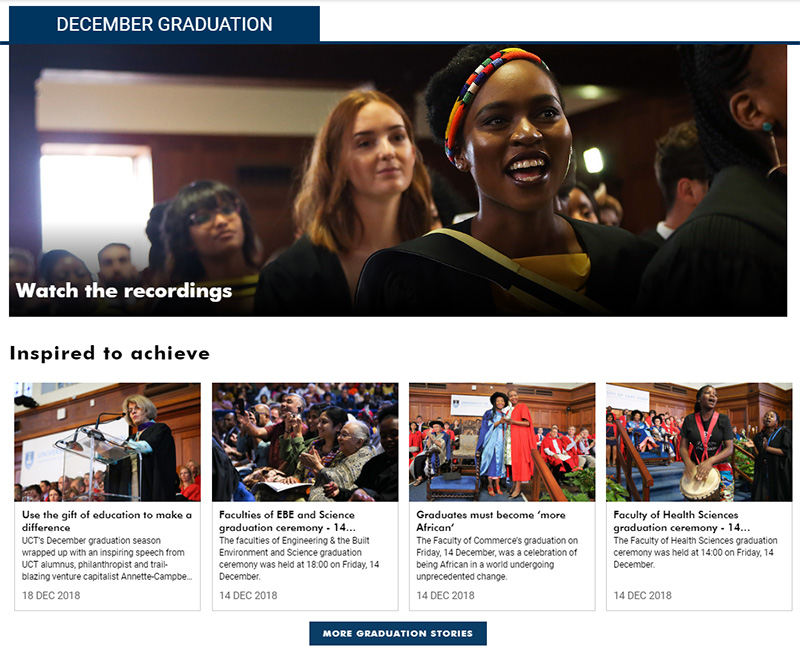 Feature pages collect and curate stories related to special events, such as graduation. These pages include stories about the big day, recordings of some of the speakers and standout moments captured in pictures.
Campus communications
In this part of the site, you'll hear directly from your university executive. You can access important announcements from the vice-chancellor and deputy vice-chancellors, communications from other members of the executive, including the registrar and deputy registrar, as well as from the chair of Council, and stay in the loop with regular Campus Announcements.
Videos and photo essays
With so much to see and hear at UCT, the newsroom's multimedia team ensures that you get informative and entertaining content from your university. We have videos documenting historic moments at the university, of UCT researchers doing what they do best, ones to help you beat exam stress, and of graduation, so that you can look back and locate the moment you were capped.
Our photo essays are a celebration of our diversity and our achievements as a university. From Rainbow Week to campus style, astronomy and changing seasons, our collection of photo essays tells visual stories in a quick and easily digestible way.
Bookshelf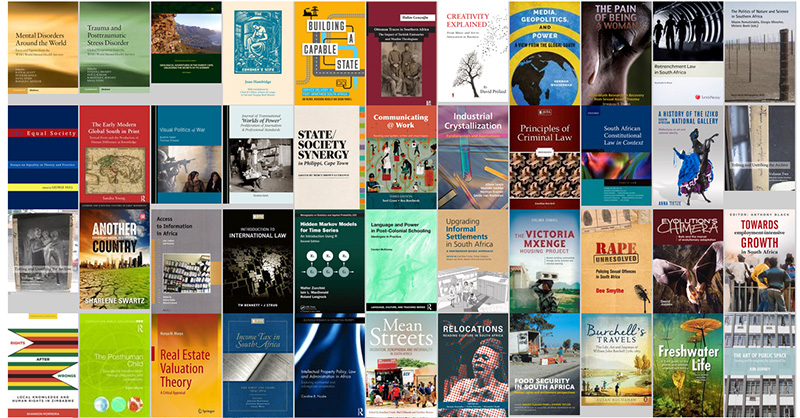 We're so proud of our widely published academics that we have featured their work on a digital bookshelf. You can browse the bookshelf on the home page to identify the books that most interest you, then click through to the book's information page on Goodreads.com for details about the books, as well as links to online booksellers where you can buy your book of choice.
But wait, there's more…
It wasn't a stretch when we said UCT News is a hub of everything newsworthy and university-related. There's so much more for you to enjoy and use:
Finally, for all the techies and site owners, UCT News has an innovative functionality called the article share wizard. Using this, you can embed script to your site. It's easy, responsive and enables a curated list of articles. And, if you have any site-related feedback, want to report that something on the site isn't working or you're having issues with the share wizard, Nico Badenhuizen is here to help – just pop him an email.
---
This work is licensed under a Creative Commons Attribution-NoDerivatives 4.0 International License.
Please view the republishing articles page for more information.
---