Acclaimed South African theatre luminaries Mbongeni Ngema and Percy Mtwa reprise their original roles – created some 40 years ago – in one of South Africa's most brilliant and popular classics, Woza Albert!, at the Baxter Flipside from 5 February to 2 March at 19:30, with Saturday matinees at 14:00.
Following its recent success at The Playhouse Company in Durban, this internationally-lauded political satire, directed by Christopher John, now transfers to the Baxter Theatre Centre, continuing its tradition of making local theatre history.
The KwaZulu-Natal media raved about the revival. The Witness said, "I urge everyone to watch this play", while SoSuterBill called it "A powerful piece of theatre", continuing: "What a privilege and high reward to see one of South Africa's most important and successful plays. Woza Albert! is one of the highlights of my theatre-going year and is highly recommended."
Artsmart was equally encouraging, saying: "It felt like a gift to be part of this monumental moment, witnessing the actors embodying different characters from a little boy to an elderly lady with clear precision and perfect synchronicity of voice, body, sound, breath and movement, creating images using few words and actions. Watching both actors excelling and sharing their talent of storytelling is astonishing and breathtaking."
At the height of apartheid, Ngema and Mtwa asked the question, "What would happen if Christ returned to South Africa?" From this, they developed the stage play with renowned theatre-maker and co-founder of the Market Theatre Barney Simon.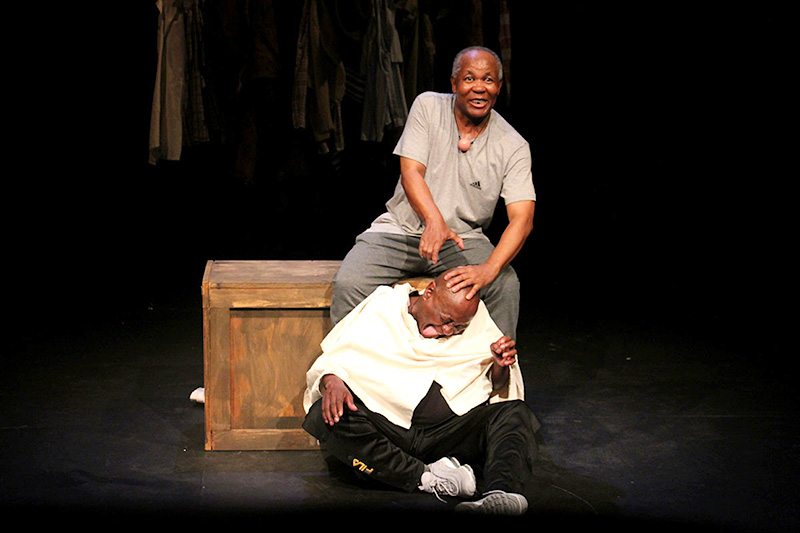 The production, a celebrated example of hard-hitting political satire, toured the world during the early 1980s, playing a major role in raising global support for the anti-apartheid struggle.
Exposing white supremacy
Woza Albert!, which translates to "Rise Albert", is still regarded as one of the most successful plays to come out of South Africa, winning more than 20 prestigious awards worldwide and, arguably, being one the most performed plays in this country. It is also a school set work for learners.
The two actors present a compelling view of multiple characters who explore several themes of race and class, exposing the power structures of white supremacy and concluding with a call for Christ to raise the dead heroes and leaders who opposed apartheid.
The play depicts and critiques situations that were part of black people's daily lives under apartheid: the pass laws, the segregation and the subjugation. It is widely understood that while many things have changed since the end of apartheid, some of these experiences remain relevant and continue to be a reality for many South Africans today.
By imagining the second coming of Christ in apartheid-era South Africa, the play looks at – and gives voices to – a wide range of different characters in the country at the beginning of the 1980s, attacking the pass laws that barred black people from freedom of movement.
It uses the metaphor of Morena (Jesus) to show what would happen if he came back to South Africa during apartheid. Would he like what he saw? And if he saw the atrocities of the time then why would he not do anything about them?
Woza Albert! is presented by the Baxter Theatre Centre and Committed Artists, in association with The Playhouse Company. It previews at the Baxter Flipside from 5 to 7 February, opens on 8 February and runs until 2 March. There is an age restriction of 13 years.
Early booking is strongly advised. Take advantage of the Early Bird Special by booking before 31 January and pay just R100. Thereafter, tickets range from R135 to R195. Booking is now open at Webtickets on 086 111 0005, online at webtickets.co.za or from selected Pick n Pay stores.
For discounted school or group block-bookings, fundraisers or charities, contact Sharon Ward on 021 680 3962 (ward@uct.ac.za) or Carmen Kearns on 021 680 3993 (carmen.kearns@uct.ac.za).
---
This work is licensed under a Creative Commons Attribution-NoDerivatives 4.0 International License.
Please view the republishing articles page for more information.
---