Two University of Cape Town (UCT) students have completed an intensive four-week training programme with the Young African Leaders Initiative (YALI) Regional Leadership Center Southern Africa. There they honed their leadership and problem-solving skills, all in preparation for an Africa with young leaders at the helm.
Aaliyah Vayej and Felicia Bajomo applied for and were selected to take part in the programme, which was held in Gauteng, joining close to 160 other participants from across the Southern African Development Community (SADC).
Vayej completed her Bachelor of Social Science this year, and is finalising her postgraduate degree. Her parents are well-known anti-apartheid activists in Cape Town.
"Growing up in Cape Town with a family undoubtedly committed to helping the immediate and broader community, I have lived my life guided by service above self," she said.
And serve she does. Vayej runs the current affairs portfolio of the Muslim Students' Association at UCT, as well as Amnesty International UCT's "AmnesTea". She is also a Global Citizenship Programme facilitator and works with two non-profit organisations, Tutonic and KaMatla.
Bajomo, who was born in Venda and grew up in Johannesburg, is studying for a Bachelor of Social Science and is set to graduate next April. She then plans to pursue her honours in organisational psychology and start her own non-governmental organisation.
Her impressive record involves running her own events and promotions staffing company and being elected in multiple leadership roles. These include 2016/17 UCT RAG chairperson, 2016/17 Students' Health and Welfare Centres Organisation (SHAWCO) board member, and UCT Nigerian Society events head in 2017 and welfare secretary in 2018.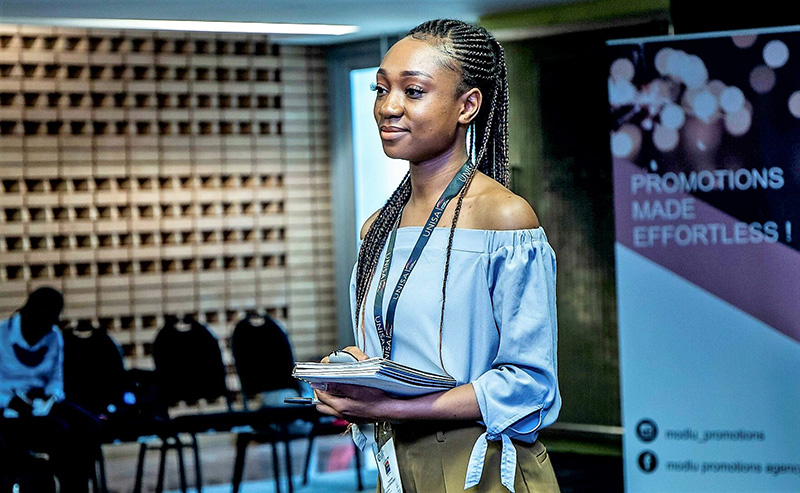 Untapped potential
They both applied for the programme to develop their leadership skills and because of a deep love for and belief in Africa.
"I am always eager to learn more about leadership and [to find] ways to develop my skills and knowledge around leadership, particularly African leadership," said Bajomo.
Vayej said she believes in South Africa and the continent, and in the untapped potential in the lived experiences, skills and conversations of its people.
"YALI presented itself as a sustainable and tangible enough opportunity to pursue this vision," she added.
The programme took place from 4 November to 1 December, and brought together a cohort with a diversity of languages, ages, beliefs, cultures and experiences.
Vayej and Bajomo agreed that what could have been a challenging situation for participants was expertly facilitated by the YALI team.
"I have lived my life guided by service above self."
One of the methods used was a daily language lesson. Participants would take turns to teach the rest of the group something about their language. This was Bajomo's favourite part of interacting in such a diverse group.
"I cannot emphasise enough how great it was meeting people from different cultures and backgrounds," she said.
And while Vayej acknowledged that getting to know the other participants and connecting despite their many differences was a good experience, she said there was one part she didn't enjoy about her time in the programme.
This was experiencing and witnessing "mild forms of racism" based on varying degrees of "African-ness".
"This was a real eye-opener as alongside all the positive outcomes of this programme, instances and realities like this prove our [continent's people have] yet to embrace one another in forms of neighbourliness," she said.
Africa is "yet to master an intergenerational identity of acceptance and true cooperation", she added.
Learning from others
The participants spent over eight hours a day honing their leadership skills. The first week saw all the participants working through the foundations of leadership, action and emotional intelligence.
For the rest of the programme, they were separated into "tracks": public management, civic leadership, and business and entrepreneurship. Vayej was put on the public management track and Bajomo in business and entrepreneurship.
Vayej's team focused on finding sustainable solutions to challenges faced at Tembisa Hospital in Gauteng. Bajomo's focused on the Cradle of Humankind's business strategies.
"It was a holistic experience because there was a balance between lectures, fieldwork and opportunities to put theoretical work into practice," said Bajomo.
They walked away from the four-week programme inspired and connected, with a highlight for both being the "157 new brothers and sisters" they have made.
"Ultimately, engaging with the real-life experiences of other participants redefined my personal understanding of leadership, transforming its definition to one that cannot be understood or put into practice without compassion," said Vayej.
"I left YALI with a renewed sense of self, selflessness and leadership in practice."
For Bajomo, who made "lifelong bonds" with her fellow young leaders, the programme exposed her to like-minded individuals who challenged her thinking and perspectives.
"Despite the many hurdles we face as a continent, our youth leaders constantly keep the drive and passion to construct solutions to our problems, and never lose sight of the greatness that Africa holds."
They encouraged their fellow students to apply for the YALI programme, saying participants are bound to grow, upskill and build a formidable African network.
"You learn so much over the four weeks that challenges and tests you emotionally, physically and mentally," said Bajomo.
"It is a great networking experience, and above all, it is a great platform for creating opportunities for yourself as a young African leader."
Vayej added: "It is such a crucial time for Africa as a continent and for its youth to lay a rightful claim in the space of global governance. YALI is an opportunity for any African youth to grasp action that will enact this claim."
---
This work is licensed under a Creative Commons Attribution-NoDerivatives 4.0 International License.
Please view the republishing articles page for more information.
---