The lappet-faced vultures have been circling for some time, ostensibly ignoring the carrion bait Beckie Garbett has laid out. In the bird hide, or "sweat box", the mercury is over 40°C. Patience doesn't come easily, especially when the great birds remain aloof – and aloft.
Perhaps the bird hide and capture equipment haven't been sufficiently camouflaged – vultures are notoriously risk averse. Or perhaps the bait is just not to their taste.
"Vultures are either extremely clever or way too fussy," Garbett mused.
A PhD candidate at the University of Cape Town's (UCT) FitzPatrick Institute of African Ornithology, she is among the candidates who will be graduating (in absentia) next week. Garbett is newly installed as BirdLife International African Vulture conservation manager in their regional office in Nairobi.
Her doctoral thesis examines how raptors, and particularly vultures, are faring in Botswana, the threats they face and how ecological data can be used to alleviate these and better protect the raptors. Unlike other raptors, vultures feed solely on carrion. They're particularly partial to two- to four-day-old carcasses.
Remote fieldwork
She did her fieldwork in the remote Makgadikgadi Pans and Central Kalahari Game Reserve, as well as the more-frequented Chobe National Park and Moremi Game Reserve. Her study focused mostly on lappet-faced vultures (Torgos tracheliotos). Regal in presence and with an impressive wingspan, Garbett says they're among the most striking species of African vulture.
But luring them to bait…
"The vultures could spend days checking out a carcass, circling and never come to eat. Other times they would drop in like missiles as soon as they saw the bait. We still don't fully understand why they wouldn't eat our meagre offerings, but I'm sure it's partly cautiousness. Or maybe they have the luxury of 'fine dining' in Botswana and only feed on mouth-watering carcasses."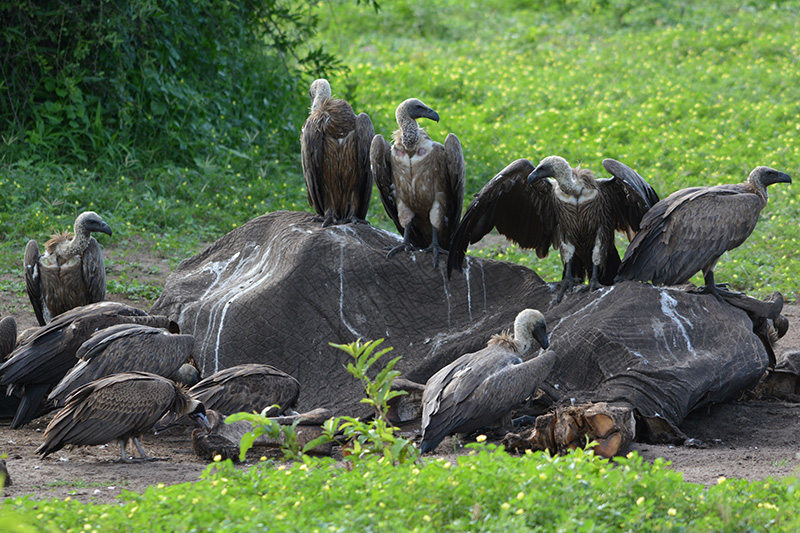 It's never "top drawer" to be the one in the bird hide during the fruitless capture, she added.
"On the other hand, it was the prime spot when we were successful. There's nothing quite like watching these guys pile in and feed on a carcass. The interactions between individuals are so entertaining."
Vulture culture
Garbett has been intimately involved with these birds for more than seven years. She grew up in the United Kingdom and did her undergraduate degree at the University of Kent, before migrating south to Botswana. She lived in Maun for the past eight years and once she'd started working for local NGO Raptors Botswana some years ago, she was hooked.
"It was all uphill from there," she quipped.
"As a result, seven out of the nine sub-Saharan species of vulture are now at risk of extinction."
Garbett noted that although Botswana is regionally important for many of these species, including vultures, there's a dearth of data on most raptors in this area.
"Along with the rest of the region, Botswana has seen a rise in poisoning incidences which have decimated vulture populations and threaten other scavenging raptor species. As a result, seven out of the nine sub-Saharan species of vulture are now at risk of extinction."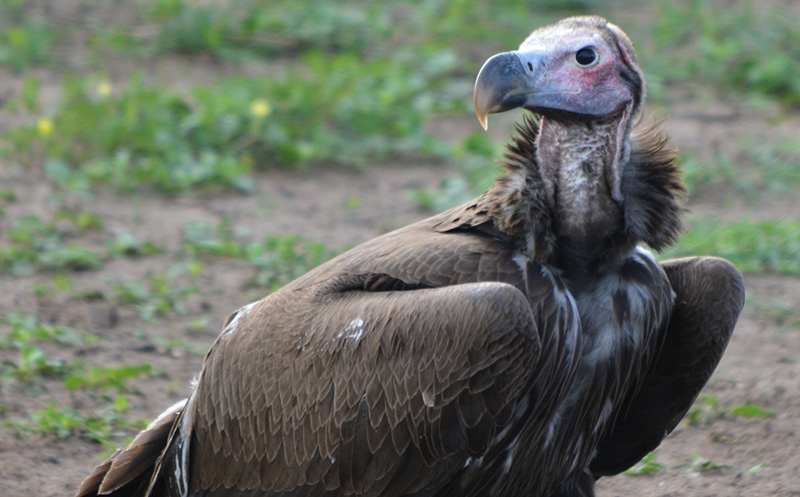 Rapid decline
Lappet-faced vultures exist at very low densities compared with most other African vultures. Because of their recent large and rapid decline, in 2015 the International Union for Conservation of Nature (IUCN) up-listed the species to "Endangered". And although it's widespread in Africa and common in Botswana, little is known about its ecology.
To gain a better understanding of raptor population trends, Garbett went back to old surveys and repeated transect surveys of raptors in northern Botswana from 20 years ago to investigate changes in the abundance of species included in the original surveys.
Using data for 29 raptor species, she found that 14 species (48%) had experienced significant declines of between 37% and 97%, and that overall, 18 species had declined by more than 50%.
Three of these were vulture species.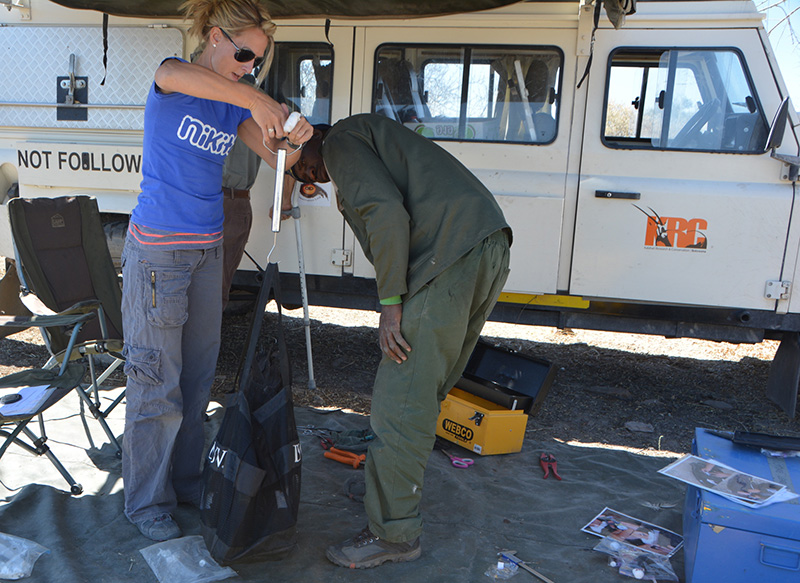 "When I compared the overall trend between the two surveys, I found a 40% decline in total abundance of all raptors. Only three species, all eagles, showed significant increases in abundance, but these were small (6–15%)."
Garbett then explored changes in abundance inside and outside of protected areas. In contrast to what she expected, only two species showed significantly different trends (both eagles) inside and outside of protected areas.
Her summary indicates that protected areas don't appear to be buffering declines for most raptor species, which suggests that the drivers of decline may be numerous and acting in equal measure inside and outside these areas.
Phase out lead ammo
The importance of lead for scavenging raptors in Africa, however, remains under-studied, even though recreational hunting is rife across the continent, Garbett added.
"Leftovers from hunted animals, or gut piles on hunting farms could represent an important but dangerous food source for African vultures."
She explored the association between blood lead levels (BLLs) of the critically endangered African white-backed vulture, Gyps africanus, and hunting activity in Botswana. From 566 individuals tested, around 33% had elevated BLLs, above levels considered as background exposure. Higher BLLs were associated with samples taken inside the hunting season and from within hunting areas.
Garbett also found a significant interaction between hunting season and hunting areas, with lead levels declining more steeply between hunting and non-hunting seasons within hunting areas.
"As we know that lead is highly toxic to scavenging birds, I recommended that lead ammunition in Botswana is phased out as quickly as possible."
"The results are consistent with the suggestion that elevated BLLs in African white-backed vultures are associated with recreational hunting. As we know that lead is highly toxic to scavenging birds, I recommended that lead ammunition in Botswana is phased out as quickly as possible."
Tagged and tracked
To address the protection of declining species, Garbett also had to understand their movement behaviours and how they utilise their environment. To assess how widely vultures in Botswana range, and how they use protected areas, she used GPS tracking data from 14 adult lappet-faced vultures captured and GPS-tagged at different geographic locations in Botswana between 2012 and 2017.
"I compared the ranging behaviours of breeding and non-breeding birds across the breeding and non-breeding seasons and found that breeding birds had vastly smaller ranges, particularly within the breeding season. Outside of the breeding season, these differences remained but were less contrasting.
"This study suggests that conservation approaches may need to differ to protect different sectors of a population, and likely need to be adapted for seasonal differences as well, therefore requiring both a 'full-cycle' and 'full spectrum' approach."
Because vultures range so widely, they are difficult to protect. Using the lappet-faced vulture GPS data, Garbett explored whether Vulture Safe Zones (VSZs) that have been used to recover Asian vultures could be viable for African vultures.
"VSZs aimed at protecting GPS fixes of breeders were much more effective than those aimed at protecting non-breeders and could potentially be a viable conservation tool for breeding adult lappet-faced vultures, or similarly wide-ranging species in Africa," she suggested.
The clear message of her study is that raptors in Botswana direly need conservation attention.
---
This work is licensed under a Creative Commons Attribution-NoDerivatives 4.0 International License.
Please view the republishing articles page for more information.
---