South Africa's economy can easily grow at 3.5% or more per annum if the country gets the basics right, according to National Treasury Director General Dondo Mogajane, who spoke at UCT's Graduate School of Business (GSB) on 27 March.
Ratings agencies have flagged SA's slow economic growth as a major concern. The National Development Plan states that SA's economy needs to grow at an average of 5.4% annually in order to address the country's high unemployment rate, which is at 27%.
But the Reserve Bank is projecting an expansion of just 1.4% in 2018 and 1.6% in 2019.
However, there is growing optimism around the country, which is shared by some of the major credit ratings agencies, that under President Cyril Ramaphosa's leadership, SA's gross domestic product (GDP) growth could surpass expectations.
In March 2018 Standard & Poor's global ratings revised SA's GDP growth forecast for 2018 upwards, from 1% to 2%, citing a strengthening domestic and foreign investor sentiment following a change in the country's leadership and ensuing policy announcements.
An ongoing global upturn is also boosting demand for both commodities and manufactured goods, the ratings agency said. It warned, however, that this was not enough to address the country's unemployment crisis.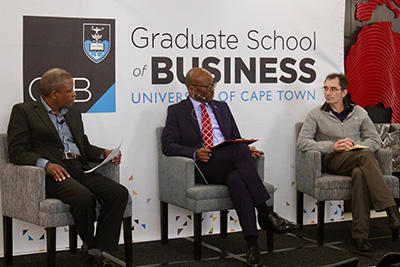 GDP could change overnight
Speaking during the Distinguished Speakers Programme at the GSB, Mogajane said that SA was stabilising its finances, addressing various issues afflicting state-owned entities and the South African Revenue Service, and dealing with policy uncertainty in sectors such as mining. This would, going forward, help boost confidence in the economy and drive growth.
"GDP growth forecast [by National Treasury] during the medium-term budget policy statement was 0.9%, but this improved to 1.5% during the budget [in February].
"By 2020 it is forecast to increase to 2.1%. But that 2.1% is not a real number. I can confidently say today that number can be bigger than that and [can] change overnight," he said.
Mogajane asserted that SA could improve its growth prospects by taking advantage of the "low-hanging fruits" and dealing with policy uncertainties in critical sectors such as mining.
"Economic growth is critical and key. I am happy that the [Mineral Resources] Minister [Gwede Mantashe] says in three months the mining charter discussions should be complete.
"In the last few years, no new shafts have been sunk, no new investment has come through. We also need to release additional spectrum that will unlock value," said Mogajane. He added that the country also needed to focus on boosting the agriculture and tourism sectors to improve economic growth.
Fighting a downgrade
By just boosting confidence SA could add 0.5% to its GDP, and another 0.6% by dealing with the challenges at state-owned entities, especially Eskom. Addressing barriers to entry would add another 0.6%, while transport reforms would also boost GDP by 0.6%, Mogajane said.
He detailed how government had campaigned to avoid another credit ratings downgrade.
"We had to defend the [credit] rating with our lives."
Ratings agency Moody's gave SA a reprieve when it maintained the country's sovereign rating at Baa3, one notch above junk status, with a stable outlook. It cited, among other reasons for the decision to keep SA at investment grade, the change in the political leadership and the recovery of the country's institutions.
A downgrade would have been devastating for SA as it would have meant that all the three major ratings agencies had the country's foreign currency and rand-denominated debt at sub-investment grade.
The country's debt service costs, which are currently at R180 billion, would have increased by between R20 billion to R30 billion overnight, triggering SA's expulsion from the Citi world government bond index and projected capital outflows of R100 billion.
"We had to defend the [credit] rating with our lives," said Mogajane.
"Some investors that we spoke to were already saying, 'If ever Moody's downgrades you, we have been instructed by our credit committees to reduce our exposure by 90%,' so holding guard on Moody's was quite critical this time around."
On fee-free higher education
Responding to questions from GSB director Mills Soko on the contentious issue of fee-free higher education, Mogajane said that National Treasury was surprised by former president Jacob Zuma's announcement, but that the government was prepared to honour the commitment.
"We have had to cut budgets and there will be challenges sustaining this going forward," he admitted.
In the budget delivered in February, the Department of Higher Education and Training was allocated additional funding of R57 billion over the medium term. Taking into consideration provisional allocations announced in the 2017 budget, the total additions amount to R67 billion.
On an annual basis, the allocations for fee-free higher education and training amount to R12.4 billion in 2018/19, R20.3 billion in 2019/20 and just over R24 billion in 2020/21.
---
This work is licensed under a Creative Commons Attribution-NoDerivatives 4.0 International License.
Please view the republishing articles page for more information.
---