Each year, Fatima Khan sets herself a large assignment. In 2017 she outdid herself, completing a PhD, editing and co-authoring a new book on South African migration law, and undertaking a pilgrimage to Mecca. Not bad for a midlifer with two grandchildren and a full-time job as principal attorney at the UCT Refugee Rights Clinic.
But Khan wasn't the only one in her family to excel in 2017. Her daughter, Shamima, and son Imran graduated with their master's in law and master's in mathematics (cum laude) respectively, and her youngest son with a BSc in information technology.
Not to be left out, her husband, Sharif, followed his passion for languages and completed courses in Latin, Arabic and isiXhosa at the University of the Western Cape and her daughter-in-law Qanita Bassier is tackling a master's in linguistics. A truly special experience for Khan was having her sister, Dr Saadika Khan, also complete a PhD (at the medical faculty at Stellenbosch University) last year.
Annus mirabilis
It was an annus mirabilis and for this she pays homage to her late mother. A memory that stands out for Khan is reading her school report to her mother, who would kiss it and hand it back to her.
It was a seal of trust and praise for a job well done, for her mother, says Khan, was illiterate.
Nonetheless, she valued education highly and most of her children would go on to study at university, five at postgraduate level. By the time of her death in 1998, she had celebrated 16 family graduations, the legacy of her faith in the power of education to uplift.
"The best thing is that my mother attended most of the family graduations – including my first graduation in 1982 – and she demanded a new dress for each one!"
Three days before her mother died, Khan told her she was returning to UCT to study law.
"You go and be a lawyer," she told her daughter.
Serving refugees
"I love being busy," Khan reflects.
Just beyond her office, men and women are seated in line, different nationalities and cultures reflected in traditional djellabas and jalabiyas and headdresses. All are refugees, and all are waiting to receive legal help and guidance from the team.
The Refugee Rights law clinic, in partnership with the United Nations High Commissioner for Refugees, sees some 5 000 refugees a year; mostly from the Democratic Republic of the Congo, Somalia, Ethiopia, Rwanda and Burundi, but also from Syria, Turkey, Pakistan, Iran and Palestine. Khan has been part of its operations since 2004.
"This is who I am helping," she says. "This is what drives me: I got refugee status for someone, or I got a refugee child into school today."
"This is what drives me: I got refugee status for someone, or I got a refugee child into school today."
Hers has been a long journey of learning where age was never an impediment. After teaching for 16 years, she returned to UCT aged 39 to start an LLB.
Chronic exile
With 12 years of refugee law knowledge in her head, Khan wrote her PhD, 'In Chronic Exile' ("the sexy title") over 18 months. It is research about solutions to protracted refugee situations; an international perspective and a South African case study.
At the same time, she was teaching undergraduate and postgraduate law courses on refugees and litigation as well as conducting advocacy work and research.
She is inspired by the culture of excellence and learning in the law faculty. Former Dean of Law Professor Hugh Corder, Emeritus Professor Jan Glazewski and Professor Chuma Himonga were there on the day she registered as a mature law student. And when she graduated in December, Khan turned to Corder, part of the platform party, and asked him to hood her.
"It was an emotional moment for both of us."
What did she give up to accomplish all she did last year?
"I don't think I gave up anything I missed – except sleep! I used sleeping time to write my PhD. I'd get up at 03:00 or 04:00 and write until 07:00, then come to work. My mind was so excited that things flowed seamlessly from one thing to the other."
African sisters
Her sense of the "community of the world" was meaningfully enlarged during her pilgrimage to Mecca last year.
"As a migration lawyer, things stand out. There were people there from every country in the world."
She also encountered pilgrims from every African country except Angola.
Under the banner of a personal photo essay titled ʻMy sisters from … ', Khan took selfies with women from across the world. After returning home, she shared these special moments in an essay competition. Her prize was a return trip to Mecca to perform the Umrah, or lesser pilgrimage.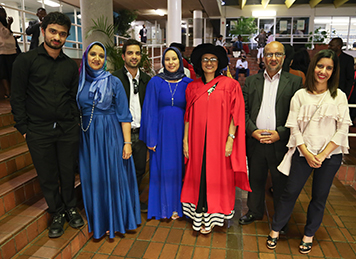 This excerpt from Khan's winning entry reads: "It was, however, the meeting of my African sisters that gave me the greatest joy. From every corner in Africa they came. My Nigerian sisters dressed according to their state, whether Sekoto, Kanu, Zamfara, Yobe or Lagos, they displayed with such great pride, in their colourful fabrics, where they were from. My francophone sisters from Mali, from Senegal, from Ivory Coast … loved their sister from Afrique du Sud. My North African sisters embraced me as their sister from Junnubi Africa … and Anglophone Africans loved that they found a sister from South Africa.
"Most loved to me were my sisters from Conakry, Guinea Bissau, who, whilst I was quietly reciting my salutations to the Prophet (peace be upon him) in Medina, decided to follow me and within minutes a huge group of sisters from Africa gave me the honour of leading them in greeting our beloved Prophet.
"My experiences with my African sisters were for me an affirmation of who I am. The fact that not a single one of them, not even for a second, questioned or doubted my Africanness is a demonstration of their intellect that this world is built on human mobility. I am a Muslim South African woman and as a South African I am intimately connected to this continent.
The next big thing
Her next big project? To visit a former colleague at the clinic, Tal Schreier, now at Toronto University.
"The longing was so great that we are now going to meet on my birthday on 24 June in Barcelona for five days together and lock arms and talk and eat and talk and eat – and let a grand chef teach us how to make tapas and paella – and talk about the work we do."
What drives her always is her own belief in the generational benefit of education for her children.
"I wanted my children to know that, and never to underestimate that gift."
---
This work is licensed under a Creative Commons Attribution-NoDerivatives 4.0 International License.
Please view the republishing articles page for more information.
---