Takunda Chirema and Charles Du, computer science honours students of 2016, have developed an Android application called NeceCity that allows students to follow Jammie Shuttle buses in real time on their mobile phones. The project is in its pilot stage, and they want your feedback.
Most UCT students will be familiar with the frustrations of waiting for Jammie Shuttle buses. Late at night, discomfort can become danger if you are forced to wait outside for a shuttle that could be late. With the NeceCity app, students can follow the buses in real time on their mobile phones while waiting safely indoors.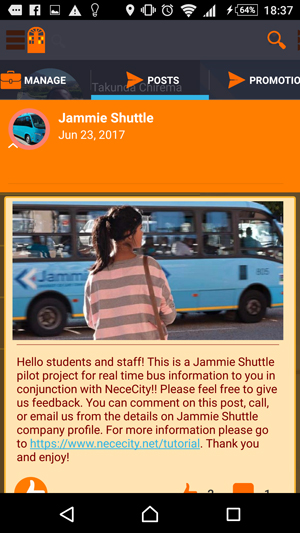 "When we were students here this is something that we really wanted. We were here for four years and always thought it was going to come, but it never came," says Du.
The original concept for the app revolved around safety. The idea was to provide Campus Protection Services (CPS) personnel with Android devices so that students could see where they were at all times. An alarm function would enable app users to alert a guard if they were in danger and immediately make their location known.
Chirema says, "In the very beginning we were thinking of pitching it to UCT CPS and also to Jammie Shuttle, but then found it easier to first start with transport only."
Pilot project
At the moment the app has about 450 users within the UCT student community. For the pilot project, 15 of the 28 Jammie Shuttle buses are fitted with an Android device to monitor their progress in real time.
"We are also thinking of replacing the paper-based system that they [Jammie Shuttle] have. They have a log sheet where for each stop they have to record their arrival time and departure time."
If the roll-out for the app is successful, this process will be automated. Chirema says that the buses currently have GPS trackers but that these are limited in the information they can supply. "You don't know the driver's ID, you don't know the route," he says, but the NeceCity app fills in these blanks.
The app is also set to improve the feedback between users and the bus service. Du explains that Jammie Shuttle wants users to message them and tell them if something has happened.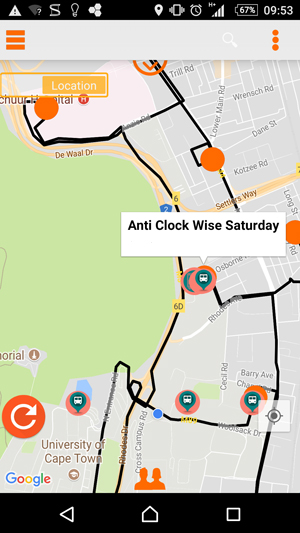 "So on the app there's a two-way channel between Jammie Shuttle and users. A lot of times if something happens it goes unreported and they have got to know about the problems."
This isn't the first technological attempt at improving the Jammie Shuttle service, however. The traveller information screens that were rolled out in 2012 have been helpful, but they still require you to stand near an information board.
NeceCity is not only available on your mobile phone, but can also send you an alert when your shuttle is nearing your stop.
Chirema says that other apps use statistical analysis but don't show the buses actually travelling. "You have to say, 'I'm coming from here and going to that place' and then it shows you some schedules."
Big plans for the future
The long-term plans for the NeceCity app are to integrate with Cape Town's public transport.
"A lot of transport companies suffer from not having enough passengers," says Du. "We thought that if you can make an app where people know more about public transport, know exactly where it is, know how the delays are and get notified of changes, then people will feel more comfortable taking public transport to a meeting."
If that goes well, Chirema has dreams of expanding internationally: "First of all, I'd like to be in Africa because I think that's where it's needed the most. We would like to get into countries that are developing and make it easier to use public transport."
Eventually, as well as providing up-to-the-minute information on transport and security, the app could include promotional information for its users, such as restaurant specials.
If you don't have an Android phone you can still find the app online. Chirema says, "On the website itself we have added a place where students can log in and see buses ... We don't have an iOS application right now but we are in the process of developing this."
Du adds, "We really want to do this for all the buses, and it would be great if the pilot shows that students want this as much as we want it for UCT."
"It would be great if the pilot shows that students want this as much as we want it for UCT."
The NeceCity Jammie Shuttle pilot project runs until the end of September during which time students can give feedback on the app.
Visit the NeceCity website... | Connect with NeceCity on Facebook...
---
This work is licensed under a Creative Commons Attribution-NoDerivatives 4.0 International License.
Please view the republishing articles page for more information.
---