A four-woman team from the University of Cape Town's Department of Information Systems has scooped the first prize of an all-expenses-paid trip to Silicon Valley in the USA in a 48-hour programming challenge held in Johannesburg over the weekend.
During the GirlCode Hackathon, the honours students in team Ruby created an innovative website, Amava (which means 'experience' in isiXhosa), that connects volunteers with NGOs.
"Winning is surreal. We can't quite believe that we're going to the US. We are very, very excited about going to Silicon Valley to learn more and network. It's a tremendous opportunity," said team member Fadzai Mupfunya.
The challenge was run by non-profit organisation GirlCode, which aims to empower women through technology. It also encourages and motivates women to pursue careers and leadership positions in the male-dominated tech industry. The GirlCode Hackathon is held annually on the first weekend of August to dovetail with Women's Month.
"This experience has given us the confidence to show clearly that we have a lot to bring to the table. As women, we can rise to the top in the tech space," said Valerie Tshiani.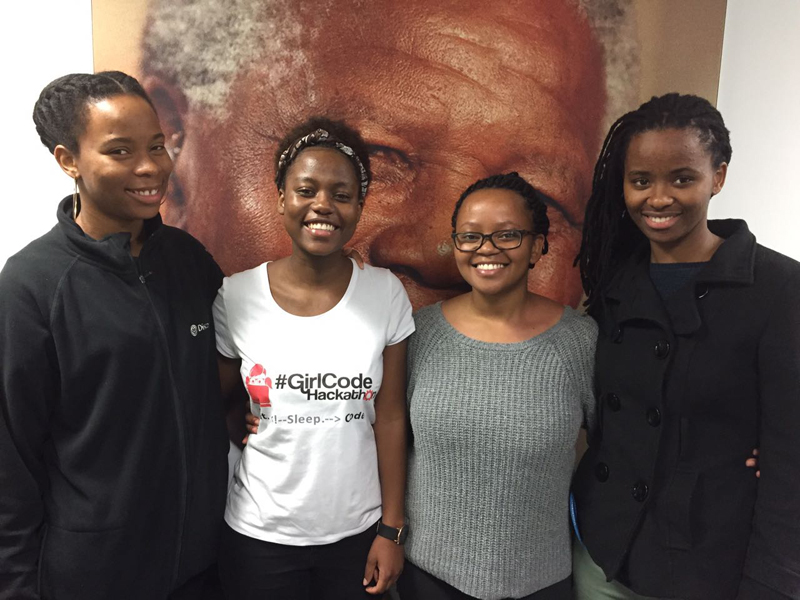 The students chose social welfare as their category and targeted a solution for unemployment. Lorna Nqodi said their website connected non-governmental organisations and volunteers in a novel way for mutual benefit.
"Amava is targeted at unemployed millennials and people who want to upskill themselves. It directly links volunteers with roles that are advertised in the workforce. These include posts for accounting, engineering and software development that are needed by NGOs that can't afford to hire these skills.
"The benefit of using Amava for volunteers is to gain experience and get references that can be used to market themselves to potential employers."
Volunteers are able to find NGOs in communities close to them, and transport and food costs are covered.
"As an unemployed millennial, transport and food costs are often a hindrance when it comes to volunteering your time with no pay. Amava specifies that these costs are covered. We want people from different economic backgrounds to volunteer, gain experience and attain usable references."
"This experience has given us the confidence to show clearly that we have a lot to bring to the table."
Collaborative learning experience
Kungela Mzuku said that participating in the GirlCode Hackathon had been an inspiring experience.
"We coded and worked for 48 hours. We didn't sleep at all, but were kept going with food and drinks and encouragement," she said.
Speakers from the industry and mentors kept the inspiration and energy up. At the end of the challenge, the teams presented their website to the judges. UCT was joined by teams from Wits University and the University of Johannesburg in the top three places.
Vice-chair of GirlCode, Jeanette Theu, said that the GirlCode Hackathon was open to all women who wanted to collaboratively create a website, game or mobile app that addressed a selected real-world challenge.
"At most hackathons, the main incentives are cash prizes, international trips and bragging rights, but we believe that women would be more drawn to a more altruistic goal, projects that will make a difference to society as a whole."
Theu said that the hackathon was intended as a collaborative learning experience in which everyone would walk away with new knowledge and starter kits that would help them continue their journey in exploring the information and communications technology space.
---
This work is licensed under a Creative Commons Attribution-NoDerivatives 4.0 International License.
Please view the republishing articles page for more information.
---