Friday was full of festivities as over 500 graduands from the Graduate School of Business (GSB), Commerce, Science, and Engineering & the Built Environment were capped during the afternoon and evening graduation ceremonies of 14 July.
Entrepreneur turned banker Ciko Thomas, of the Nedbank Group, addressed 221 graduands from GSB at the afternoon ceremony.
A scientist by training, Thomas obtained his BSc in chemistry from the University of Cape Town before moving into marketing and taking on a stream of successful business ventures.
"I'm truly, truly humbled to be on the podium this afternoon. It doesn't feel that long ago when I was walking up those stairs, kneeling in front of Dr Stuart Saunders to be capped for my BSc degree all those years ago."
In his address Thomas emphasised the roles and responsibilities that the graduands will take on as the country's future leaders.
"When you step out of this hall today, all of you automatically assume the mantle of societal leader in a country that has suffered great highs and, equally in the last while, certainly in the political sphere, great lows in the calibre of the leadership we have chosen."
South Africa, and the world, is in a state of profound change. Business, he said, is not immune to these forces of change. Whether this change takes us to a place of growth and positivity is based entirely on the choices we make as leaders, he said.
"How you lead in an environment characterised by unrelenting change, by fierce levels of competition, by a rising tsunami of consumer activism, rapid tides of regulation and unstoppable innovation is going to be your biggest challenge."
People will look to you to set the tone in dealing with change, he said. It is a responsibility that must not be taken for granted.
Be an authentic and a humble leader, Thomas advised. Be a steward of positive change.
"South Africa has seen enough leaders in its history, indeed some might say in the present … leaders who continue to leave a legacy of scars on us as a nation."
Do not follow in the footsteps of these leaders, Thomas warned, "seductive as the trappings of power may make it look".
"We are remarkably resourceful and remarkably resilient as a nation. We are a country at the bottom of a continent that the world chooses often to forget, yet we continue to box far above our fighting weight in our ability to produce a quality of leader, across the world, that positively impacts humanity.
"Will you be that leader?" he asked the graduands.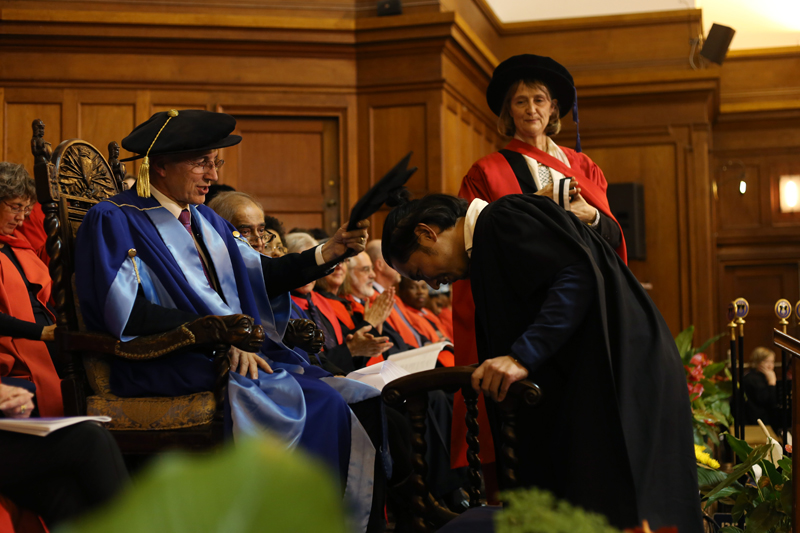 Master of the Green Economy
The evening ceremony saw 296 graduands capped from the faculties of Commerce, Science and Engineering & the Built Environment.
In their number was Japanese national Shukei Kato, who became the fourth recipient of an MPhil specialising in sustainable mineral resource development. This was achieved with distinction.
"Mr Kato drinks his tea from a titanium cup, made by Japanese artisans from a centuries-old metal-working town, to drive home the message that resource-based industrialisation is possible," said Professor Harro von Blottnitz, Kato's lead supervisor.
As a former employee of the Japanese embassy in Pretoria, and originally focused on sports for development, Kato began to wonder if South Africa, and other African countries with mineral endowments, could overcome the "resource curse" and follow the model of Japan and other countries that have been able to industrialise off their original mineral endowments.
Kato's dissertation investigated the human and social capital dimensions of the minerals industry cluster in Richards Bay, where he undertook his fieldwork, hosted by the Richards Bay Industrial Development Corporation.
This dissertation was co-supervised by Von Blottnitz, together with Professor Anthony Black. For the former, this is the 50th successfully supervised master's dissertation, yielding another "Master of the Green Economy".
Kato was also involved in the newly established Hasso Plattner Institute of Design Thinking and was a part of one of the first cohorts to complete both the foundation and advanced programme. He is now a coach at the institute.
"The d-school embraces entrepreneurship and innovative thinking through collaboration between multidisciplinary groups of people from all over the world," said Kato.
"I believe this is key to transforming sustainability in theory into practice and provides great examples to the rest of the world."
---
This work is licensed under a Creative Commons Attribution-NoDerivatives 4.0 International License.
Please view the republishing articles page for more information.
---