Let's talk about decolonisation in a space where it matters.
This is the motivation behind a series of talks entitled Black Art & Communities at Heart (BACAH), which is being organised by Institute for Creative Arts (ICA) national fellow Mandisi Sindo.
Sindo is a theatre practitioner and community activist. As the founder and artistic director of Theatre4Change, a non-profit organisation based in Khayelitsha that provides arts activities and mentorship, Sindo is interested in finding new ways to use art and theatre to prompt positive social change.
"I hope to see these conversations not only becoming a talk, but to see people fighting for their rights and reclaiming what is rightfully theirs. I want to see black communities becoming confident to talk about the social issues that they face," he said.
Central to Sindo's vision of the BACAH conversations is that they take place away from traditionally centred spaces, such as universities and city centres.
"We are the ones who are colonised here. We should be talking decolonisation, not the other way around," he explained.
"I entered into discussions with the institute, which had already been discussing such ideas. We collectively decided that this should take place in the townships where I think these conversations of decolonisation and transformation matter the most," he said.
What is the role of black art?
Sindo hopes to prompt public conversation around the role of black art, black artists and black communities in South African society and to engage with larger societal questions such as racism, crime, xenophobia, patriarchy, colonisation, exclusion and homophobia.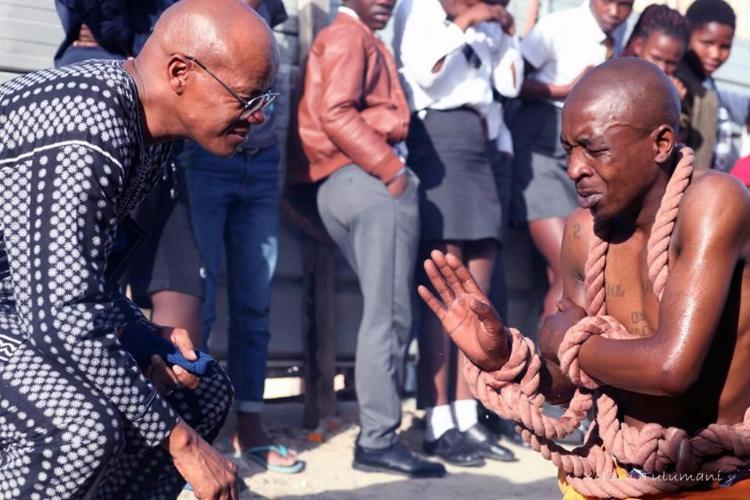 "This issue is very close to me as I see no unity among black artists," said Sindo.
"Our black organised community groups, individuals and professionals are excluded and ignored, even by their own government. If not so, why is there no art centre or a theatre in the townships in Cape Town? It is a problem that mainstream or white practiced work is still seen as superior than community theatre or black practiced work."
Art heals, revives and provokes
This sort of engagement is not happening in these communities. There is no outlet for people to reflect these issues, explained Sindo.
While the talk prompted healing, it was also disturbing and provoking for many in attendance.
"This is a chance for us to unite and talk about the importance of the art taking place in the townships. This is a way for us to find ourselves, and see beyond what we see right now."
The BACAH conversations continue on 19 August, 23 September and 4 November.
---
This work is licensed under a Creative Commons Attribution-NoDerivatives 4.0 International License.
Please view the republishing articles page for more information.
---