The UCT Graduate School of Business (GSB) has launched a satellite campus in Johannesburg. Based in Sandton, the campus offers a number of customised executive education programmes and short courses that are designed to develop African business leaders.
The decision to set up a campus in Sandton was influenced by the need to be close to government and corporate clients in Gauteng.
"Many of our clients who are based in Gauteng or the rest of Africa, told us they would appreciate having greater access to the business school," said Associate Professor Mills Soko, director of the GSB.
Situated at 61 Katherine Street in the heart of Africa's economic and financial hub, the Johannesburg campus moves the GSB closer to business, clients and alumni, giving easy access to those based in Gauteng and other African countries. It will also host ancillary speaker events, seminars and alumni courses. In addition, GSB MBA and EMBA (MBA in Executive Management) students in and around Gauteng will now have a space to gather and collaborate.
Speaking at the launch, former finance minister Nhlanhla Nene said that a special quality of leader is needed in these turbulent times: "I think we are beginning to lose sight of what we are about. There are so many challenges to focus on. We need to find an opportunity to cast our eyes beyond this."
He added that "sound economic and social policies, effective and efficient public administration, and good political leadership are needed to achieve sustained growth. Growth happens because of strong political leadership – leaders can only succeed if their promises are credible. If our leadership fails we are not only failing ourselves but the next generation."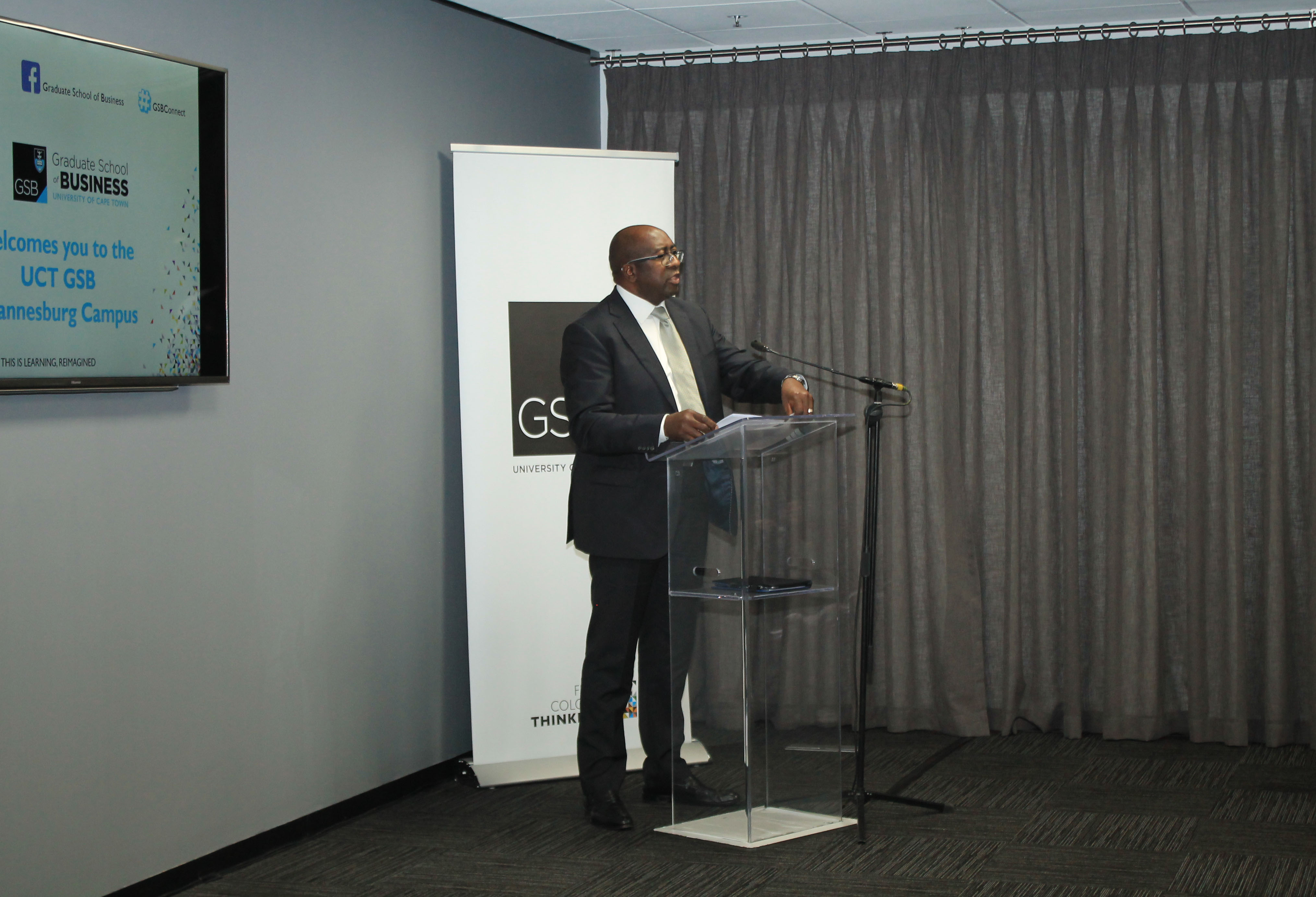 Soko emphasised the importance of developing business leaders who are mindful of their social obligations.
"UCT GSB is a business school rooted in South Africa and Africa and needs to be relevant in the broader African context. We will continue to identify and nurture entrepreneurs who can raise the level of job creation and contribute to the growth of our economy."
He added that the GSB will continue to contribute to the growth of managerial and business skills in South Africa and Africa.
"The Johannesburg venue is designed to promote tailored programmes," said UCT Vice-Chancellor Dr Max Price.
The GSB has ranked in the top 100 business schools in the world for seven consecutive years in the Financial Times ranking of the world's top customised programmes.
The Sandton campus is the second satellite campus for the GSB. Earlier this year the school opened a satellite campus in Philippi Village in Cape Town in an effort to widen its engagement with relevant stakeholders and increase access to its courses and expertise.
The first programme will be presented at the GSB Sandton campus in June.
---
This work is licensed under a Creative Commons Attribution-NoDerivatives 4.0 International License.
Please view the republishing articles page for more information.
---