Can I Please Go to the Bathroom? is a short film produced by Centre for Film and Media Studies (CFMS) alumnus Jessie Zinn. The emerging filmmaker, writer and director graduated with a BA in Screen Production from UCT in 2015.
Zinn's work has been generating considerable attention both locally and abroad.
"I directed two short films during my degree, Umva and Into Us and Ours, which have screened at film festivals all over the world, including at Visions Du Reel, Cannes, Encounters and Durban International Film Festival," says Zinn.
Her graduation film, Into Us and Ours, won the Best International Short Film award at the Ivy International Film Festival and was selected for screening at the Cannes Film Festival Short Film Corner in 2016.
Since graduating she has co-directed Encore, a feature documentary, with Jethro Westraad.
She recently returned from Switzerland where she attended Visions Du Reel, a documentary film festival where she pitched Encore.
"The project was selected as one of the top five films that were pitched in the South African Focus. The film is a hybrid, musical documentary about a group of musical-theatre performers that originate from Cape Town," she says.
Encore has also been selected to pitch at the Durban Film Mart in July 2017.
Her most recent production, Can I Please Go to the Bathroom?, was featured at Design Indaba and was selected as a finalist of the 2016 Sundance Ignite "What's Next?" short-film challenge. It looks into the taboo topic of menstruation and its largely ignored financial implications.
A need for affordable sanitary products
Can I please go to the bathroom? explores how menstruation can hinder a girl's pursuit of an education and reflects the related health and social issues that young women face in South African schools.
Through combined use of live action and animation, the film raises the questions that surround the space of the 'bathroom'. Created in 2016 as part of a research initiative in association with the Western Cape Education Department, Rock Girl and UCT, the film uses testimonies and interviews with young girls from various schools in the Western Cape to voice the concerns that they have about their gendered experiences – specifically around taboo topics like having their periods and not being able to afford sanitary pads.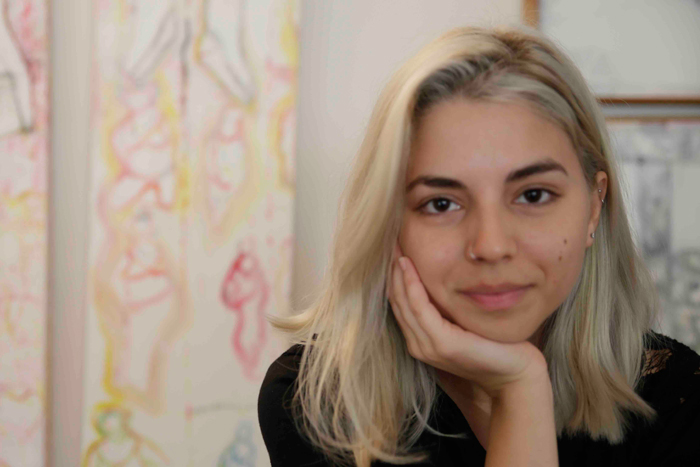 "I spent about two months talking to young girls, ages 12 to 19, about issues concerning them. The most frequent issues that came up surrounded menstrual health and accessibility to sanitary pads," explains Zinn. "These issues aren't new, the topic has been widely covered in newspapers over the past few years and there are incredible organisations like Femme – Freedom of Education Motivates Empowerment – doing vital work to help empower young women and raise awareness surrounding these issues."
She was inspired by the conversations that she had had with the girls.
"They had insightful and incredibly mature things to say and I wanted to make a film that was driven by their voices and their opinions, which is why the final film features their real voices as the narration," she says.
With no budget and a limited time to produce something, Zinn approached CFMS who agreed to sponsor the equipment required to make a short film.
"I wanted to make it visually interesting, which is how I decided to integrate animation. I collaborated with my friends to help with the animations and sound. Together, we produced a no-budget four-minute short film."
The film will premiere at the Encounters Documentary Film Festival on 10 June at the Labia at 17:30, in collaboration with Femme, which will be running an interactive Q&A session.
I found my voice as a storyteller
Zinn grew up in the performing arts.
"My mother is a theatre journalist and I did a lot of acting as a child ... I am a visual thinker and creator. I had always loved films but I never really thought that it was a possible career path."
She says she knew she wanted to major in film studies at UCT.
"The programme gave me the freedom to find my voice as a storyteller and provided a safe space for me as a female filmmaker to explore narratives that were personal and important to me.
"I can't speak for other departments or faculties, but the screen production programme was absolutely incredible and changed my life. Dr Liani Maasdorp, the supervisor of the course, gives students a lot of freedom to articulate their ideas in interesting and innovative ways and she is very supportive of young, emerging talent," she says.
"Every film project that I work on is a constant learning curve so I still consider myself, in many ways, a student of film even though I am not officially studying at UCT anymore."
Every day is different
Daily coffee runs and a passion for film keep Zinn going.
"Every day and week offers a different challenge and an exciting new opportunity. The difficulty comes when trying to balance paid work with creative work, and to find time to get everything done," she says.
Zinn says her films challenge her constantly to rethink how she sees the world and allow her to interact with people who inspire her.
Two of her challenges as a young female director are sexism and ageism.
"I often find myself on panel discussions or in festival line-ups where I am either the only, or one of few, female directors. In addition to this, people are still hesitant to give young filmmakers screen time and opportunities to tell new and exciting stories," says Zinn. "In many ways my journey has been, and still is, a constant struggle to be heard and taken seriously as a young, female filmmaker."
Others are administrative problems like lack of financing and limited funding contributions.
She is grateful for established filmmakers and producers in the industry who are changing the game and trying to push for new voices.
"Filmmakers like Jenna Bass and Jolynn Minnaar are essential allies to the cause of the new wave of South African independent filmmaking that is picking up momentum," says Zinn. "Things are improving, but there is still much work to be done."
Casimir premieres: Can I Please Go to the Bathroom? from Casimir on Vimeo.
---
This work is licensed under a Creative Commons Attribution-NoDerivatives 4.0 International License.
Please view the republishing articles page for more information.
---