Dr Matthias Brenzinger has won the prestigious International Linguapax Award for 2017, after being chosen by an international jury of 40 language experts. He is the second winner from UCT in the 15 years of the awards – the late Dr Neville Alexander won the prize in 2008.
The International Linguapax Award is a tribute to outstanding work that preserves linguistic diversity, revitalises and reactivates linguistic communities, and promotes multilingualism. Brenzinger was announced the winner on International Mother Language Day on 21 February.
Since 2012 he has been director of the Centre for African Language Diversity (CALDi), which he founded at UCT in the School of African and Gender Studies, Anthropology and Linguistics. From 2013 to 2016 he held the Mellon Research Chair in African Language Diversity.
In their motivation the judges described Brenzinger as an "expert in African languages, pioneer in the study of endangered languages and linguistic revitalisation, who stands out both for his theoretical contributions and his commitment to the field."
A traveller at heart (he left school lured by dreams of Africa), Brenzinger has traversed the length and breadth of Africa, Asia and other continents to support communities whose languages were threatened.
Born and educated in Germany, he has been a member of the Institute of African Studies (Institut für Afrikanistik) at the University of Cologne for 28 years. His main academic interests are language classification, cognitive linguistics, ethno-botany, language documentation, applied linguistics, bimodal communication and sociolinguistics.
Education and assessment
An author of reference books on endangered languages, Brenzinger has participated in the three editions of the UNESCO Atlas of the World's Languages in Danger, and has developed educational materials and curricula as well as assessment tools and practical guides to initiate language revitalisation programmes.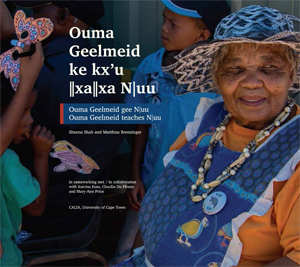 The trilingual reader on the N|uu language, Ouma Geelmeid Teaches N|uu, which Dr Matthias Brenzinger developed with Dr Sheena Shah and in collaboration with ǂKhomani community members in Upington to support the revitalisation and preservation of N|uu.
When he created CALDi five years ago, it was to foster the sustainability of linguistic diversity on the continent, and to support the communities most in need. A recent example of this work is the trilingual book on the N|uu language, Ouma Geelmeid Teaches N|uu, developed with Dr Sheena Shah. This first illustrated Nǀuu–Afrikaans–English reader was the result of a three-year collaboration between CALDi linguists and community members.
With only three speakers left, N|uu is South Africa's most endangered language. Linguists thought N|uu was extinct for several decades, but the language was rediscovered when 20 speakers revealed their knowledge of N|uu in the late 1990s. The 160-page publication is an invaluable tool to support the revitalisation and preservation of this fragile language.
Beyond Africa, Brenzinger's work has taken him to Europe, the Americas and Asia. He was a visiting professor at universities in Tokyo and Kyoto, where he worked with Japanese academics and language activists on the revitalisation of the Ryukyuan (Japan) and Jeju (South Korea) languages.
Language and perception
His academic career began at the University of Cologne, where he studied African languages under the supervision of doyen Bernd Heine.
He writes: "Right from the beginning of my own research into African languages, I focused on the languages spoken by marginalised communities in remote areas … I often spent months in settlements without electricity and with limited water supply."
His first field trip was to the Marakwet in the Cherangany hills of Kenya, followed by several trips to visit speakers of Ma'a-Mbugu in Tanzania's Usambara Mountains. Next came fieldwork on the Mukogodo Maasai and Yaaku near Mount Kenya. Here Brenzinger learnt first-hand how languages develop in response to the natural world that sustains speaker communities.
He cites an example: "Honey and bees are to these former hunter-gatherers what milk and cattle are for pastoralists: precious commodities and extremely important in their daily lives and in their conceptualisation of the world. For that reason, the special vocabularies for traditional beekeeping and honey hunting were my main interest for several years."
Brenzinger accompanied the Mukogodo when they followed the honey guides (birds that lead people and honey badgers to wild bee nests).
"For linguists, it's important to participate in such cultural activities to be able to understand stories, technical terms and, most importantly, to get an idea of the specific concepts underlying the languages they study."
Heart for community
His nominators commended his community support: "[He] has shown as much interest in the everyday concern of the communities he studies as their languages."
This was brought closer to home by a book Brenzinger wrote, illustrating the vulnerability of small, marginalised communities struggling to survive the onslaughts on their language and from displacement and disease. HIV/AIDS Threat and Prevention in Marginalised Ethnic Groups (2001) was written with Gundel Harms and was a case study of the Khwe, one of Southern Africa's Khoisan-speaking groups in Namibia.
It was based on the duo's experiences among the group – highly mobile hunter-gatherers who were decimated after decades of war, political instability and forced removals. Illiteracy was high and alcohol abuse rife among the members of this group.
Brenzinger has studied the Khwe since 1996 and the terminology of health and disease were part of these studies. At the time, Brenzinger wrote that, as an endangered community, the Khwe had a much-reduced chance of combatting the HIV/AIDS epidemic.
He said, "Their traditional cultural and communication patterns prevent them from participating in efforts of neighbouring communities, however small these may be. The difficulty of understanding the threat and translating it into the symbolic systems of their own 'worldview' reduces their chances of 'attacking the enemy' within and from the outside."
---
This work is licensed under a Creative Commons Attribution-NoDerivatives 4.0 International License.
Please view the republishing articles page for more information.
---