Where's the best place to find rare birds in Cape Town? The Strandfontein Sewage Works, of course.
Of course. It's pretty obvious, actually.
Billi Krochuk, who'll head up the newly established UCT Birding Society in 2017, explains.
Birds from as far as field as East Africa and North America are occasionally cursed with inner compasses that get stuck on "go south" after migration, she says.
The Strandfontein Sewage Works, which is near the last big wetland before the expanse of False Bay and Cape Point, is just about as far south as you can get. Some birds do end up around Cape Agulhas, though, adds Andrew de Blocq, who founded the society in 2016.
This is why birders from the Cape tend to congregate at Strandfontein, as well as at the Kirstenbosch National Botanical Garden, in their search for feathered friends.
"Birders are probably some of the only people who would go to sewage works on a nice Saturday morning," Krochuk grins.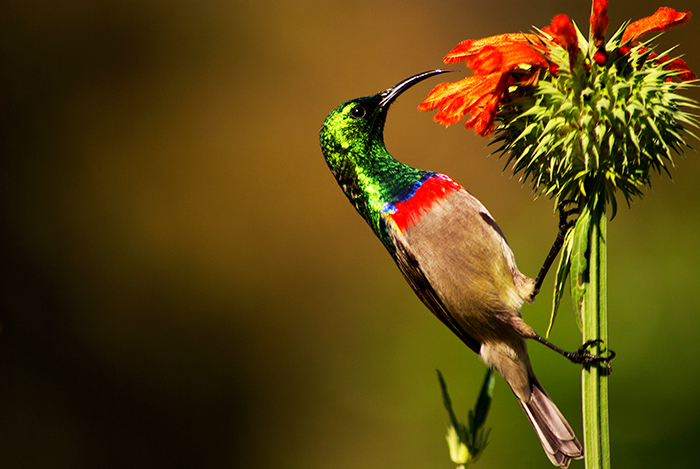 Southern Double-collared Sunbird. Photo Campbell Fleming.
Rookie birders welcome
This year, the UCT Birding Society's reins have been handed to Krochuk and Jessleena Suri, who are studying their honours and PhD degrees in the biological sciences respectively. They will lead birders on expeditions around the Cape in what is the Birding Society's first full year in existence, with 2016 having been their (successful) trial year.
De Blocq, Krochuk and Suri are all doing research at UCT's Percy Fitzpatrick Institute of African Ornithology (affectionately known as the Fitztitute). Despite their experience in ornithology, the Birding Society is not an elite group restricted to veteran birders. Anyone with a passing interest in, say, that eagle over there, is welcome, says de Blocq, who has been watching birds with his father since his early years.
"We try to cater for everyone from the top professor to someone who just likes to see birds in their garden," he says. "Anyone who has a passion for birds can join the club."
They want to make a network of ornithologists and new birders in the Cape, linking the experienced birders with the greenhorns, says Krochuk.
"We want to make it as accessible as possible."
They were partly motivated by a desire to make the "amazing" resources about birds at the Fitztitute available to students, adds de Blocq.
"We want to link the people here with birders on the ground."
The club has already signed up people from disciplines as diverse as English and engineering. The array of photos in their O-Week tent surely helped.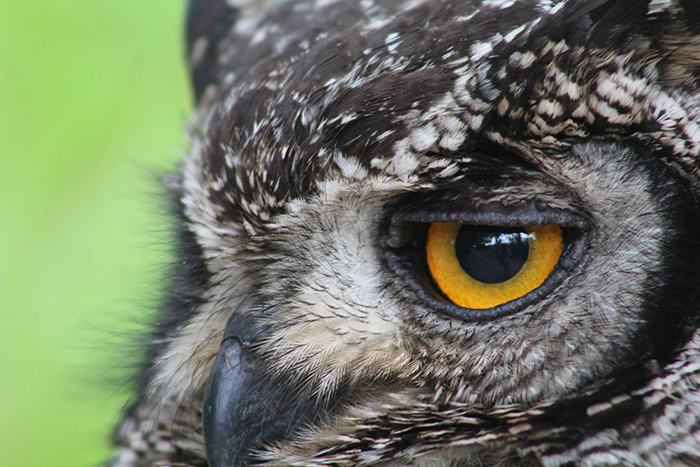 Spotted Eagle Owl. Photo Callum Evans
Vagrant species and little tennis balls
The aforementioned lost birds whose compasses lead them extraordinarily far south are affectionately known as vagrant species. The Strandfontein birding spot is one of the best in the country, arguably because of the number of vagrants who land there, says Krochuk.
"Birders literally flock there from across the country, and it's in our backyard," she says.
Many birders are avid photographers, and Suri mentions that joining the Birding Society might be a useful way to nurture the nature-photography hobby. Cameras are trained and nerves are bristling during the stake-outs (or "twitching" in birding parlance) for rare birds, says Suri.
"You're twitching the whole time until you see the bird!" she laughs.
Birds that make you twitch are often quite unassuming and looked over, says Suri.
Take the Temminck's Stint, for instance. It pitched up in South Africa last year for only the second time on record, and only keen eyes would distinguish the details that set it apart from the more common Little Stints, which Suri lovingly describes as "little tennis balls".
It's not just birds
They're all avid naturalists, so these birders will often spend time admiring all kinds of critters and plants. They will travel as far afield as the West Coast, Agulhas and Karoo national parks.
Cape Town's bird diversity trails behind the likes of the Kruger National Park, admits de Blocq.
"But the birds we get here are quite special, and they're all kind of within reach of Cape Town," he says. "Within an hour-and-a-half, two hours' drive, you can get up to 300 species. We've got some really nice sites we can visit as a club."
Off to the sewage works, then.
Watch the video:
UCT Birding Club takes off.
Story Yusuf Omar. Photo Robyn Walker. Video Saadiq Behardien.
---
This work is licensed under a Creative Commons Attribution-NoDerivatives 4.0 International License.
Please view the republishing articles page for more information.
---