Why Nut aims to provide healthy snacks to the UCT community and to encourage healthy eating habits among students.
Third-year chemical engineering student Nyasha Mawungwe produces and markets granola bars, which come in two flavours. So far he has partnered up with two cafeterias on campus to sell Why Nut.
Fellow engineering student and close friend of Mawungwe's, Maxwell Kahuma, was pulled in to assist with the start-up.
"I don't really have any design background, so he is the one who has been doing the logo and packaging," he says.
The idea was sparked during the long break after the mini-semester in January this year.
"I always enjoy healthy snacks, but I couldn't find them anywhere on campus, so I would just make bars for myself."
This sparked the idea of making granola bars for other people as well, and Why Nut is now available at Java Junction and Coffee to Go.
"I have two flavours of the granola bars – the notorious one, which has peanut butter and chocolate chips, and I have the original one, which has maple syrup and dried fruit," says Mawungwe.
"It has been received quite well, but it is still far from where I want it to be."
Although Why Nut has been well received, there have been a few growing pains.
"Getting people used to something new takes patience. Also getting cafeteria owners taking me seriously since I'm still a student. I've had one or two not taking me seriously," explains Mawungwe.
But Saaid Cassiem, the owner of Coffee to Go, and Wayne Tzem, the owner of Java Junction and Frigo's, have both been instrumental in mentoring and inspiring Mawungwe to get his start-up running.
He aims to have Why Nut sold in all the UCT cafeterias by the end of the semester and would like to focus on the growth of Why Nut for the next five years.
I want to be the best version of myself
Harare-born Mawungwe came to UCT in 2015 after weighing his options against University of Pretoria.
"One of my close friends, who was one year ahead of me, was here at UCT and he really enjoyed it … If you look at the things being initiated, they were things I wanted to be involved in," he says.
Since being at UCT, some of his academic accomplishments include receiving a Golden Key Award in 2016 and being on the Dean's Merit List for two consecutive years.
"I just enjoy learning. I'm also representing my family. It was just engrained in me that when you go to school, you must do your best. So I've always tried to do that with whatever I'm involved in," he says.
His love for chemistry and maths led to him choosing to study chemical engineering.
"I also want to be involved in the renewable energy sector, and looking at all the engineering degrees, I thought chemical engineering would equip me the most to advance the use of sustainable energy in southern Africa," he explains.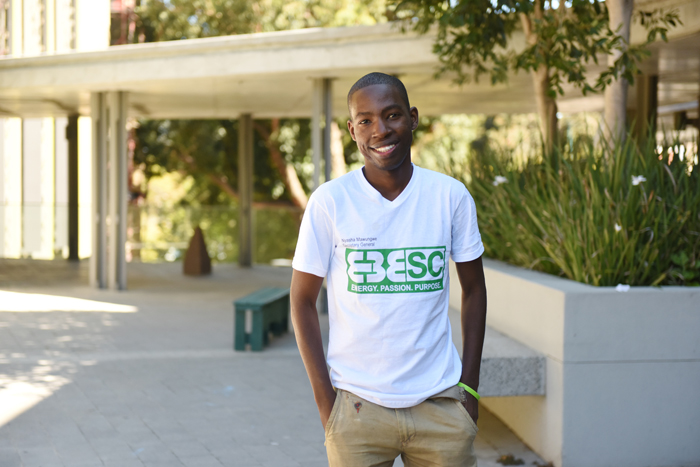 Third-year chemical engineering student Nyasha Mawungwe hopes to be involved in accelerating the transition to cheap and sustainable energy in the SADC.
Experience is the best teacher
Last year Mawungwe was involved in guiding and giving advice to first-year chemical engineering students as a mentor.
"I want to be a leader and I thought, 'How can I do it? It's through experience,' " he says. "I think experience is the best teacher, that's why I am involved in what I am involved in."
He was voted onto the EBE Student Council for 2017 and holds the position of secretary general. He says that the council will play a major role in students' lives this year with the conversations of free decolonised education continuing in South Africa.
"This year we want to have more faculty meetings so we don't get to that stage of last year where everything bubbles up at the end. We need to have these conversations in the course of the year so that if there is something that needs to be fixed, we can fix it before people get frustrated and react with anger," says Mawungwe.
He was also an orientation leader for Semester Study Abroad students.
"I had the pleasure to introduce the foreigners to UCT and South African culture as a whole and I will be involved again in the coming second semester," he says.
Cheap and sustainable energy in SADC
Mawungwe has always had an interest in conservation.
"We always used to think global warming is a myth, but now you can actually see it with the droughts that are happening, even the floods that were happening in Zim last year," he says. "That's been my motivation as well, so that future generations can at least experience the life that we're experiencing."
His passion for renewable energy prompted him to take the MOOC Climate change mitigation in developing countries taught by Professor Harald Winkler, director of UCT's Energy Research Centre.
"It sort of gave me a broader understanding of the challenges we are facing," says Mawungwe. "I want to be part of the solution to that, I'm not saying I know the solution, but I want to be part of discovering the solution."
---
This work is licensed under a Creative Commons Attribution-NoDerivatives 4.0 International License.
Please view the republishing articles page for more information.
---