UCT alumnus Dr Kopano Matlwa Mabaso is a medical doctor and published author who is renowned for her two novels: Coconut and Spilt Milk. Her latest novel, Period Pain, was released in South Africa in October 2016 ahead of its international release in July this year.
Matlwa Mabaso is currently completing her DPhil in population health at the University of Oxford as a Rhodes Scholar.
Her research interests lie in health policy and systems research, particularly with regards to the strengthening of health systems in reform. She is an elected board member of Health Systems Global, the world's first international society dedicated to health systems strengthening and knowledge translation.
Matlwa Mabaso completed her MBChB at UCT in 2009.
"Cape Town is a beautiful place. I have always loved the city, and the institution had a great reputation, particularly the medical school," she says. "As an 18-year-old desperate for some independence, it also didn't hurt that it was really far from home."
She has always wanted to help people, which led her to enrolling for a medical degree.
"I guess that's why many of us study medicine. I was also really fascinated by the human body, illness, life, death, healing and vulnerability. Medicine allowed me to explore both the science and the art of our human existence," she says.
Her favourite memory of UCT? Meeting her husband.
The couple recently returned from the UK after living there for five years – she read for an MSc in global health science and a DPhil in population health at the University of Oxford.
"Almost done! I have submitted and await my viva [her oral presentation and her final results]. I had a wonderful time in Oxford – the most challenging experience I have had in my life but also the most fulfilling," she says.
"I was blessed to have been able to make the big move with my husband, and I think that's what made my five years there all the more special. Our daughter was also born there in 2013, so that just added to the joy of our experience."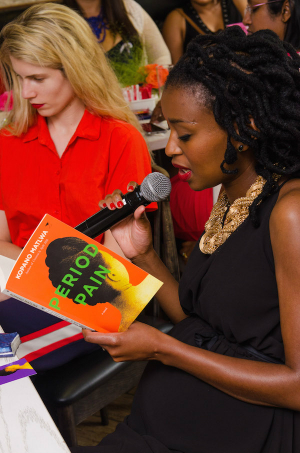 Period Pain, written around the lives of two African women, is the third novel written by Dr Kopano Matlwa Mabaso, whose debut novel, Coconut, won the EU Literary Award in 2007.
#BlackGirlMagic
As a medical student, Matlwa Mabaso co­founded Waiting Room Education by Medical Students (WREMS). WREMS is a health promotion organisation that educates patients and their families about common health conditions in the waiting rooms of mobile clinics.
In 2008 and 2009 she was singled out as one of "300 young South Africans you must take to lunch" by the Mail & Guardian.
In 2011 she founded Transitions Foundation, an organisation that seeks to help South Africa's youth transition from hopelessness to personal fulfilment through education.
"We have recently enrolled our third class of grade 10 learners since we started," she explains. "Education has transformed my parents' and my own life, and our organisation tries to do the same for young people who come from communities where the odds are stacked against them."
Matlwa Mabaso formed part of the founding group of World Economic Forum Global Shapers – Johannesburg Hub, and was selected as a Young Physician Leader by the InterAcademy Medical Panel.
In 2014 she was part of the 2015 Class of Tutu Fellows and was one of the Aspen Institute's 2015 New Voices Fellows.
In 2015 she co-founded Ona Mtoto Wako, an initiative that aims to take lifesaving antenatal healthcare to pregnant women living in remote and rural parts of developing country settings, with the aim of reducing the unacceptably high burden of preventable maternal deaths in these regions.
The Ona Mtoto Wako initiative was the winner of the 2015 Aspen Idea Award, a crowd‐sourced challenge that received over 100 entries. The challenge generated 10 000 public votes and over 20 000 site visits and ended in a live pitch session in front of an international audience and a panel of expert judges for a $25 000 seed grant.
In 2016 she was selected as one of South Africa's 21 icons and a short film was made about her work and aired on SABC 3.
'Medicine is my wife, and writing my mistress'
In her role as published author, Matlwa Mabaso was the winner of the European Union Literary Award (2007) and the joint winner of the Wole Soyinka Prize for Literature in Africa (2010).
"I read a lot as a child, and I guess writing was a natural extension of that. I went to schools where I was often a minority, so in novels I found people, characters and worlds that made me feel like being who I am was ok and enough," she explains. "I'm also quite introverted, so libraries and bookshelves have always been a safe place for me."
She took the literary world by storm in 2007 and stole South Africa's heart with her debut novel, Coconut, which has sold almost 25 000 copies and cemented her position as one of South Africa's bestselling authors. With her follow-up novel, Spilt Milk, Matlwa Mabaso continued to amaze readers with her ability to address complex political issues through relatable characters.
Since then, Coconut and Spilt Milk have been translated into four languages.
She says she loves writing just as much as she loves medicine.
"I love them both. As Chekhov is fondly quoted as saying, 'Medicine is my wife, and writing my mistress.' "
Last year she brought us her best novel yet, Period Pain, a compelling story about how the broken continue to survive. Released in October 2016, this novel heart-warmingly captures the heartache and confusion of many South Africans who feel defeated by xenophobia, corrective rape, corruption, crime and the public health nightmare, which is a death sentence for many. Through her story, we are able to reflect, to question and to rediscover our humanity.
The novel has already received international interest, with Italian, German and Spanish rights having recently been sold. It will be released as Evening Primrose in the UK in July 2017.
---
This work is licensed under a Creative Commons Attribution-NoDerivatives 4.0 International License.
Please view the republishing articles page for more information.
---