The only one of its kind on the African continent, UCT's Disability Studies unit is working hard to develop African theories on disability.
Often confused with Disability Services, Disability Studies exists quite separately. While the former is mandated to provide services to UCT students with disabilities, Disability Studies is an academic discipline, seeking to understand the socio-economic factors contributing to how people with disabilities engage with society.
Understanding that disability and disabled people's experiences of society cannot be understood within one silo alone, the unit is therefore fundamentally interdisciplinary. It hosts, among others, individuals from psychology, anthropology, public health and history. This collective of academics and practitioners are brought together by a powerful, advocacy-driven approach to research and teaching.
"The reason it is interdisciplinary is we believe that we learn a lot about our social condition and about humanity by looking at disability," explains division head Dr Judith McKenzie.
Changing perceptions of disability
Originally trained in speech therapy, McKenzie became interested in inclusive education and disability studies while providing care in rural Mpumalanga.
It was here that she came to understand that it is not enough to merely treat disability.
"How do people with disabilities fit within society as a whole?" she prompts.
Problems surrounding perceptions of disability, by medical practitioners in particular, became all the more apparent during her time in rural communities.
Traditionally, medical practitioners look at disability as a medical condition and as a problem that needs to be solved. When it cannot be solved it becomes a case of charity, McKenzie says.
"The problem with that model is that it takes all of the power and agency away from disabled people and puts it in the hands of the professionals or the carers."
It is not the impairment itself that bars participation, but the society in which that person finds themselves. McKenzie illustrates this line of thought through the image of the wheelchair – the wheelchair itself does not create barriers, she says, but the inaccessibility of the environment surrounding it.
Barriers to education
Concerned as she is with inclusive education, McKenzie has found exceptional partners in her Disability Studies colleagues.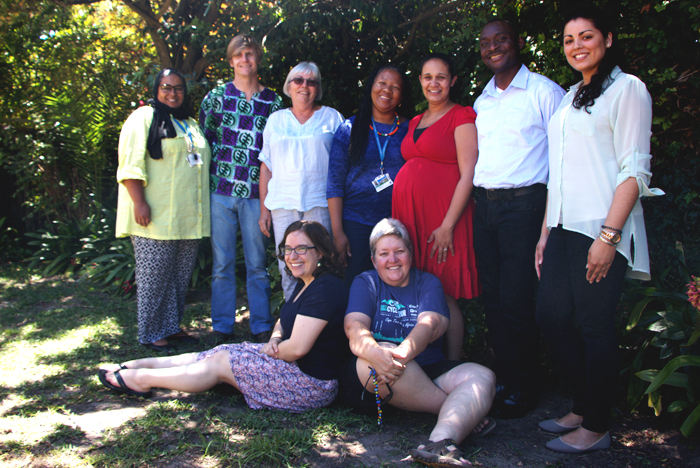 The Disability Studies division is striving for disability inclusion in Africa. (Back from left): Sumaya Gabriels, Brian Watermeyer, Judith McKenzie, Siphokazi Sompeta, Anthea Hansen, Ikechukwu Nwanze and Judith Roberts. (Front from left): Megan Moll and Theresa Lorenzo.
They have recently embarked on a research project that seeks to address the lack of teacher training to meet the needs of children with disabilities. The project's combination of research and support encapsulates the understanding of disability in context as an issue of social justice.
The project focuses on children who are blind, deaf or who have severe intellectual impairment.
A lot of their learning currently takes place in special schools, although those are few and far between, notes McKenzie. A child who is deaf or blind has to acquire literacy first through sign language or braille, which is usually only taught in special schools. Once those skills are acquired, they may be placed in an ordinary school with support.
There is a massive gap in teacher training in South Africa. Even teachers in special schools often do not have training in the particular disability they are working with. The Disability Studies division is trying to address that need through this action research project.
Creating support structures
The division has undertaken research and teaching projects to ensure that this support is provided, both within the homes of people with disabilities and in their broader communities.
Dr Brian Watermeyer is assessing the challenges faced by families raising children with disabilities. This addresses structural burdens such as poverty, as well as disability-related issues such as high care requirements.
Sumaya Gabriels and Anthea Hansen convene the Higher Certificate in Disability Practice to see to the training of rehabilitation care workers, who are able to provide support to disabled people and their families within their communities.
Recognition of prior learning
Given the difficulty of accessing education as a person with disabilities, the unit recognises prior learning when considering applicants.
"So that means that a person who has a lot of experience in the disability sector, not necessarily disabled, but often they are disabled, can compile a portfolio and apply for courses."
The unit applies the same thinking to employment opportunities that arise within the division.
"If we are talking about inclusion of disabled people, we need to ensure that that happens," she explains.
Opportunities for employment is also being addressed through research. Professor Theresa Lorenzo, who founded the division in 2003, is examining the myriad ways that sport and its related activities can be a much needed channel into work for disabled people.
Accessibility through online learning
The division runs a successful MOOC, 'Education for All: Disability, Diversity and Inclusion', which addresses an increasing desire for training in this neglected field of teaching and learning. The course is aimed at teachers, other professionals and parents interested in developing inclusive education.
Hoping to provide further access, the unit began developing its postgraduate diploma into a blended learning project in 2014 with the help of the Centre for Innovation in Learning and Teaching (CILT).
While the new model required some major adjustments for staff and students, it also presented exciting opportunities.
It opened up the course to students all over the country and made it more affordable as students have to travel for fewer study blocks. This is also advantageous for people with physical disabilities, who are able to work and study from home, explains McKenzie.
But online learning presents a number of challenges and barriers. Internet connectivity, and indeed, digital literacy is by no means a given. The model may also exclude people with visual impairment.
"One of our colleagues, Ikechukwu Nwanze, worked very hard on building online accessibility," she said.
Nwanze had to ensure that uploaded documents and information were coded correctly. If not done properly, screen reading programmes would not be able to recite them.
"What we learned is that everybody is different. So what works for you with your visual impairment doesn't work with another person with visual impairment. I might be using a magnified screen, but you might be using a screen reader. So there is a whole lot of diversity around that," McKenzie explained.
The team spent more time thinking about how to facilitate this engagement. Students were encouraged to critically examine one another's work and write blogs. Lecturers were also more accessible this way, actively responding to questions and facilitating discussions.
Despite these successes, McKenzie is adamant that this will not be a workable model without dedicated staff members providing support and engaging with students.
Without Nwanze ensuring that students were comfortable with the operating systems and constantly messaging them to provide support, the endeavour would not have been so successful.
These dedicated support roles are crucial, says McKenzie, if the university wishes to further integrate blended learning into its curriculum.
Story Kate-Lyn Moore. Photo Michael Hammond.
---
This work is licensed under a Creative Commons Attribution-NoDerivatives 4.0 International License.
Please view the republishing articles page for more information.
---