Reinette Popplestone and her guide dog Drum have become a ubiquitous duo around campus. After being at UCT in various guises since 1983, Popplestone will retire from her role as director of the Disability Service at the end of this year.
Drum is napping in her office while Popplestone sits in the Disability Service's Resource centre and reflects on her decades at UCT. It's a happy reflection, mostly.
A physiotherapist by training, Popplestone arrived at UCT in 1983 to do a BA. Even then, already in her 30s, she approached university tentatively.
"I thought I was going to be by far the stupidest person in the class. I thought that everybody that got into a university was brilliant, and I'd probably be one of the strugglers at the back. So I worked hard. And then, to my astonishment, I got the class medal for Afrikaans/Nederlands and a first for English."
She ended up graduating with a BA, an honours and a master's degree, all with distinction. There was no disability unit in those days.
"You worked every waking hour God gave because it was the only way," she says. "You found prescribed reading the best way you could. Having gotten your books from the library (the staff were unbelievably helpful) you had to find someone to read [them] to you. My friends and family ran when they saw me coming. Some material was available from international libraries for the blind, so you chose your courses carefully, knowing that at least the key texts could be ordered as taped recordings from … the UK, the US and the Netherlands.
UCT has been good to her, she says.
"I have always felt welcomed, valued, appreciated, which, as a disabled person, doesn't happen often outside of this environment. I know that not all the disabled staff and students feel this way, but that is how it's been for me. Incidentally, as both an undergraduate and postgraduate student, my lecturers themselves often read material onto tape for me. Why is that unthinkable now?"
When the Disability Service was started by the late Dr Kate Jagoe in 1988, Popplestone was involved. She has been involved since then, bar an unhappy four-year stint away from UCT in the late 1990s.
"In a weird way, it seems to me that my whole life had been a preparation for running a disability unit."
Popplestone had been an undergraduate and postgraduate student as a blind person; she completed her physio training and had taught in the English department.
"I understood the academic challenges. I understood the academic requirements of [disabled] students ... and obviously I knew mainly about what blind people faced.
"In this field you have to teach yourself. You have to learn about many disabilities, many conditions and the limitations they place on [a person's] ability to access either the curriculum or the buildings, facilities, etc. There is nowhere you can learn this."
Access, access, access
"I've really enjoyed my work," Popplestone says. "I've enjoyed contributing to the unit's growth."
When she took over as director from Mike Watermeyer in the mid-2000s, the focus until then had been on improving access for people with physical disabilities and "radically improving" support for blind students.
"So by the time I came, I had the freedom to look further."
There was precious little support for students who were deaf or hard of hearing, for instance. But UCT has since made a lot of strides in that direction. Now there are sign-language interpreters, loop technology in most of the large lecture venues, and a whole lot of other support – "what we have come to call human support, such as note-takers for students with limited hand function, and scribes in tests and exams for that group of students."
"We've also begun to provide support for students with, not so much mental-health conditions, but disabilities such as autism, where people just need a safe space to be in, to work in, to relate to people they come to trust."
Budget is a perennial worry, though. The Disability Service has been run on a "shoestring" for a long time, says Popplestone.
"From one year to the next we are not sure whether we are going to have money to appoint a sign-language interpreter, or two sign-language interpreters, given that we're currently supporting four deaf students who are doing really well."
Popplestone hopes there will be increased funding so that the unit can employ more people.
"We need more bodies and we need the right kind of bodies," she says. "We need people who are mature, who have institutional knowledge and institutional understanding and who have insight into what it is disabled students need.
"What we don't want is the 'ag, shame' kind of people, but people who want to put concrete support in place."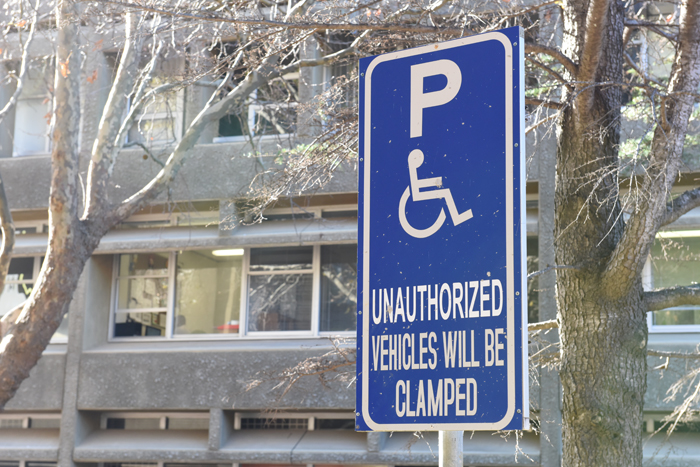 Popplestone was able to build on the work of her predecessors and vastly improve access to UCT's campuses for people with disabilities.
A story written in the margins
Popplestone knows all too well what it's like to be looked past. She describes growing up in a privileged part of the community.
"Within that privileged community, there were lots of subtle ways in which you were marginalised and you didn't count, in a very real sense," she recalls.
In a culture where being a wife and a mother and running a home "tastefully and efficiently" was the presumed goal for women, Popplestone had a hard time fitting in.
"None of your cousins and your mother's friends and sisters and aunts and things believed that you could do that ... So you were like nobody ... Nobody wanted to compete with you. You were not really part of the clan."
It was assumed that, for instance, that nobody would want to marry you, Popplestone says.
"Because why would they? Why would they?"
That's just a tiny example.
"But as it goes, I had no ambition about a career for quite a while. What I wanted was what I thought others had by right – babies, a husband, a home."
Many of her relations were farmers and she describes her experiences with the farm workers.
"The sadness and pain of how they were treated with a kind of offhand contempt that wasn't ever even really hatred … it didn't even qualify as hatred. It wasn't anything personal, if you know what I mean."
And perhaps that was the problem?
"That was actually the problem. It was the problem. Nobody meant to be evil. It wasn't hatred or anything like that. It was a sense in which people weren't …"
Her words trail off for a moment as she searches for a way to articulate that something.
"It was a failure of imagination. That's what it was. People simply couldn't imagine being those workers – feeling what they felt, living how they lived. And I imagined it all the time.
"I think I listened to the workers' tone of voice in a way my family never did. I always suffered on their behalf. To this day I relate to individuals. I don't relate to groups. So it would be the individual people I would agonise over."
Perhaps that is why she never learnt how to be "very bossy" with her staff, as she describes. She learnt many other skills, though.
"I'm still learning. I'm sure I'll be learning until the day I clear out my desk, because that's the kind of job this is."
With retirement looming, Popplestone plans to pick up her memoirs where she left off some time ago.
"Even if, after this year, I never have a job again, I will never be bored, because one will read, one will think, one will explore. That is what a good education will teach you, what a university education will teach you, especially in the humanities.
"Maybe it's not even about getting a job. It's about becoming a different person. And that is certainly what it's done for me. That is the real worth of a university education. You discover who you were meant to be."
Story Yusuf Omar. Photo Michael Hammond.
---
This work is licensed under a Creative Commons Attribution-NoDerivatives 4.0 International License.
Please view the republishing articles page for more information.
---