At the age of nine, when most children are at school, Julius Okello was wearing a military uniform and carrying a sub-machine gun. He'd learnt to urinate on the barrel when it overheated and jammed during fighting and ambushes. And he'd learnt to stay close to his 'godfather', fellow rebel soldier John Patrick Amodoi.
Abducted in 1986 at the age of nine and recruited as a child soldier for rebels in the Ugandan Bush War, Okello was one of an estimated 3 000 children taken by the National Resistance Army (NRA), who were fighting to depose President Tito Lutwa Okello.
Okello shot and killed a man for the first time that year. In the carnage of the civil war, there may have been others, but he didn't see them die. He was too small to see much above the tall grass of north-eastern Uganda.
Abducted recruits
They came in January that year while a group of village children were playing a game of soccer. They habitually raided villages to 'recruit' civilians, especially children, to fill their ranks. Okello didn't know his mother was running from the village to warn them that the rebels were coming.
She was too late.
The rebels – members of the NRA, the military wing of Yoweri Museveni's National Resistance Movement (NRM) – rounded up the children. Okello was taken with his 19-year-old sister, but they were separated. He never saw her again and got word of her only much later.
"They had used her and killed her."
He doesn't know where she is buried, or his mother, who was also raped and killed.
He recalls the events of that day: "They took us back to their barracks and told us we could not go back [home]. They were going to train us: how to handle a gun, how to dismantle and reassemble it. After three days we were given uniforms. They said, 'Now we are going to liberate your community.' "
Child soldiers were widely used by the NRA, first as small, mobile units of guerrillas, and later as soldiers when the NRM seized power in 1986.
'Keep moving'
The recoil of a sub-machine gun was enough to floor a kadogo (little one). But Okello soon learnt how to hold steady, guided by his 'godfather', Amodoi.
In their first camp at Malera in the Kumi District, their unit came under heavy attack by the government forces. Okello had to learn fast. And in the dense bush, Amodoi was his teacher and guardian.
"He was there for me; he guided me; he protected me, telling me 'sleep here', 'take cover', 'shoot', 'don't shoot'. I was always with him. But inside I was terrified."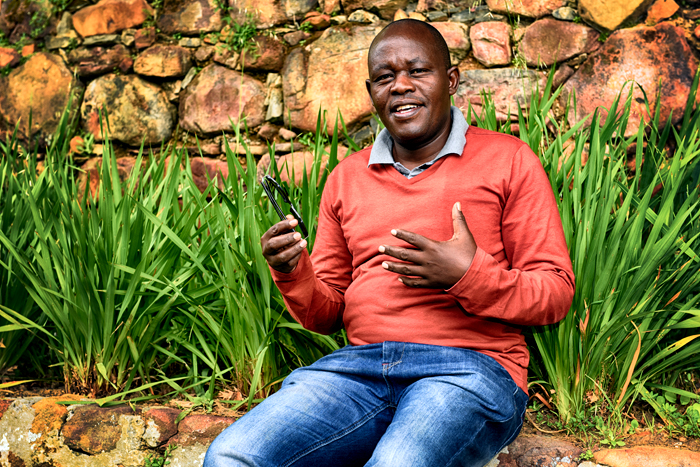 Julius Okello, former child soldier in Uganda and now a second-year PhD student in the Department of Social Development at UCT. Photo Michael Hammond.
Thirty years later he still weeps when he remembers, and the nightmares still plague him.
Besides Amodoi, Okello had two friends, also little more than boys. Fifteen-year-old Bosco Awic was gunned down during an ambush, his blood spattering Okello who was just behind. But there was no stopping to tend the wounded.
"Our commander instructed us to keep moving. I said: 'Please, what about my friend?' Bosco was lying in a pool of blood. But we kept moving."
Size on his side
Slight for his age, Okello was overwhelmed by the load he carried: gun, food, water, bedding roll and ammunition. But being small sometimes helped. Once, separated from his unit and under heavy fire, Okello became isolated in the bush. He could hear Amodoi calling him.
Under cover of the long grass, Okello crept between two groups of ambushers and fired on both sides to confuse them. They returned fire, hitting one another, fooled by a boy unable to fill his boots, now awash with blood from a bullet he didn't feel. Wounded in the leg, Okello escaped by crawling through the grass to safety where Amodoi found him.
With the hindsight of the faithful he says, "I'm 100 percent sure it was God's grace."
That battle raged for three days. They ran out of food and were drinking water off the top of mud that was putrid with their dead. The flies sounded like swarming bees.
"We didn't have gloves and we had to carry the corpses. The smell was terrible, terrible, terrible …"
His best friend, Paddy Mukasa, was fatally shot in that onslaught − and then Amodoi was struck down. Okello did the only thing he could.
"I used my army shirt to push back his intestines. I held him until they [the medics] came and took him to Lira Hospital. It took seven months for him to recover."
Guiding lights
He wasn't to know it then, but other events were to play a lasting role in his life. At a mission hospital in Acholi near Kalongo, Okello was given a book of cartoons – a graphic novel of the Bible. He was struck by the "God who could calm the waters" and by the penetrating insights of three words: "Do not kill."
The book became a companion and comfort in the displacement and upheaval of the bush war. And, somehow, he never lost it.
"I still have it."
He also remembers the cross on the mountain top at Kalongo. At night it would light up, spilling hope into the valley below.
It was while recuperating in Kalongo that Okello got to know a family of American missionaries. There was a woman he remembers only as Helen. She became a mother to him.
"She loved me so much," he says quietly. "She took care of me. She used to invite me for breakfast and send her children to bring food and clean drinking water. She tried to get me back to school; I was nine years and eight months old. She told me, 'Julius, stay with us,' and she told my commander, 'I want that child.' "
When he was transferred to Lira, she ran after the vehicle, pleading for his release. From the back of the truck he heard her crying and calling: "Julius, come back!" He could do no more than watch her recede into the distance in tears.
Life found
By the end of 1986 the NRA had defeated the last government resistance and Museveni came to power. Some of the Uganda People's Army (UPA) soldiers had already surrendered and had been integrated into the NRA. Okello was given an army number and the rank of lance corporal and was made a section commander in the 29th Battalion, 304 Brigade. He was a month shy of his tenth birthday and drawing a salary.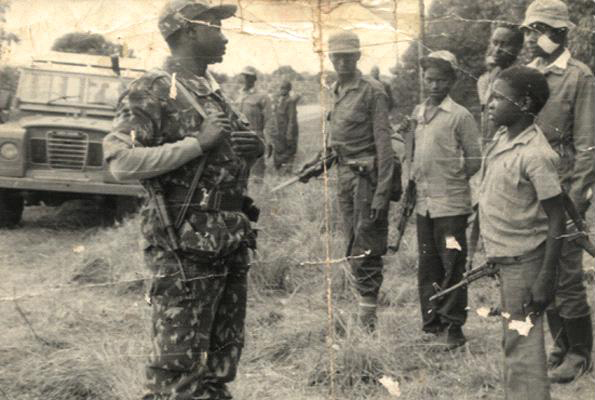 Yoweri Museveni inspects child soldiers in the Ugandan Bush War. Photo Daily Monitor Archives, Uganda.
But then a new threat had risen in the north: Alice Auma's Holy Spirit Movement with its sinister military wing. Auma was defeated in 1987, but in her wake came Joseph Kony's Lord's Resistance Army.
Okello was transferred to Gulu military barracks where he and Amodoi were reunited. They were dispatched to the border of western Uganda where Amodoi was at Okello's side for the last time.
He struggles with the memory of their last battle together.
"That's where I lost him. He told me, 'Julius, I don't think I'm going to make it. Be a strong person.' "
Okello was refused permission to escort Amodoi's body back to his hometown in Katakwi District.
"I didn't see how he was buried."
Okello was transferred back to Acholi and was 12 when his rehabilitation began, first at the military barracks under the careful mentorship of Stephen Bakanoba, an army district liaison education officer. Bakanoba convinced the adolescent Okello to return to school and in 1992 he started at primary level with the rudiments of English. Bakanoba later introduced Okello to Stephen Birija, the proprietor and head teacher of Masindi Academy.
There Okello excelled academically and was exposed to sports, eventually representing his high school at national level in athletics by qualifying for the international 100 m, 200 m and relay events.
But his progress was slow in other spheres. His memories of Amodoi plagued him and he had terrible nightmares. He worked hard, remaining at the school or in the barracks during school holidays ("There was nowhere else to go"). He gave his army pay to the community's widows and orphans.
"I didn't know the importance of money. I had little use for it."
Serendipity
After completing high school in 1999, Okello was accepted at Makerere University and graduated in 2004 with an MSc in economics. Because of social issues he struggled with, it had also taken a year longer than anticipated.
And then serendipity struck.
A chance meeting at Makerere reunited him with members of his family. Recognising something in Okello's face, a man stopped him in a university corridor one day and asked: "Are you not Okello Julius? What is your father's name? Do you know your village?"
"I told him my name and I told him I knew only the name of my village, Pingire, in the Soroti District, but I'd forgotten the place."
The man said: "You are one of our sons. We have been looking for you for the past 21 years. I am the brother of your father. We even buried a banana stem to symbolise your death."
He was reunited with his father, uncle and family at his master's graduation.
During all this time, Okello had been asking the army to retire him, eventually persuading them that 22 years of his life − including his childhood – had been service enough. He needed to think about his future.
Dedicating a PhD
Unsure, with few resources and coping with recurrent post-traumatic stress, Okello said he had contemplated suicide. But in 2005 he secured a German Academic Exchange Service or DAAD scholarship. He was intent on studying conflict studies at Makerere, but his background in economics led him instead to UCT. Here he accepted an offer (one of two at UCT) for doctoral studies in the Department of Social Development, supervised by Professor Viviene Taylor and Dr Khosi Kubeka.
Okello's research concerns social protection services for vulnerable groups in post-conflict societies. His PhD fieldwork takes him back to the war-torn fields of Uganda where he lost many of his family members − and his boyhood. He conducts his fieldwork in two regions that suffered heavily in the civil war. One of these is Katakwi, Amodoi's home district.
"My thesis will be dedicated to God, my creator, my mother and sister, and to the memory of my 'godfather', Amodoi."
Okello knows well the vulnerability of women and children in the path and aftermath of civil war. His PhD will answer a question that has preoccupied him more and more: How can we best help women and children in African countries where there is war and conflict?
Using social policy development, econometrics analysis and modelling, he hopes to design a conceptual framework that can be used by various organisations: the United Nations, African governments, the African Union, the East African Community, the International Labour Office, the World Food Programme, UNICEF, Save the Children, Oxfam, Saferworld and the UK's Department for International Development to secure the vulnerable, particularly child labourers.
"I am asking God to give me the opportunity to serve his people," he says.
He'd like to consider tackling postdoctoral studies in Taylor's department, but he is uncertain whether continued student protests at UCT will derail such plans.
The next step will be a job that will give him an opportunity to help vulnerable communities to access social protection services such as education, health, food, water and work that improves the quality of life for poor households.
"But God will take care of the future."
From hurt to hope
Thirty years after he was taken from his family, Okello also carries physical scars: bullet wounds to his legs and arms and shrapnel in his skull.
It still hurts.
But he believes that telling his story will help children who have lost hope.
It is also his way of paying tribute to two women who graced his life for a short time: Joyce Mary Apulet, the mother who never lived to see what her son achieved; and his second mother, Helen, the American missionary.
"I pray God will reunite me with her [Helen]. I am still looking for her."
He is desperate for her to know how far he's come since they met in Kalongo so long ago.
"I'm sure if she knew I'm alive and doing a PhD, she'd be mad [jubilant]!"
Hope is still Okello's companion and comfort.
Story Helen Swingler. Photo Michael Hammond.
---
This work is licensed under a Creative Commons Attribution-NoDerivatives 4.0 International License.
Please view the republishing articles page for more information.
---