It hasn't been easy to focus on rehearsals for The Fall, a play that engages with the complex personal beings who were part of the national student movements of 2015 and 2016, while just outside the Fees Must Fall protests were taking place.
The cast of The Fall engage with their personal journeys as people of colour in the call for free, decolonised education in South Africa. They attempt to unpack why they were a part of the movements and how they are learning to live in a world that they feel is stacked against them.
So explains co-director and member of the ensemble Ameera Conrad and her co-director and fellow ensemble member, Thando Mangcu.
The group of seven UCT drama graduates had to think long and hard about where they stand in relation to the student movements during the 2016 UCT shutdown.
"It's been a process where I've learned a lot about where I stand and struggled with a kind of conflict of interest, where I had to remind myself why I'm actually in the theatre, why I do what I do," explains Mangcu.
"I'd love to be a body, but the theatre is another effective way of being an activist and that's what I've learned through this process: just the effectiveness of art and playmaking in activism."
The ensemble found themselves in this role of 'actor-vists' quite unexpectedly: it came about while they were decolonising and infiltrating theatre spaces with the work of young people of colour, and turning the student movements into a performance that would make them accessible to people in different ways.
Radical truth-telling
It was through the 2015 staging of Barney Simon's Black Dog/Inj'emnyama that the theatre makers became acutely aware of the relationship between the 1976 student uprisings and those of 2015/2016.
This realisation led the group, together with the Baxter Theatre, to develop The Fall in an attempt to express, with radical honesty, how they each became involved in the Rhodes Must Fall and Fees Must Fall movements.
"They thought: let's get to the heart of the matter from the people who were actually there, from the people who slept in Azania House, from the people who were stun-grenaded at Parliament, to just tell their truths," says Conrad.
"I think that's what makes it special. There's no agenda. There's no trying to explain and it's not what you've seen in media or through people trying to explain it to you. It's just our truths," added Mangcu.
The dynamic cast is made up of Conrad, Oarabile Ditsele, Tankiso Mamabolo, Mangcu, Sizwesandile Mnisi, Sihle Mnqwazana and Cleo Raatus.
The show was workshopped by the seven-person ensemble and facilitated by Clare Stopford, who directed Black Dog/Inj'emnyama in 2015. They began by improvising, free-writing, speaking, sharing: about their lives, about institutional racism. They fought. They found understanding.
"Because obviously we've all lived very different lives and so we all had different viewpoints on different moments of what happened last year," said Conrad.
The absence of one voice and of one perspective makes for a very interesting piece of theatre.
"It's not a propaganda piece. It's not a piece that bashes the movement and it's not a piece that makes excuses for the movement. It's just a piece that tells you why we were there; what happened to us," Conrad says.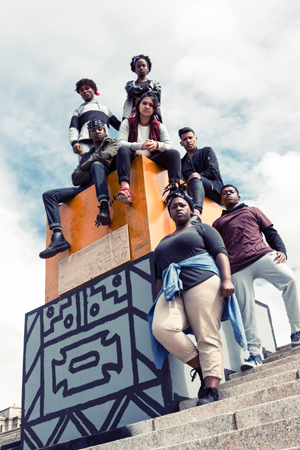 The Fall is currently showing at the Baxter Theatre. The show was workshopped by seven recent graduates of the UCT drama department.
The personal as political
But it was still important for the ensemble to step outside the related roles they had all assumed as artists and occupy the personal and political lives of other key characters in the movement.
The show is therefore roughly 60 percent autobiographical and 40 percent fictional. In so doing, they hope to dispel the apparent rift between personal and political lives.
"[Slavoj] Zizek talks a lot about this issue of liberalism seeing the mob as a mob and not as individuals," explains Conrad.
This play, she says, seeks to show "the mob" as the collective of individuals it is, instead of a group of hooligans.
"It shows you real people struggling to figure themselves out and to figure the world out and to come to terms with a world that, effectively, is stacked against them. And finding self-love and finding group love and fighting and arguing, but still finding a way to come together for a bigger cause," she says.
The show runs from 11 to 29 October at 19:30 nightly, with Saturday matinees at 14:30. It carries an age restriction of 16 years.
Photos Oscar O'Ryan.
---
This work is licensed under a Creative Commons Attribution-NoDerivatives 4.0 International License.
Please view the republishing articles page for more information.
---