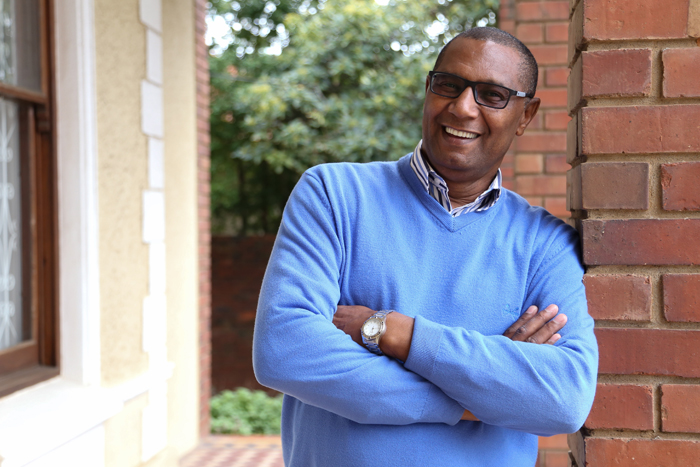 Desmond Williams joined the UCT family in 1971 and spent the first 13 years working in the Chemistry Department. He later moved to the Central Stores and Purchasing Department (which is now the Procurement Department) in 1984 and stayed there until 1996. The Student Housing Division has been his home for the past 20 years.
The father of two was introduced to UCT by a cousin and he has been a part of the university since. The job security which the university offers is the main reason Williams has stuck around so long. Forty-five years later and he is just looking forward to his retirement, but he has fond memories of UCT. One of which was getting an associate in management programme (AIM) diploma from the Graduate School of Business.
Williams is looking forward to getting some rest after retiring at the end of the year. Once retired, he plans to spend time with his grandchildren.
"Nothing further to say other than it has been a long and wonderful journey."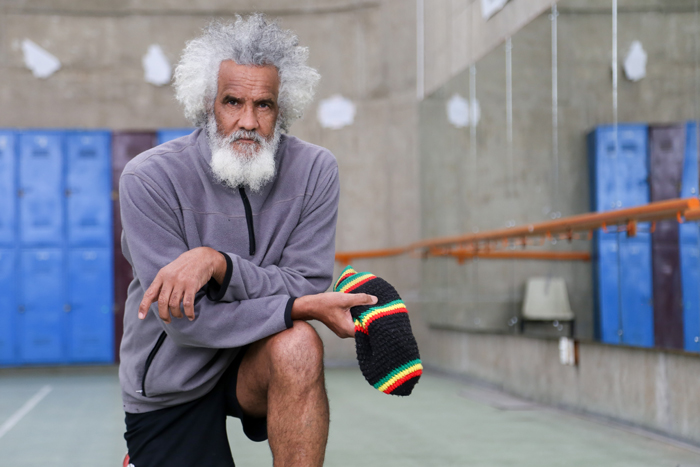 Peter Buckton joined UCT at the age of 18 as a cleaner in the 1970s. A friend who was already at the university suggested that he apply. Buckton worked in the arts block and zoology for a few months. He was later assigned to the office of the dean of science, Professor Jack de Wet, for a few months. He was then moved to the Microbiology Department where he worked for 24 years.
"I moved down to sports admin in 1996 and I've been here 20 years," he says.
He has always loved sport, but never had ambitions to become a professional. He actually aspired to become a lawyer.
"But circumstances didn't allow me to do that … I had to actually fend for myself."
While working with Professor De Wet, he was encouraged to complete his schooling. He went on to do a BA degree at UCT. Buckton has enrolled for his honours, but has not completed it yet.
"Hopefully when I retire in two years' time I will finish the degree … Maybe I'll get a PhD when I'm 90 – you're never too old to learn," he chuckles.
Buckton can often be found in his favourite spot on campus – the library.
"You'll always find me sitting there in the evenings. The thousands of books just attract me and I hope when I retire I'll continue to use the library every day."
When Buckton retires in 2018, he will miss the environment at UCT most.
"When I started here there was about 6 000 students, now it's over [28 000]. The buildings have changed; the whole UCT life has changed, obviously as times have changed. I just love this place."
He also plans to read, write and complete his thesis after retiring.
"I will definitely do some writing and travelling. I have some places I want to visit in Africa and probably move out of the city … Away from the hustle and bustle of traffic and smog."
He concludes: "I think it's just a special place."
35 years
Chris Kleinsmith is a senior secretary at the School of Education. He started his UCT career in the 80s in the Clinical Science and Immunology Department at the Medical School under Professor Eugene Dowdle. Kleinsmith saw a post advertised in the Monday Monthly for a position in the Faculty of Education as a lab assistant in the Science Unit and he grabbed the opportunity.
"I gained a lot of knowledge, with the result [that I] achieved a matric certificate and a High School Lab Technician Certificate at the then Pentech," he says.
His post as lab assistant was later outsourced and he applied for an admin post in 2000 at the School of Education. 16 years later, Kleinsmith is still with the School of Education, administering the Postgraduate Certificate in Education (PGCE) programme.
"I also liaise with schools, organising teaching practice of PGCE students."
He also takes pride in being the safety officer for the School of Education for the past 24 years.
"My passion and what kept me busy is my colleagues and mainly the PGCE students – every year a different group of them."
Clive Moos started off at UCT in the early 1980s as a casual worker. He was unemployed when his brother, who had been working at the university, advised him to get a job at UCT.
"He told me one morning, 'Hey, just come with me man. Let's see if we can get you a job.' And I said, 'Where?' He said, 'At the university.' And I said, 'No man, but you people pay monthly man; I'm used to weekly," he laughs.
Moos was newly-wed and decided to join his brother one day.
"After a year and seven months they made me permanent. It was quite heavy work man."
He moved around between various positions and campuses and after a few shuffles, he spent ten years at Hiddingh campus.
"I worked nicely at Hiddingh campus because I was more with the students and lecturers, but they took me away from there, so I don't feel nice anymore. They were the best couple of years at Hiddingh campus."
After hearing about the option of taking an early retirement package, Moos decided to apply.
"I thought, I'm going to be 35 years next year, but all of a sudden I got my letter to say I'm 35 years this year. I thought to myself, let me just go now; I'm not going to work the extra four years."
The university has accepted his application and he will leave in December.
"I'm actually in the building trade ... That's what I'll do when I leave," he says. "It was good times, but it's time for me to move."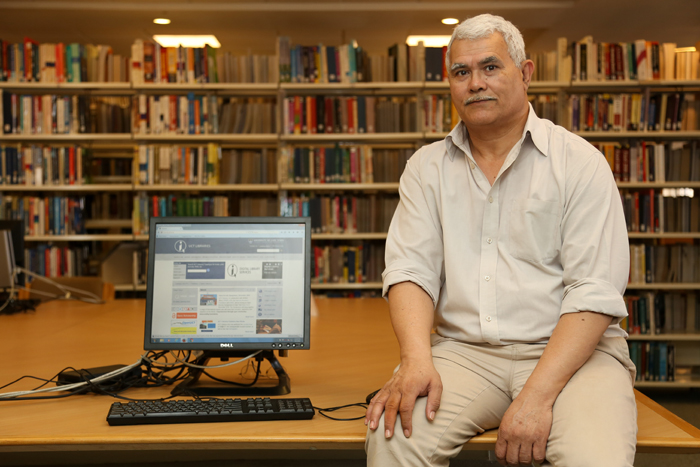 David de la Croes has spent 35 years in UCT Libraries since applying for a position as a library assistant in 1981. Since his appointment, he has climbed the ranks to senior library assistant, programmer and now library network manager. De la Croes is currently responsible for the web application development in the libraries. He also plays a vital role in building UCT's institutional repository, the Digital Collections repository and the Open Access Initiative at UCT.
His passion is problem-solving – finding solutions to difficult challenges.
"I always strive to find meaning in the work which I do, and always point out to others the broader implications of our work. I am here every day because it feels that there is always a new challenge, or a piece of work that needs to be completed."
De la Croes takes pride in the work he has done. Through his work, theses and the research output of the university are now accessible; students can find past exam papers; and the unique collections of the university have become more accessible to the general public through the Digital Collections platform.
"Through the years, the library has faced various challenges to make its role relevant in a changing world, and because I was always involved in confronting these challenges, I found UCT to be the ideal environment where I satisfy my natural inquisitiveness and through experimentation and research find solutions to the problems facing the library."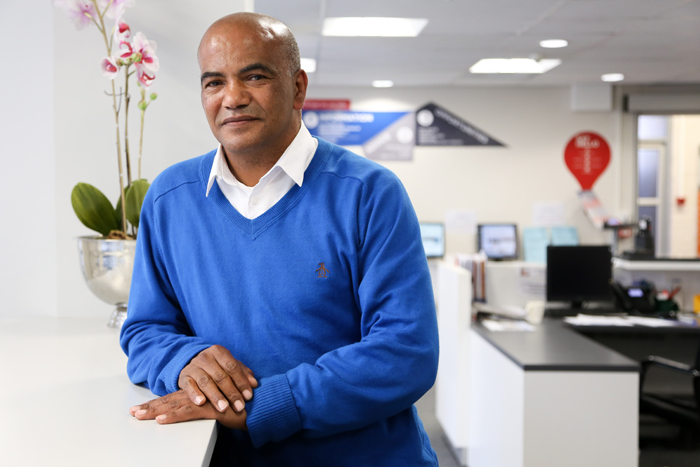 Fuad Abrahams worked as an assistant spray painter for two years after leaving school.
"I then joined UCT in 1981 thinking I'd be doing the same job, only to find out that I was not," he says.
Abrahams worked as a cleaner for a year, then was moved to the Careers Office, as it was called at that time, as a departmental assistant and it has been his home ever since. In 2009 he was promoted to assistant administrator, and was responsible for all logistical support to the graduate recruitment portfolio.
Abrahams is part of the operational team that sees to all operations, support and logistics for the multiple events and services offered by Career Services. For the past four years he also been doing photography work for the unit.
What keeps him going?
"The environment, learning new things every day from students and staff and the lifelong friends I've made."
It's now 35 years later and Abrahams has a wealth of knowledge and many fond memories.
"The changes to the institution and the country that I have experienced through the years have been phenomenal … The peak of my excitement came with the formation of the RMF and FMF movements. We have come full circle and the transformation that we spoke about many years ago is now being brought to life by workers and students and [can] not be ignored any more. Not only did this movement see the insourcing agreement signed, but also to me this meant a reunion, and some sort of justice has been achieved. Having witnessed this during my lifetime at UCT is indeed the cherry on top for me."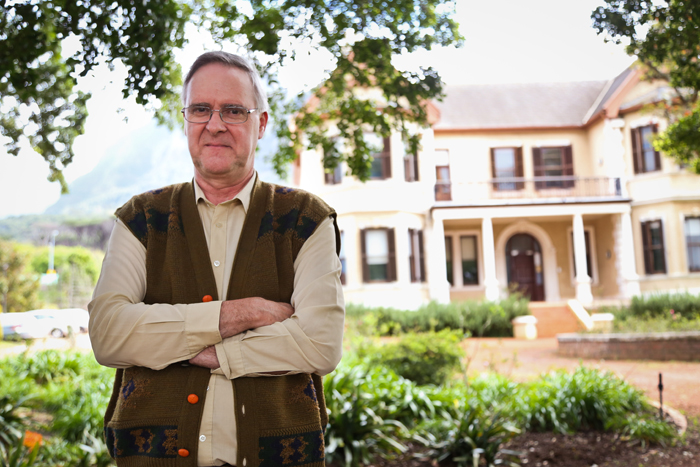 Grant Willis first came to UCT as a student in the mid-70s.
"One of my career aspirations was in the field of personnel management, as it used to be called."
He applied for a position in the UCT Personnel Department and was successful.
"Little did I realise that as a staff member you did not get the same vacation periods as the students," he chuckles.
Willis has spent 35 years working at UCT and says the promotions and climbing up the pay-class ranks have given him career satisfaction.
"And after discovering the chicken-burger man on upper campus, a move was out of the question."
While still at UCT, he would like to experience the situation where all students who need it are accommodated by the university.
A memory that stands out for Willis was when he worked for the HR department and was involved with job evaluations.
"My boss at the time asked me to check out a departmental assistant who supposedly was carrying out heart transplants on animals. At the time, most departmental assistants were involved with tasks such as printing, photocopying, messenger work – heart transplants seemed highly dubious. I went down to the Medical School, was shown to a laboratory where, sure enough, there was an employee carrying out a transplant on an animal. The employee was Hamilton Naki, who subsequently was promoted to a more fitting technician role. Hamilton made sure I observed what he was doing by insisting that I stand next to him during the procedure!"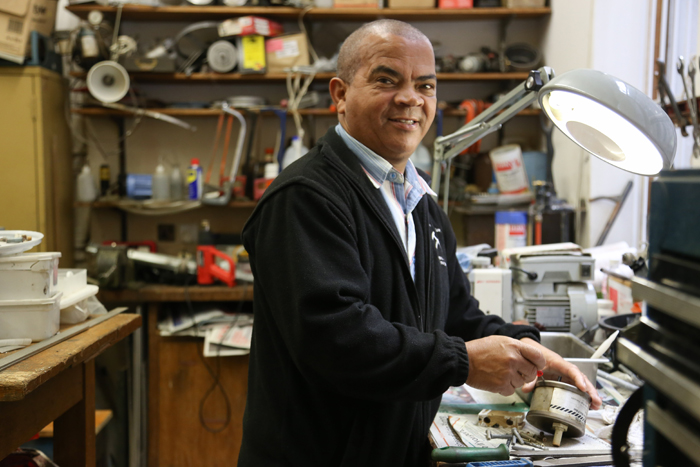 Ivan Wilson started in the Geology Department in 1981. He had been working for the railways and was looking for better opportunities.
"I was earning like 90 bucks a month and my brother said they had a position ... and, well, I'm still here," he says.
Wilson is the go-to guy when visitors come to the department.
"They're [usually] told, 'If you need anything, go to Ivan. Ivan will sort you out with anything," he chuckles. "I'm actually happy here; that's why I don't want to move."
And now, 35 years later, Wilson is as happy as he was on the first day he joined UCT.
"I love this job because they believe in me. They say, 'Ja, man, you can do it. You won't damage anything.' I keep a list of everything I buy and everyone comes to me when they need stuff. If they need batteries or the secretary needs paper, I take the van and quickly go."
Working with students brings Wilson great joy.
He says, "The more the merrier – I can talk the whole day. Everybody loves me because I'm always happy. I'm happy at work; I feel at home here."
Wilson has nine more years left at UCT before he retires.
"I haven't got any plans further; I just want to ride it out."
What will he miss most after retiring?
"I'll miss the people most … I said to my wife, she must pay me to sit at home because it's boring. I love lots of people and my wife thinks I just want to run away from her... I'm a friendly guy – I talk to anybody."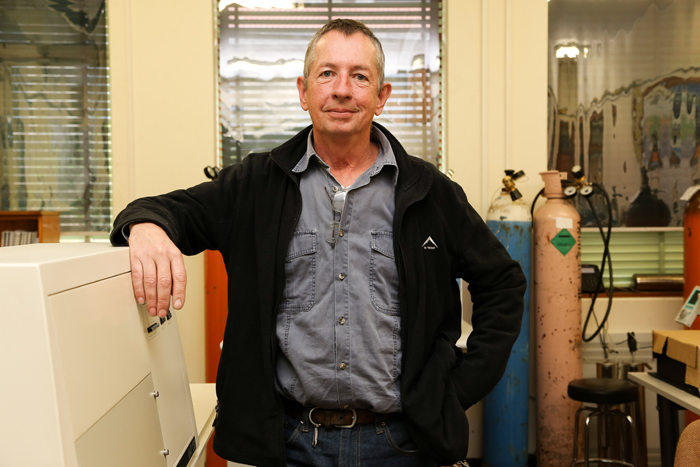 John Lanham joined UCT's Archaeology Department in the early 1980s as a scientific officer. In his honours year he spoke to his professor and asked if he needed someone with scientific and mechanical abilities in the lab.
"If you'd said to me, 'You're going to be here for 35 years,' I would've said, 'You've got to be joking.' "
Lanham is in charge of the Stable Light Isotope Laboratory, which is a university-wide facility that runs samples for researchers all over the world.
Why is he still around?
"Because I'm quite good at what I do. It's my little niche and I get a good reward out of that. I've been very lucky to work with incredible people. The growth of the lab, in capabilities and international standing, has been most rewarding."
One of his fondest memories is taking students up to the Cederberg mountains every winter in the 90s. He often bumps into students years later who tell him it was his trips that kept them hooked on archaeology.
"That's really kind of special. Students had a wonderful time and they learnt about archaeology, but they also learnt a lot about life."
"UCT is a very nice place to work. I think it boils down to people. Over the years we've had fantastic people."
After retiring at the end of next year, the avid biker plans to travel with his wife, but will gladly come back to assist the university should they need his expertise.
"35 years is a long time. It's time to leave. Everything has to come to an end. We will see what happens. Fortunately I have health and fitness on my side," he concludes.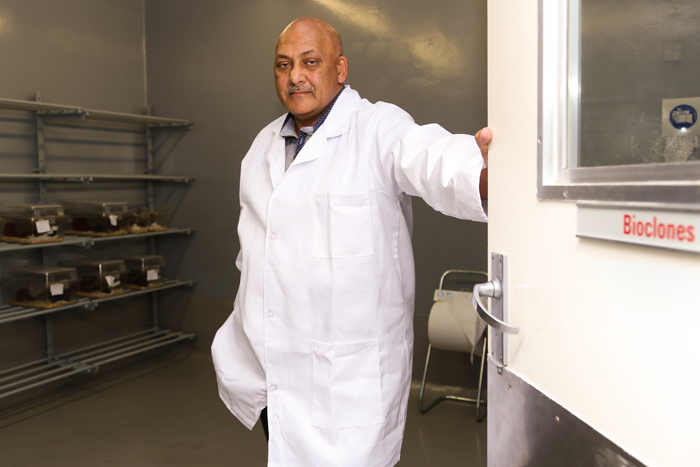 Trevor Finch, a father of four, joined UCT in the early 1980s. He was newly-wed and struggling to find work when he stumbled across a job at UCT.
"One day I was walking past the animal unit when Doug Schammel asked me if I [was] looking for work. I said yes and that's how I came to work at UCT," he says.
Finch enjoys his work because he learns something new every day.
"It was always a challenge. You learn everyday something new."
His fondest memory at UCT?
"When my line manager told me to get my passport ready, 'You are going to Spain!' " he says.
They went to watch Real Madrid play live.