12 September 2016 marks the 39th anniversary of Steve Biko's death in detention. To honour his legacy, Professor Angela Davis, an American political activist, academic scholar and author, delivered the 17th Steve Biko Memorial Lecture at the ZK Matthews Hall at UNISA.
Angela Davis delivers the 17th Steve Biko Memorial Lecture.
Many others have publicly reflected on Biko's life and legacy – some at UCT – since the founding of the lecture series in 2000. These are some of their reflections:
---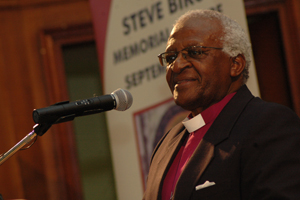 "He possessed an incisive and indeed massive intellect. Yes, a charismatic individual who made a unique assessment of why black people were always at the end of the queue, at the bottom of the pile. It was a daringly novel diagnosis – that we were collaborators in our own oppression and subjugation – and so he provided the genesis for the Black Consciousness Movement." — Desmond Tutu (2006)
Read Desmond Tutu's 2006 address...
---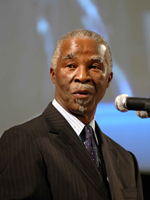 "From the gigantic death of Stephen Bantu Biko 30 years ago today, must, in time, arise an enormous birth. Stephen Bantu Biko died, but his vision has not perished." — Thabo Mbeki (2007)
Read Thabo Mbeko's 2007 address...
---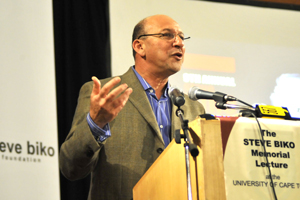 "Let me repeat the lesson that Biko taught us. Democracy is something to fight for, constantly. Development is not something handed out at the welfare office. It is a conscious process of building capabilities, giving communities power to change their lives, empowering young women and men to make a contribution to our beautiful country." — Trevor Manuel (2008)
Read Trevor Manuel's 2008 address...
or listen to the audio...
---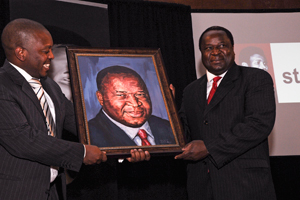 "We should not lose sight of revitalising our knowledge systems, which are essentially broader than preparing our children to be economically productive, asset-backed citizens of the future. Our knowledge system needs a complete overhaul in which the youth grow to understand their authentic history (less the romance), their cultural progressive value system and what it means to be a good citizen." — Tito Mboweni (2009)
Read Tito Mboweni's 2009 address...
or listen to the audio...
---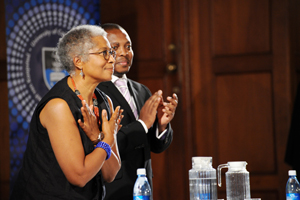 "He taught that black people must investigate and validate their own existence, irrespective of other people's opinions of them; that they must see themselves in the warm light of their own genius – the unique gift that they come into the world carrying to deliver to all of humankind; that they must have faith that they are made perfectly for the singular expression of the divine that they are. This is why one reveres Steve Biko. Because, in short, he fully understood that the foundation of any true liberation, any true liberation, is self-love." — Alice Walker (2010)
Listen to Alice Walker's 2010 address...
---
"We have set out on a quest for true humanity, and somewhere on the distant horizon we can see the glittering prize ... in time we shall be in a position to bestow upon South Africa the greatest gift possible – a more human face." — Sir Sydney Kentridge, quoting Steve Biko (2011)
Read Sir Sydney Kentridge's 2011 address...
or listen to the audio...
---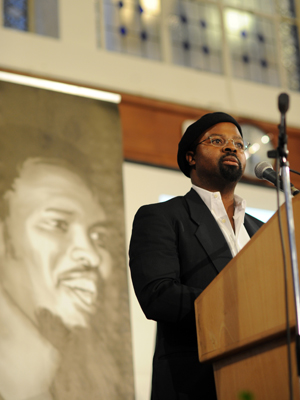 "Freedom was just the overture. Indeed, freedom may turn out to be a very small part of the story of a people. The real story begins with what they did with that freedom." — Ben Okri (2012)
Read Ben Okri's 2012 address...
or listen to the audio...
---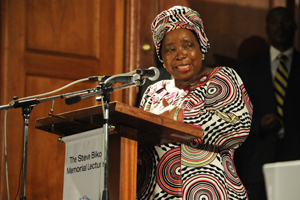 "The decolonisation of the mind starts with our sense of self as Africans, a sense that is developed through our socialisation – both in the families, communities and schools and, increasingly, in today's information age through the media. We must therefore be deliberate in the teaching and dissemination of African history, the mainstreaming of our indigenous knowledge systems and the celebration of African culture." — Nkosazana Dlamini-Zuma (2013)
Watch Nkosazana Dlamini-Zuma's address...
or read the transcript
---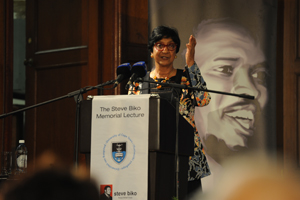 "Just as individuals around the world cared about anti-apartheid activists and human rights defenders, like Biko, and demanded that their governments support our struggle for freedom, so we should watch out for the safety and freedom of human rights defenders, journalists and NGOs who are facing arrests, detention and even death for their critical work." — Navi Pillay (2014)
Watch Navi Pillay's 2014 address...
or read the Daily News story...
or listen to the audio...
Compiled Judith Browne. Photos Various.
---
This work is licensed under a Creative Commons Attribution-NoDerivatives 4.0 International License.
Please view the republishing articles page for more information.
---