Mobile technologies are not designed with users in mind.
Fiona Ssozi came to this realisation while designing information and communication technologies (ICTs) for NGOs that were working to provide safe and clean water in Uganda.
These applications were expensive and difficult to use. They also did not take into account the information and user requirements of the communities they were meant to be servicing. The interventions also remained dependent on external support.
This was a massive stumbling block for development projects that were attempting to address Uganda's water scarcity. Throw in the volatility of donor-reliant NGOs, which are often pulled out of districts when funding is cut, and the result is a Uganda that is still very much in a water crisis.
What is co-design?
ICTs have real potential to serve communities, explains Ssozi. Uganda has high mobile phone penetration and, given the increasing affordability of these technologies, she is confident that interventions such as hers will be all the more viable in development projects.
Ssozi is in the process of completing her PhD at UCTs Centre for ICT for Development (ICT4D) where she is trying to address some of the shortfalls encountered in NGO-led projects. She is doing this through a technology-development method called community-based co-design.
The key to co-design is to create a space where there is meaningful participation, Ssozi explains. In co-design, the people for whom an application is being made are equal partners in its design and development.
"You've given them a platform to voice their needs as opposed to thinking you're more educated, more literate and smarter than them, so you therefore think you know what they need," she says.
Community members demonstrate the way they would like their water management system to work and the kind of information they need from water officers to feel that there is trust and accountability for communal funds. Photo Supplied.
Tackling a water crisis
It was in working with various NGOs that Ssozi was first tasked to use ICTs to help with Uganda's water crisis.
Roughly eight million of Uganda's 40 million citizens live without access to safe and clean water.
Water sources are being built to serve communities in rural areas, but it is up to the local households to pay for the maintenance. This monthly fee is paid to a local water manager. But when water sources break down, they often remain unrepaired as there are no communal funds to pay for them. Ssozi worked with NGOs to tackle this issue.
"There were a lot of assumptions made [by NGO workers], that because they have worked in communities, they assumed they knew what people needed," she says.
The result was project failures and NGOs having to incentivise people to continue using applications.
Through co-design workshops, Ssozi was able to determine the real root of the problem: residents did not trust that the money they paid towards the maintenance of their water system was being spent appropriately. They were, therefore, unlikely to make payments.
In Ssozi's design workshops, she asks residents how they would like the water management system to work:
"Study participants from the rural communities were able to draw their own sort of interaction models: [showing] communication flows between their homes, the boreholes, the water managers. Just with that, we were able to determine who the key stakeholders are in the water management process, what kind of information should be able to flow."
"We were then able to generate scenarios together with the participants and the design of the system started there," she says.
These interactions demonstrated that transparency, accountability and trust between community members and water managers were vital to the functioning of the water system. To this end, a mobile-based financial management application was developed, which enables local water managers to keep track of community finances.
"When someone is seeing that feedback is actually incorporated into the design of a technology, then they feel important; they feel that they have actually taken part: that's where ownership starts," she says.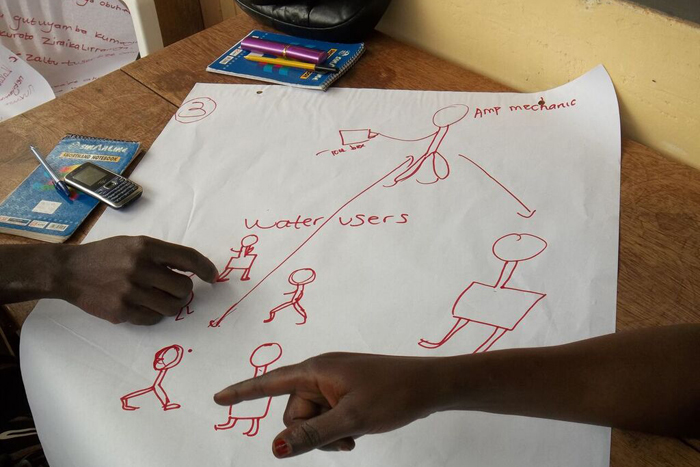 Water users participate in design workshops and demonstrate, through diagrams, what kind of information they would like to be given about the management of their communal funds. This is where the design of the system starts. Photo Supplied.
Mobile empowers people
Ssozi came to the ICT4D centre with some crazy ideas on remote sensing and equitable distribution of water sources in rural communities by government.
"Conversations with my supervisors Prof Edwin Blake from computer science and Prof Ulrike Rivett from information systems made me realise that the focus here is to help people live better lives for themselves," she says.
Ssozi began to think about how she could empower people using ICTs. Instead of taking the power away from an individual, she hoped to empower communities to help themselves.
"It was exciting to hear them say: 'We are happy that you have come to help us, but you have also come to listen to our problems as opposed to coming in thinking that you already know what our problem is and just giving us a system.' "
Sustainability is key
In approaching the project, Ssozi didn't want to make any assumptions, despite having done ICT4D work with the very same communities.
"When I went back, it was easier for me to make the connections and because we had already built a level of trust. When they saw me they knew: 'Okay, it's something to do with mobile phones and also she's here to help us.' "
Ssozi's results are promising. Communities are integrating the application into their monthly water management practices and are able to afford its low data costs.
"People keep bringing their friends on board and for me that tells me that the problem we're addressing is relevant and the solution we have is practical and it is beneficial."
Ssozi is thrilled with these events. In starting the project, she hoped it would live beyond her PhD and be taken up by other organisations.
"I'd like to see it as something the ministry of water in Uganda takes on, not to force it on people, but to tell communities, 'This intervention is there. If you'd like it, there's a researcher who can take you through the process.' But I am happy that some community-based organisations are interested in taking it on and scaling it up in other communities."
---
This work is licensed under a Creative Commons Attribution-NoDerivatives 4.0 International License.
Please view the republishing articles page for more information.
---