The Eskom Cape Town Expo for Young Scientists, hosted by UCT from 29 to 31 August, showcased 487 projects by 739 scholars from 52 schools – the cream of the Western Cape's junior and senior scientists. The best projects will go to the national expo, and some may be selected to participate in international science fairs in 2017.
The themes of many projects showed that the province's budding young scientists are keen to get to grips with society's common problems, such as insulating township shacks and securing clean water. But they're also thinking of what's needed to secure societies in the future: sustainable energy and food security, for example.
Opening the junior section of the expo, UCT's Professor Kevin Naidoo (scientific computing), said that many of the country's future scientists would come from schools competing at expos such as this. Opening the expo's senior section, Professor Anusuya Chinsamy-Turan (biological sciences) said that science opened the mind.
"All of you young scientists are standing on the threshold of becoming real scientists ... and even if you don't win [an award] you're still on the right track."
Science mentors
But a new science mentorship project, which recruits mentors from the university postgraduate corps to guide the school-going scientists, is also showing dividends in its first year.
UCT master's student (medical biochemistry) Melissa Blumenthal mentors students at the Luhlaza Secondary School in Khayelitsha. The experience was demanding but very rewarding, she says.
"I never took part in this science expo, but I thought I had a responsibility to do this; I had such a fantastic science education that I wanted to lend a hand."
Resources and language are common obstacles in mentoring young scientists from disadvantaged schools, she adds.
"We face lots of difficulties. But the students were so eager from the beginning to get involved in this project. Language was one thing, building up the confidence to be here at the expo and present their projects in English was quite a thing for them. It's an accomplishment that they've done that."
Ease of access to resources also affected her students: access to colour printers, the internet and the project material needed to bring their projects to life.
"So it meant getting really involved in those aspects ... You've also got to think of creative ways of explaining things.
Mentoring these young scientists was more of a commitment than she realised going into the programme.
"In terms of mentoring, these students they needed a lot more than just that [Wednesday afternoon] session at school. They needed constant encouragement and contact and looking through their work. But it's an important thing to do."
Two of her grade 9 mentees, Tony Koyana and Siyabulela Ncedo, were awarded a bronze medal for their project, which investigated ways of improving shack insulation in Khayelitsha. A gold medal went to her grade 11s, Lilitha Sokoyi and Nobantu Mtshengu, for their water project. This compared common methods of treating drinking water in Khayelitsha.
Soyoki and Mtshengu have been selected to take their work to the International Science Fair in Johannesburg in October.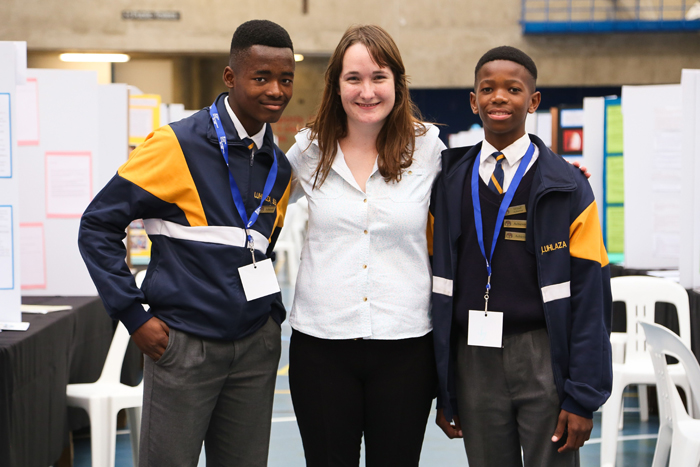 Melissa Blumenthal (UCT mentor from medical biochemistry) with Luhlaza Secondary School students Tony Koyana (left) and Siyabulela Ncedo.
Encouragement and fun
Fellow mentor Bronwyn White, a PhD scholar in chemical engineering, said she had mentored UCT students before and really enjoyed the experience. But mentoring high school students presented different challenges and taught her some new things about teaching. The organisers also provided support in the preparation phase of their mentoring.
"Language has been tough but we muddled through," said White of her experience with her students at Intlanganiso Senior Secondary in Khayelitsha. Like many of the expo entrants, their home language is not English.
"I hope I will do it again. Certainly it's been educational and a reminder of where these students are at − and the state of science in our country's schools, which needs a bit of encouragement. I've had a lot of fun."
Two pairs of her mentees were on the floor in the Sports Centre to present their work.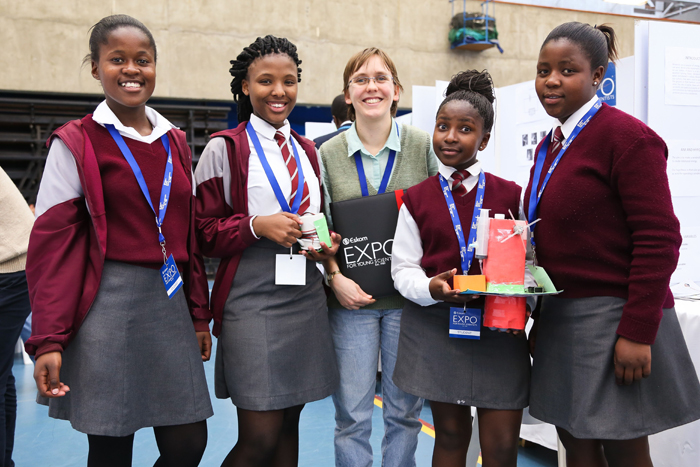 Students from Intlanganiso Senior Secondary with their UCT mentor: (from left) Busisiwe Ntyinkala, Musa Fihla, Bronwyn White (mentor from chemical engineering), Zikhona Notyeke and Sesethu Makalima. Their projects were a sound-equipped cup to aid the blind and a power-generating wind turbine.
"I think both projects qualify as visually interesting given that these students have built their own apparatus. One pair built a windmill and the other has done a really interesting project trying to make a sound-assisted mug for blind people."
"I think they've learnt a lot. I'm hoping this [experience] will make them enthusiastic about science at school. They picked projects that do have some relations to their school work."
Story Helen Swingler. Photos Je'nine May.
---
Watch the video:
The Eskom Cape Town Expo for Young Scientists
---
This work is licensed under a Creative Commons Attribution-NoDerivatives 4.0 International License.
Please view the republishing articles page for more information.
---