In 2008 writer and scholar Jonny Steinberg published a study of the impact of HIV/AIDS in the Eastern Cape. Researching the context of the disease, he'd read Monica Wilson's (née Hunter) monograph Reaction to Conquest, which was based on her PhD fieldwork in Pondoland between 1930 and 1932.
Wilson was only in her mid-20s, but Steinberg says it was "one of the finest ethnographic monographs ever penned in South Africa". She went on to become one of the most prominent South African social anthropologists of her time.
Seán Morrow's recently released book, The Fires Beneath: The Life of Monica Wilson, is not only about her important contributions to anthropology, then in its infancy in Africa. It is also the story of a woman, wife, mother, friend, scholar and mentor, whose life was affected by "love and loss" and the intersectional themes of religious faith, politics, war, race and class, and apartheid.
In researching and writing the book, Morrow drew on the wealth of archival material in the Monica and Godfrey Wilson Papers. Their sons, Francis (now an emeritus professor in the School of Economics) and Tim, donated the collection to UCT Libraries' Manuscripts and Archives Department in 1995.
At its heart is her relationship with her husband, Godfrey Wilson, the "brilliant, passionate, creative but depressive" scholar and fellow anthropologist whom she'd met while studying in the UK. Wilson married Godfrey in 1935 in Hogsback, her family home, and the couple moved to Tanganyika to undertake fieldwork. Monica was deeply affected by the tragedy of Godfrey's suicide in 1944, which left her with two young sons.
Before his death, they had undertaken a large-scale joint research project on social change among the Nyakyusa and Ngonde people in southern Tanganyika and northern Malawi. They spent over 50 months in the field, creating one of the most intensive ethnographic studies ever done.
Pioneering scholar
Born in 1908 at Lovedale Mission Station to Scottish Presbyterian missionary parents who emigrated to the Eastern Cape at the end of the 19th century, Wilson was schooled both at Lovedale Missionary School and at Collegiate Girls School in Port Elizabeth. She read history and anthropology at Girton College, Cambridge, obtaining her PhD in 1934 aged 26.
"I do like the work," she wrote to her mother in 1931, just a few months into the Pondoland research, which underpinned Reaction to Conquest.
Thanks to her father's keen interest in photography, by the mid-1930s she'd become a skilled photographer, which strengthened her fieldwork.
Having found her niche, Wilson was a pioneer in many ways. She was the first woman to be appointed as a full professor at a South African university – this was at Rhodes where she held a chair from 1947 to 1951. Her second chair was at UCT in 1952 when she was appointed head of department and professor of social anthropology (she was UCT's first woman full professor). She was also instrumental in setting up social anthropology as a two-year major at Fort Hare in the 1940s. Here she had a close friendship with ZK Matthews, the father of African Studies at the university in the 1940s and 1950s. After ZK's death, his wife Frieda (with whom Monica had been at school at Lovedale) asked Monica to edit and complete his biography.
Wilson developed an international reputation and lectured all over the world. In 1952 she won a Rivers Memorial Medal for socio-anthropological fieldwork in southern Africa.
UCT remained her intellectual home between 1952 until her retirement in 1973. In this time Wilson penned three books on the Nyakyusa, based on her and Godfrey's work in Tanganyika, and collaborated on a study on Langa with her former student and colleague Archie Mafeje. She also worked with Leonard Thompson to produce The Oxford History of South Africa and published a book: Religion and the Transformation of Society: A study in social change in Africa.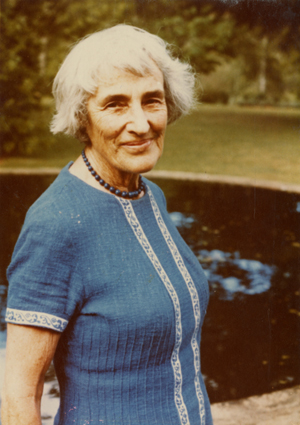 Monica Wilson was UCT's first full woman professor – and the first woman to be appointed as a full professor at any South African university. UCT was her intellectual home from 1952 until her retirement in 1973.
Intellectual hero
In 1973 she retired to Hunterstoun, the family estate in Hogsback, which her father had bought years before. Here she continued to work until her death from cancer in 1982. Part of the property, including her library and house, was sold to the University of Fort Hare for use as a creativity and conference centre.
Wilson is regarded as a South African intellectual hero. Her name is on a monument in East London where she's listed (among very few women) in the African National Congress's list of 100 foremost heroes of the Eastern Cape, alongside Nelson Mandela, Steve Biko, Oliver Tambo and Govan Mbeki.
(Morrow is Adjunct Professor of History at the University of Fort Hare and a professional editor. He wrote the book with a grant from the National Research Foundation. The Fires Beneath: The Life of Monica Wilson, is published by Penguin Random House, South Africa.)
Compiled Helen Swingler. Photos Special Collections, UCT Libraries.
---
This work is licensed under a Creative Commons Attribution-NoDerivatives 4.0 International License.
Please view the republishing articles page for more information.
---