Feminism has a new figurehead and she's dressed in flaming seventies regalia.
It was in the midst of Fees Must Fall that Jabu Nadia Newman – director, writer and creator of The Foxy Five – began attempting to understand the chaos that is intersectional feminism.
Taking a hiatus from her degree in politics, film and media at UCT, Newman put all of her focus into the project, which began as a research exercise. The resultant web series has been received with unexpected accolades and has propelled viewers into a new kind of feminist thinking.
Newman presents a powerful collective of black womxn: Unity Bond (Duduza Mchunu), Prolly Plebs (Qiniso van Damme), Blaq Beauty (Tatenda Wekwatenzi), Femme Fatale (Qondiswa James) and Womxn We (Nala Xaba) navigate the everyday struggles of South African womxn as they deal with race, class, gender and sex.
Recognising the importance of representation in film, as well as film's power to either enforce or disrupt social issues and ideas, The Foxy Five team attempts to address some of these shortfalls. They unpacked these issues at a UCT seminar entitled: "Wathinta Abafazi, Wathinta imbokodo. The Foxy Five, Internet Feminism and Gendering the Future".
No representation for black womxn
"Film is essentially a way for people to visualise and frame things that matter to them. So that's why representation is important," explains Thandie Gula, assistant director and cinematographer.
If one looks at the way in which black womxn are represented in film, they will be confronted by a stream of roles reinforcing stereotypes. Black womxn are shown as secondary characters, or as mere props, Gula says.
These narratives appear so often, she says, that we no longer realise the effect they have on us.
"They become so normalised that we end up becoming complicit in our own oppression."
"The conversations that take place in a cinema go beyond it. We end up talking about them, imitating them – we actually just become them."
By casting the protagonists of The Foxy Five as black womxn and telling stories that reflect their reality, the team hopes that other black womxn will be able to see themselves represented in the world.
"Because the world does not provide these narratives for black womxn, we have decided to provide them," Gula says.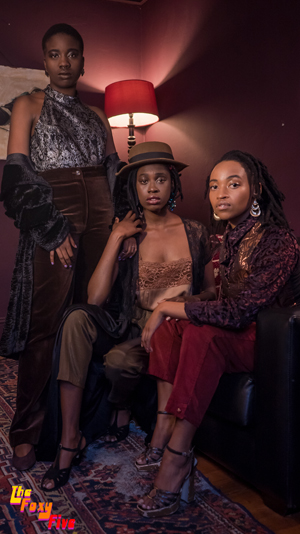 (From left) Unity Bond (Duduza Mchunu), Blaq Beauty (Tatenda Wekwatenzi) and Femme Fatale (Qondiswa James) are three members of the sensational web-series team The Foxy Five. Photo Jabu Nadia Newman and Thandie Gula.
A new feminism?
Not only does the show present and satirise a number of stereotypical feminist archetypes, it attempts to provide a South African perspective on feminism.
This is imperative, Newman explains. Inundated with media as we are, we can often relate more to the experiences of womxn in the United States than those in our own country.
"Womxn in South Africa are missing school because they can't get sanitary pads and stuff like that, so it's a completely different feminism to what African American womxn experience," she says.
Somewhere between Blaq Beauty waving her fake gun about on UCT's Jammie stairs and the team arguing about whether or not they should wear more masculine clothes, Newman attempts to unpack the many different realities of South African womxn.
One womxn's hero is another's vigilante
The Foxy Five received an overwhelming response – widespread support was interspersed with major news coverage.
"We realised there are so many womxn of colour who are hungry for this kind of thing," says cast member van Damme, "who are just desperately trying to see themselves."
But not all viewers expressed approval. The team received sharp criticism during a screening at the V&A Waterfront.
"It was a white, upper-class audience and they were calling it 'vigilantism'. They were saying, 'Why are they so angry? Why are there so many "f*cks"? There should be more love.'"
But South African womxn haven't even had the chance to get angry yet, exclaims Newman.
"And I think that now is such an important time for South African womxn to really have a voice and to drive the change that needs to happen."
Feminist in our own right
But feminism needs to be engaged with in everyday spaces and in language that is understandable by everyone, because sexism affects everyone. This was repeatedly emphasised by rapper Dope Saint Jude, who performed a number of tracks in the first episode.
"I personally am just sick of talking about these issues and it's always up here," she says raising her hand above her head, "and my cousin at home doesn't know what the hell I'm talking about, when it affects her more actually than it affects me."
But waving a placard or a gun is not the only way to live out one's feminism.
"I honestly think that every womxn is feminist without even knowing it," says Newman.
Over the remaining five episodes, Newman will show the many possible ways that feminism can be represented. Between sites of public protest and engaging within the home, each is feminist in their own right.
Story Kate-Lyn Moore.
---
Watch the trailer:
---
This work is licensed under a Creative Commons Attribution-NoDerivatives 4.0 International License.
Please view the republishing articles page for more information.
---