Dr Roderick Sauls started at UCT in the 1980s as a technical assistant in the Department of Geology. His artistic talents were soon noticed by Professor John Gurney, who hired him to create scientific drawings. He has since become a professional artist and holds a PhD in fine art.
Roderick Sauls, Roddy to those who know him, was born in District Six in the mid-1950s. Before his family was forcibly removed to Bonteheuwel in the Cape Flats, he attended St Philips Primary, which was renowned for its visual and performing arts education.
But in the government school he attended after the forced removals, art education was not an important part of the curriculum. Although his family knew about his creative abilities, they were unable to develop his skill due to financial constraints.
His family tried by all means to keep his creative energy alive by buying him inexpensive art books and materials. He recalls his mother informing his school principal about his art skills, so his teachers tried to keep his competency alive.
"I would mention that wanted to be an artist, but as I entered my final years at school, my vision moved towards seeking a career that would guarantee a job," says Sauls.
After completing his matric in the early 1970s, he wanted to study engineering or architecture, but there was no funding available.
"UWC [University of the Western Cape] did not have these disciplines. I was told to seek advice at UCT, but the answers I received did not favour my study plans," he says.
Instead he saw a job advert at UCT and got employed in the Geochemistry Department as a departmental assistant. His main responsibilities were laboratory duties and cleaning.
"Even though I did geography as a subject at school, I never thought about or had an interest in geology. At school we were never informed about geology. I did not even know at that stage about all the research that was done in all its sub-divisions, such as marine and chemistry," he explains.
Universities provide the means to enhance dreams
Sauls knew very little about UCT and how it functioned when he initially joined. His interest in geology only started when he educated himself as a self-taught cartographer in the Geology Department.
His first challenge was drawing maps and paper illustrations.
"During my work in the laboratories, I started noticing the rock formations, colour and texture, and my interest grew," he says.
Sauls didn't realise that Professor Gurney from the Department of Geology was aware of his abilities, as it was just the work he enjoyed doing.
"It was when he commissioned me to do a painting about the earth's mantle that I realised that he saw my abilities as an artist and trusted me to do this. He kept the painting and up till today he exhibited in front of the entrance to the Mantle Room," says Sauls.
In 1990 he accepted a technical position in the printmaking section of UCT's Department of Fine Art, where he assisted academic staff, students and visiting artists with technical tasks and did general cleaning.
It was during this time that he began teaching himself the technical skills of his art.
"My skills and competency were recognised by some staff members and in 1992 a woodcut print was included in a staff printmaking exhibition," says Sauls. "In 1993 I was convinced by a student to enter an amateur art competition and won a prize for my printmaking images."
The win led to students encouraging him to further his studies. In 1994, he enrolled as a part-time art student at the University of South Africa and "then never looked back".
He would be the only one in his family to complete schooling and attain a university education.
Allow yourself to dream
"After realising that I was only politically free and not socially free, I made a decision to educate myself. I started to become conscious of why many, like John Gurney and others, supported and encouraged me. I understood that I had the ability to achieve my goal," says Sauls. "I was also in a department where I could do it and my self-esteem grew."
In 1998 he was accepted as a full-time art student at UCT and completed his Bachelor of Arts in Fine Art (BAFA) in 2000. During this period he was also a permanent technical staff member, a father and a husband.
"I was on many occasions the oldest student or the only person of colour in the class," recalls Sauls. "I often had to work during my lunch and tea breaks to make up for time spent at lectures, so I had to complete my prints over the weekends."
There is no such thing as being a failure
Sauls was the first PASS staff member of the Fine Art Department to complete a BAFA and become an academic staff member.
In 2001 he was offered a contract assistant lecturer's position, and in 2003 he became a permanent lecturer. Sauls went on to complete his Master's in Fine Art in 2004.
"During my five year lectureship I was also the only 'person of colour' amongst the academic staff, and this was a major challenge. I was the first coloured lecturer in a permanent position," explains Sauls.
He was selected as a Ford Foundation Fellow in 2006 to continue his studies towards a doctorate at the Department of Anthropology and Sociology at UWC. In the same year he decided to leave UCT to pursue his research on the importance of creativity as a subject in historically disenfranchised schools in the Western Cape.
In 2013 Sauls was conferred a PhD degree from UWC, being the first person to achieve a doctorate in the sociology of art at a South African university.
"I recognised that a setback within one's life is merely a setup for a comeback to achieve one's goal. This realisation provided the energy to fulfil my calling," he says.
Since then Sauls has been included in numerous national and international exhibitions, has participated in conferences and community programmes, and is the author of articles such as "Antecedents", "Memories of District Six", "Heritage" and "Unearth" which have been published in art and intellectual journals.
Messengers from the Mantle
At the end of 2014, Sauls was contacted by a master's student from the Department of Geological Sciences with the idea of creating an art piece for the Messengers from the Mantle exhibition.
"I was given brief descriptions and illustrations of the nature of the mantle and studied this information," explains Sauls.
Although he has spent time since 2015 conducting his research on rock formations and minerals, the creation of the artwork started only in January this year. His piece consists of two parts: the installation of the earth's mantle and the pedestal.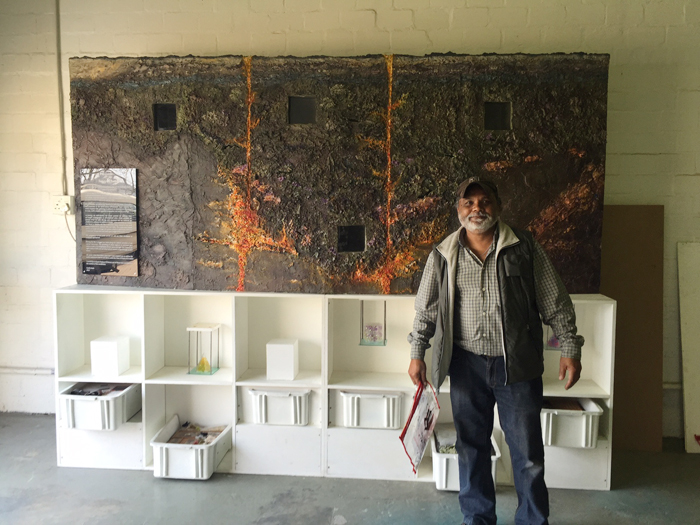 Sauls incorporated original rock samples from the layers in the earth's mantle into the surfaces of his art piece. Sample boxes were also created to provide spaces for original rock samples. Photo Supplied.
The installation of the earth's mantle was made using CreteStone with crushed rock from the mantle room to build the various layers of the earth. Various coloured oxides were used to create the diverse colours required.
The pedestal was constructed to provide an archive of the processes – such as the slide production, rock storage and photographic collections.
"This provides a sense of the human involvement of the mantle research programmes and how this model of the earth's nature was constructed," he explains.
Sauls is in the process of completing his artwork for Messengers from the Mantle. The exhibition will be part of the 35th International Geological Congress, which will be held at the Cape Town International Convention Centre from 29 August to 2 September 2016.
Story Chido Mbambe.
---
This work is licensed under a Creative Commons Attribution-NoDerivatives 4.0 International License.
Please view the republishing articles page for more information.
---