Their office is a typical student digs in Observatory. Between guitars and textbooks rest 3D printed models. Custom signage leans against a blackboard filled with flagrant quotes. There are bags and bags of prototypes.
It is certainly not easy launching a company as a group of young twenty-somethings, but it is especially difficult when half of the team are still finishing their degrees.
The Limelens team is a mixed bag: the charismatic Tyler Bodmann (CEO and founder) and communications savvy Faye Jones were joined by the multi-talented Joel Bronner (creative director), Michael Dickens and James Badenhorst to build their small business.
In a market flooded with substandard smartphone lenses, they were determined to put together a product of real quality and clarity with an attachment that is truly universal. To that end, they source and manufacture all of their parts separately.
Altogether the team now works with five different factories in China. Language barrier aside, the process is complicated.
The prototyping process took around 10 months and during that time they went through at least 20 designs.
"It was a labour of love," explains Bronner, gesturing to the many prototype phone attachments.
Outside the university mould
When they weren't busy designing new lens specs, liaising with China or shooting promo videos, the team was hosting band practice or studying for marketing tests.
Content to sit within the university mould for roughly half a year, Bodmann dipped his toes in the entrepreneurial elixir with a friend during his first year of study. This was the spark that encouraged him to think outside of the degree world.
"Our previous embarkment was very much taking a Chinese product, a very simple product, changing the name, branding around a little bit and then flogging it at a higher price."
This is an excellent place to start, says Bodmann, as it opens up channels of communication, often times internationally, and sets up trusting relationships for future transactions.
Two years later, Bodmann and co. are flourishing and are now nursing a number of exciting new ventures.
"It's such a bug. It's like they say, once you have your first tattoo, you just can't stop, and I think it's so similar with businesses," Bodmann explains.
But the team went through a huge learning curve.
"When you don't know, you just need to say 'yes' and figure it out later. You can be scared, but if you are scared, then go and find someone who might have the answers," advised Jones.
"We'd hire somebody to do a job, but also to mentor us to not need them for that job as we went along," said Bodmann.
Fortunately, the team had access to the intellectual capital of an entire university.
"I'd gone to probably the head of each faculty two or three times to find out if they had somebody for me. I'd managed to get hold of engineering software through the engineering faculty at UCT," he said
"I went and spoke with two or three of my professors in the marketing departments to find out if they knew someone I could talk to or just to run a couple of ideas through."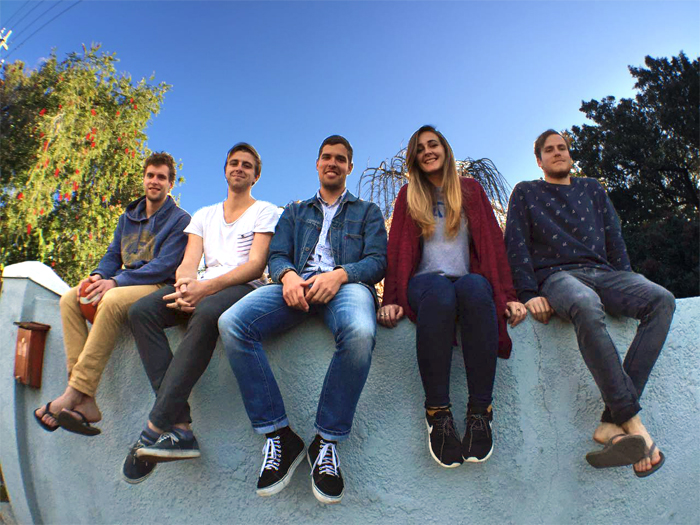 The Limelens team used their Supreme Fisheye lens to take this photo outside their digs office in Observatory. (From left) Michael Dickens, Tyler Bodmann, James Badenhorst, Faye Jones and Joel Bronner.
What does it take to run a business while studying?
Initially, finding the right equilibrium between their studies and their business was very difficult, but Jones and Bodmann have struck up a delicate balance.
"I wake up at five or six in the morning, work until, say, lunchtime and then go to lectures. So my day is split, fifty-fifty," said Jones. "I've learned to study smart."
Bodmann opted to take on fewer subjects.
"Because I know that it's something that I can handle and still pass well, while giving enough time to the business and all the other ventures that we are starting up."
Planning your own start-up?
Don't start with your prize idea.
"If you are starting a business for the first time, I would recommend to start small, even if it's just sourcing something and doing more of an import and sell. Learn from that," says Jones.
"What you don't want is to have this big idea, but you don't have the experience, the knowledge, the confidence, all of that, to execute it and your dreams are shattered."
Do your research.
"Make sure there isn't something like that out there already," says Bodmann. Make sure you are providing a product or service you know people want.
Talk about it.
"You need to talk about it a lot. You need to surround yourself with people that are also on that same journey," says Jones.
Don't waste your time on logos and branding.
"Get [to] the actual core of what you are wanting to do and then build around that," says Bodmann.
Story Kate-Lyn Moore. Photos Michael Hammond / Limelens.
---
This work is licensed under a Creative Commons Attribution-NoDerivatives 4.0 International License.
Please view the republishing articles page for more information.
---